SPURS' FIRST TITLE SUCCESS - THE STORY OF 1950-51 - January 1951
(all articles written by the late Brian Judson - unless otherwise stated)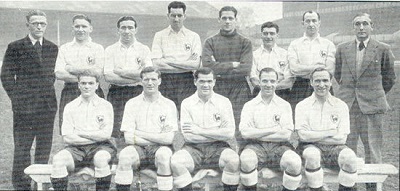 Tottenham Hotspur: First Division Champions 1950-51
Standing, left to right: C. Poynton (trainer), W.E. Nicholson, A.E. Ramsey, H. Clarke, E.G. Ditchburn, A. Willis, R. Burgess (captain), Mr A. Rowe (manager)
Seated left to right: W.E. Walters, L.D. Bennett, L. Duquemin, E.F. Baily, L.D. Medley
Spurs began the New Year with high hopes for winning the League and Cup Double. They were drawn away to Huddersfield Town in the FA Cup 3rd Round. Unhappily for Spurs, they lost 2-0 at Leeds Road, on January 6th 1951. The game was played on a pitch that had suffered from frost and snow, followed by a thaw, then rain and thick mist. It was not until 1.30pm that the game was given the go-ahead. Even then rain fell incessantly throughout the match. Spurs played well below form. Taylor and Glazzard scored the goals that ended Spurs' interest in the FA Cup. It left them with only the League to play for as, of course, there was no League Cup or European fixtures in those early post-war years. (Final FA Cup score:- Huddersfield 2 Spurs 0. Attendance:- 25,390)
Middlesbrough were dumped out of the Cup by Second Division, Leeds, 1-0. Arsenal were held at home by Third Division (North) Carlisle United, 0-0, but won the replay 4-1. Newcastle began their run to Wembley by beating Second Division Bury 4-1. Blackpool held Charlton to a 2-2 draw at the Valley and won the replay 3-0.
It was back to the League the following Saturday, January 13th 1951. Tottenham travelled to Old Trafford, just as they were to do so at the same stage of the season 10 years later, but still lost, 2-1. Eddie Baily scored our goal. The result lifted Manchester United into 9th place. (Final score:- Manchester United 2 Spurs 1. Attendance:- 45,104)
Middlesbrough failed to take advantage of Tottenham's slip as they lost 3-1 at Highbury. This left the Gunners a point behind the joint leaders. Wolves drew 1-1 at home to Blackpool, which left them in 4th place. Newcastle fell off the pace even more as they crashed 3-1 at relegation-haunted Chelsea. Bolton, one time relegation candidates, climbed to 6th place after winning 2-1 at Roker Park.
In the middle of the table, Liverpool beat Derby County, 2-1. Portsmouth, the defending champions, drew 2-2 with West Bromwich Albion.
At the bottom of the table, Charlton's 2-1 win over Sheffield Wednesday, lifted them one place up the table and pushed the Owls deeper into the relegation mire. Huddersfield's surprise 1-0 victory at Burnley added pressure to Everton, who lost 0-3 at home to Stoke City. Aston Villa won an important match at home to Fulham, 1-0.
On the following Saturday, January 20th 1951, Spurs returned to winning ways by beating Wolves 2-1. 'Sonny' Walters and Syd McClennan scored the vital goals that kept Spurs top of the table. (Final score:- Spurs 2 Wolves 1. Attendance:- 66,796)
Middlesbrough also won, beating Sheffield Wednesday, 2-1, at Ayresome Park. Arsenal travelled to lowly Huddersfield and dropped a point as they could only draw 2-2. Newcastle United beat Burnley 2-1 at St James's Park to remain in 4th place. Bolton Wanderers beat Aston Villa 1-0 at Burnden Park, to remain in 6th place.
At the bottom of the table, Chelsea grabbed a valuable point at the Hawthorns where they drew 1-1 with West Bromwich Albion. Liverpool lost at home to Everton, 0-2, which gave the Blues a fillip. Charlton Athletic lost at home to Manchester United, 1-2.
Of the other matches, Blackpool and Sunderland drew 2-2 at Bloomfield Road, Fulham lost at home to Derby County, 3-5, and Stoke City lost at home to Portsmouth, 1-2.
Spurs had no match the following weekend as they were out of the FA Cup. In the 4th Round ties, Newcastle beat Bolton Wanderers, 3-2, whilst Blackpool beat Stockport County, 2-1. Arsenal beat Northampton 3-2, whilst Manchester United beat Leeds United 4-0. There were few shocks. Exeter City managed to hold Chelsea to a 1-1 draw on their ground before losing the replay at Stamford Bridge, 2-0.
February would prove to be a crucial month in the Championship .....

Pos.                  P   W   D   L    F-A    Pts
  1  Spurs           27  16   6   5   59-33   38
  2  Middlesbrough   27  15   8   4   64-38   38
  3  Arsenal         28  15   6   7   56-31   36
  4  Newcastle       26  13   7   6   46-38   33
  5  Wolves          26  13   6   7   53-32   32
  6  Bolton          27  14   4   9   46-39   32
  7  Man Utd         27  12   6   9   37-31   30
  8  Stoke City      28   9  11   8   34-34   29
  9  Blackpool       27  10   8   9   49-40   28
 10  Derby County    27  11   6  10   55-49   28
 11  Burnley         27   9  10   8   34-29   28
 12  Portsmouth      26   9   8   9   44-48   26
 13  Liverpool       26   9   7  10   34-40   25
 14  Fulham          28   8   8  12   35-50   24
 15  Sunderland      27   7   9  11   42-53   23
 16  Everton         28   9   5  14   38-56   23
 17  West Brom       28   7   8  13   36-41   22
 18  Huddersfield    27   8   5  14   39-64   21
 19  Chelsea         25   8   4  13   33-37   20
 20  Aston Villa     27   5  10  12   40-45   20
 21  Charlton        27   7   6  14   40-63   20
 22  Sheffield Wed   27   6   5  16   38-58   18

Cheers, Brian