SPURS' FIRST TITLE SUCCESS - THE STORY OF 1950-51 - THE PLAYERS
(all articles written by the late Brian Judson - unless otherwise stated). This article contains additional material by Declan Mulcahy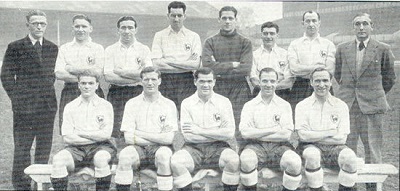 Tottenham Hotspur: First Division Champions 1950-51
Standing, left to right: C. Poynton (trainer), W.E. Nicholson, A.E. Ramsey, H. Clarke, E.G. Ditchburn, A. Willis, R. Burgess (captain), Mr A. Rowe (manager)
Seated left to right: W.E. Walters, L.D. Bennett, L. Duquemin, E.F. Baily, L.D. Medley
Tottenham walked away with the Division Two championship in season 1949-50 with basically the same team that had flattered to deceive in the previous four seasons. The only difference was largely the addition of Alf Ramsey to the team and the appointment of Arthur Rowe as manager.
Spurs dropped only 6 points between the start of the season and 31st December 1949. They lost at home to Blackburn Rovers and drew with Southampton, Luton Town, Brentford and Chesterfield. They were easily firm favourites to win promotion. In the second half of the season, Spurs were not quite as dominant.
Uncannily, Spurs lost at home to Leicester City at the same stage of the season just as they were to do during the Double season 11 years later. Promotion was clinched to the First Division as early as April 1st 1950 when Spurs won at Loftus Road against Queen's Park Rangers. The championship of Division 2 was clinched when Spurs beat Preston North End 3-2 a week later, after being 0-2 down at one stage. Spurs fell away (just as they would do so 11 years later!) once they had won the title.
Let us look at the squad that represented Tottenham during 1949-50 and 1950-51 ......
In goal, we had Ted Ditchburn, who did not miss a match. The number 2 shirt was worn by Alf Ramsey, who only missed three matches. The number 3 shirt was shared by Arthur Willis and Charlie Withers. Withers played in the majority of the games in 1949-50 but Willis had the upper hand the following season.
Bill Nicholson wore the number 4 shirt and missed only four matches during those two seasons. Harry Clarke wore the number 5 shirt and did not miss a match in either season. Ronnie Burgess skippered the side wearing the number 6 shirt. Burgess missed 10 games, mostly because of international calls.
'Sonny' Walters (no one called him by his given name William) missed 9 matches, mostly due to injury rather than loss of form. Les Bennett, the oddball of the side in that he was the only player allowed to dribble, wore the number 8 shirt. Bennett missed 24 matches over the two seasons.
Len Duquemin, from the Channel Islands, wore the number 9 shirt. He was an unflashy player who concentrated on scoring goals and came close to breaking George Hunt's record of 138 goals but could not break it before retiring. Duquemin missed 9 matches over the two seasons.
Declan Mulcahy writes of "The Duke" - The most famous Channel Islands footballer before Le Tissier and Le Saux. He came from Guernsey and had lived through the German occupation during the second world war which can't have been fun.
He was the (stocky) centre forward of choice from 1947-48 to 1955-56, scoring 131 goals in just over 300 games and was one of the prominent Spurs players of the 1950s. Len was perhaps unlucky never to win an England cap.
Eddie Baily wore the number 10 shirt and it was his partnership with Les Medley in the number 11 shirt allied to Burgess' close support that was a key feature of the team's tactics. Baily missed 4 games over two seasons and Medley 7 in season 1950-51.
Declan Mulcahy adds:- Baily an unusual start to his career. He joined Spurs as an amateur during the second world war, and then saw active service. The club heard that he had been reported missing and cancelled his registration. When he returned home Chelsea signed him as an amateur. When Spurs realised he was still alive they contacted Chelsea who released him so that he could rejoin Spurs.
Baily was a fixture in the team as an inside forward during the same years as Duquemin. He made 325 appearances scoring 69 goals. He was a member of Endland's world cup squad in Brazil in 1950. He won nine caps scoring 5 goals and was unlucky not to play more often for England.
Baily famously became assistant manager to Bill Nicholson in October 1963 and was in that position for the remainder of Bill Nicholson's reign.
These were the first choice players, of whom more anon. The players with cameo roles in the team were Colin Brittan, Bobby Cook, who covered for Walters in three matches in season 1949-50, George Ludford, Syd McClennan, Tony Marchi, Peter Murphy, Billy Rees, Jimmy Scarth, Sid Tickridge, Dennis Uphill and Alex Wright.
Cheers, Brian