SPURS' FIRST TITLE SUCCESS - THE STORY OF 1950-51 - December 1950
(all articles written by the late Brian Judson - unless otherwise stated)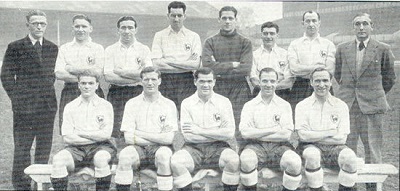 Tottenham Hotspur: First Division Champions 1950-51
Standing, left to right: C. Poynton (trainer), W.E. Nicholson, A.E. Ramsey, H. Clarke, E.G. Ditchburn, A. Willis, R. Burgess (captain), Mr A. Rowe (manager)
Seated left to right: W.E. Walters, L.D. Bennett, L. Duquemin, E.F. Baily, L.D. Medley
On the morning of Saturday, 2nd December 1950, the top five in the First Division were Arsenal 30 points from 19 games; Middlesbrough 27 from 19; Newcastle United 26 from 19; Tottenham Hotspur 25 from 18 and Manchester United 23 from 19. It was to be the start of a very busy month.
Arsenal travelled to Bolton and crashed 3-0. Newcastle won at Old Trafford 2-1. Spurs were at home to Middlesbrough and drew 3-3. Three times Middlesbrough led and three times Spurs equalised. Gordon and Bell repeatedly broke up the Spurs attacks and prevented Spurs from displaying the fluency they had shown against Newcastle a fortnight earlier. Middlesbrough played the game at speed and with comparable artistry. Ramsey scored from the penalty spot, Walters and Duquemin scoring one apiece. (Final score:- Spurs 3 Middlesbrough 3. Attendance:- 61,148)
At the bottom of the table, Aston Villa and Everton drew 3-3 at Villa Park whilst Blackpool, in the top half of the table, beat Sheffield Wednesday, 3-2, at Bloomfield Road. Charlton Athletic beat Huddersfield Town 3-2 at the Valley to drag Huddersfield further down the table. Liverpool beat Chelsea 1-0 at Anfield to keep the Londoners deep in trouble.
Sunderland drew with Stoke City 1-1 at Roker Park to pick up an important point in their relegation struggle as they had never been relegated from the First Division and were the longest serving team at this level at the time. (Everton could boast only one season's absence from the top flight and Aston Villa two whilst Arsenal were comparative juniors at that time.)
In midtable, Derby County lost at home to Portsmouth, 2-3. Fulham beat Burnley, 4-1. Wolverhampton Wanderers beat West Bromwich Albion 3-1 at Molineux but were well off the pace.
A week later, on Saturday, 9th December 1950, Arsenal retained the lead by drawing with Blackpool, 4-4, at Highbury. Middlesbrough kept up their pursuit by beating Charlton Athletic 7-3 at Ayresome Park. Hopes were high on Teeside this was going to be the season they finally won a major honour. Newcastle United could only draw with Wolverhampton Wanderers, 1-1, which did not enhance their own aspirations.
Sheffield Wednesday continued to be a hoodoo side for Tottenham Hotspur as the Londoners could only draw 1-1 with the Owls. Spurs had not won at Hillsborough since September 1937. Both goals were scored within three minutes. Hugh McJarrow scored for the home side after 40 minutes, and Les Bennett equalised for Spurs. (Final score:- Sheffield Wednesday 1 Spurs 1 . Attendance:- 44,367) Huddersfield Town continued to slide down the table as Manchester United won at Leeds Road, 3-2.
At the bottom of the table, Burnley pushed Bolton Wanderers deeper into trouble by beating their neighbours, 2-0. Chelsea won the West London derby against Fulham, 2-0. Everton lost at home to Derby County, 1-2.Stoke City beat Aston Villa 1-0 to keep the Midland side deep in trouble.
Of the other matches, Portsmouth lost at home to Liverpool, 3-1, whilst West Bromwich Albion beat Sunderland, 3-1.
The League leadership changed hands on Saturday, 16th December 1950 (the fixtures were the reverse of the opening day's fixtures) as Arsenal surprisingly lost at Highbury to Burnley, 0-1, dropping to 2nd place. The new leaders were Middlesbrough, who beat Portsmouth, 3-1 at Ayresome Park. Newcastle United beat Stoke City at home, 3-1, to remain in 3rd place.
Spurs gained revenge for their opening day defeat by beating Blackpool, 1-0, at Bloomfield Road, thanks to a Len Duquemin goal. Blackpool's side included the famous Matthews and Mortensen partnership in both meetings. (Final score:- Blackpool 0 Spurs 1 . Attendance:- 22,203) Whilst Fulham held Manchester United to a 2-2 draw at Craven Cottage, Liverpool crashed at home to Wolverhampton Wanderers 4-1 which took the Wolves into 5th place.
There were a number of relegation battles that day. Bolton Wanderers beat Charlton Athletic, 3-0, at Burnden Park, whilst Huddersfield Town continued to slide down the table by losing at home to Everton, 2-1. West Bromwich Albion beat Aston Villa, 2-0, to increase the problems Villa were experiencing at the bottom of the table. The game between Sheffield Wednesday and Chelsea was postponed. But the biggest aggregate of the day saw Derby County pip Sunderland, at the Baseball Ground, 6-5!
On the morning of Saturday, 23rd December 1950, Middlesbrough led the championship by a point from Arsenal, who had a better goal average than Newcastle. Spurs were 4th, Wolves and Manchester United, 5th and 6th.
The relegation zone was tight with Huddersfield Town in 16th place with 18 points, Charlton, two points adrift of the Tykes, followed by Aston Villa and Sunderland, both on 15 points, then Chelsea and Everton with 14 points and Sheffield Wednesday, bottom with 13 points.
Spurs improved their chances by beating Arsenal, at White Hart Lane. There was tremendous interest in the game as Spurs had not met Arsenal in League competition since season 1934-35. Queues for the match started to form overnight in bitterly cold weather. There were 54,898 present before the gates were closed. The pitch was difficult for Spurs to play their normal push and run game on. The only goal of the game was scored by Eddie Baily after 35 minutes. Bennett had the ball on the right wing and flicked the ball on to Walters. Walters aimed for the far post. Leslie Compton couldn't get out of the way in time and the ball clipped his heel and rebounded to Baily, who killed the ball, swivelled and hit it sweetly behind 'keeper George Swindin. (Final score:- Spurs 1 Arsenal 0. Attendance:- 54,898)
Elsewhere, Chelsea and Middlesbrough drew 1-1 at Stamford Bridge. Newcastle surprisingly lost at Everton, 3-1. Manchester United lost at home to Bolton Wanderers, 3-2 and Wolves could only draw 1-1 at home to Fulham.
The other games saw Aston Villa and Derby County draw 1-1 at Villa Park; Burnley beat Sheffield Wednesday, 1-0, at Turf Moor; Charlton Athletic lost at home to Blackpool, 3-2; Portsmouth beat Huddersfield Town, 1-0, at Fratton Park; Stoke City and West Bromwich Albion drew 1-1 in the Potteries and Sunderland beat Liverpool, 2-1, at Roker Park.
Two days later, Monday, 25th December 1950, saw a full football programme despite the fact it was Christmas Day. Middlesbrough beat Newcastle United 2-1 to take over at the top of the table as Arsenal surprisingly crashed at home against Stoke City, 0-3. Spurs drew 1-1 at Derby County, thanks to a goal by the reliable Peter Murphy. (Final score:- Derby 1 Spurs 1. Attendance:- 32,301)
Manchester United lost at Sunderland 2-1 to further reduce their chance of catching the leaders but Wolves beat Huddersfield, 2-1, to improve their chances.
At the foot of the table, Charlton Athletic and Aston Villa drew 2-2 at The Valley; Fulham lost at home to Bolton Wanderers; Everton beat Burnley, 1-0, at Goodison Park; Chelsea travelled to Portsmouth and won 3-1 whilst Sheffield Wednesday won 3-1 at the Hawthorns against West Bromwich Albion. In the other game of the day, Blackpool beat Liverpool at Bloomfield Road, 3-0.
The return games were played the following day, Tuesday, 26th December 1950. Two goals by Syd McClennan ensured that Spurs beat Derby County. This lifted Spurs into second place in the table, one point behind Middlesbrough. (Final score:- Spurs 2 Derby 1. Attendance:- 59,885) The league leaders' game against Newcastle United was postponed because of bad weather.
Stoke City completed the double over Arsenal by winning 1-0 in the Potteries. Wolverhampton Wanderers beat Huddersfield Town, 3-1, to move into 3rd place, pushing Arsenal to 4th and Newcastle to 5th. Manchester United lost at Old Trafford to Sunderland, 3-5.
Elsewhere, Aston Villa and Charlton Athletic fought out a goal=less draw at Villa Park; Bolton Wanderers lost at home to Fulham, 0-1; Burnley and Everton drew 1-1 at Turf Moor; Chelsea crashed at home to Portsmouth, 4-1;Liverpool beat Blackpool, 1-0, at Anfield; and Sheffield Wednesday beat West Bromwich Albion, 3-0, at Hillsborough.
On the final Saturday of the old year, 30th December 1950, Spurs went to the top of the table for the first time for a quarter of a century. Not since 1925 had Spurs headed the championship. A single 'Sonny' Walters goal against Charlton was sufficient to dislodge Middlesbrough, on goal average, from the lead. (Final score:- Spurs 1 Charlton 0. Attendance:- 54,667)
Middlesbrough could only draw with Burnley, 3-3, at Ayresome Park but Arsenal's 2-0 victory at Hillsborough against Sheffield Wednesday ensured Arsenal ended 1950 in 3rd place, three points behind the leading pair.
At the bottom of the table, Fulham and Sunderland drew 1-1 at Craven Cottage and West Bromwich Albion lost at the Hawthorns to Everton, 0-1. The only other game played saw Derby County and Stoke City drew 1-1.
The postponed matches were :Blackpool v Manchester United; Bolton Wanderers v Wolverhampton Wanderers; Huddersfield Town v Chelsea;Liverpool v Aston Villa; and Newcastle United v Portsmouth.
Only time would tell whether Spurs could remain at the summit!

Pos.                  P   W   D   L    F-A    Pts
  1  Spurs           25  15   6   4   56-30   36
  2  Middlesbrough   25  14   8   3   61-34   36
  3  Arsenal         26  14   5   7   51-28   33
  4  Wolves          24  13   5   6   51-29   31
  5  Newcastle       24  12   7   5   43-34   31
  6  Burnley         25   9  10   6   33-26   28
  7  Bolton          25  12   4   9   43-38   28
  8  Stoke City      26   8  11   7   30-32   27  
  9  Blackpool       25  10   6   9   46-37   26
 10  Derby County    25  10   6   9   49-44   26
 11  Man Utd         25  10   6   9   33-29   26
 12  Fulham          26   8   8  10   32-42   24
 13  Liverpool       24   8   7   9   32-37   23
 14  Portsmouth      24   8   7   9   40-45   23
 15  Sunderland      25   7   8  10   39-49   22
 16  Everton         26   8   5  13   36-53   21
 17  West Brom       26   7   6  13   33-38   20
 18  Aston Villa     25   4  10  11   37-44   18
 19  Sheffield Wed   25   6   5  14   36-54   18
 20  Charlton        25   6   6  13   37-60   18
 21  Huddersfield    25   7   4  14   36-62   18
 22  Chelsea         23   7   3  13   29-35   17

Cheers, Brian