SPURS' FIRST TITLE SUCCESS - THE STORY OF 1950-51 - PROLOGUE
(all articles written by the late Brian Judson - unless otherwise stated)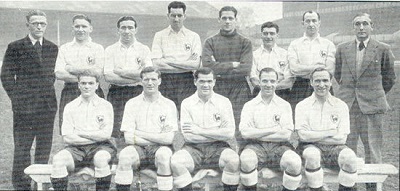 Tottenham Hotspur: First Division Champions 1950-51
Standing, left to right: C. Poynton (trainer), W.E. Nicholson, A.E. Ramsey, H. Clarke, E.G. Ditchburn, A. Willis, R. Burgess (captain), Mr A. Rowe (manager)
Seated left to right: W.E. Walters, L.D. Bennett, L. Duquemin, E.F. Baily, L.D. Medley
A completely new generation of Spurs fans must have thronged the roads to White Hart Lane on Saturday, 19th August 1950. That was the day I (Brian Judson)was 6 and, as yet, was still unaware of the existence of Spurs. I had already seen Arsenal, albeit on TV, beating Liverpool 2-0 in the 1950 FA Cup Final. I remember, for some long forgotten reason, I was disappointed Liverpool lost.
Those that must have jammed the approaches to White Hart Lane to witness Spurs' first home match in Division One since they had beaten Liverpool 5-1 in their final home match of season 1934-35 must have wondered whether Spurs would do well. Since they had been relegated to Division 2 in bizarre circumstances at the end of season 1927-28, Spurs had only enjoyed two seasons of top flight football. It had been galling to see Arsenal winning honours left, right and centre and seeing SEVEN Arsenal players representing England in one match alone. But now they were back! It was hard to believe that when Spurs had last been relegated, people were still ready to dismiss Hitler as a comic opera politician and believe there would not be another major war in their lifetime.
I think the moment that Spurs began the slide to their long sojourn in Division Two began on Saturday, 31st October 1925 when Arthur Grimsdell broke a leg in the 5-3 defeat at Leicester City. Spurs had made a good start to the season winning their first four games and drawing the fifth and were still near the top of the table. But without Grimsdell, a player in the mould of Dave Mackay, Alan Mullery and Graham Roberts, Spurs slid down the table. The break-up of the side that had won the 1921 Cup had already begun but now the pace of change began to accelerate.
The following season, Jimmy Seed was injured at Hillsborough, of all places, as Spurs crashed 3-1 on Tuesday 28th December 1926. Seed played only one more match for Tottenham but could not force his way back into the team because 'Taffy' O'Callaghan's brilliant stylish football had replaced him. Seed did not want to play reserve team football and applied for the managerial vacancy at Aldershot but manager Billy Minter, who had replaced Peter McWilliam in February 1927, talked him out of that and transferred him to Sheffield Wednesday. The Owls were awful during most of 1927-28, propping up the First Division for much of the season. But, over Easter 1928, the Owls completed the double over Spurs with Seed plotting much of the damage to his former club and the results conspired against Tottenham to ensure their relegation.
It took Spurs five years to regain their place upstairs. Two seasons were spent on much overdue rebuilding as the old faithfuls left White Hart Lane. Minter took ill with the worry of it all and stood down to be replaced by manager Percy Smith. Smith had enjoyed a brilliant career as a manager and it was quite a coup for Spurs to acquire his services. Spurs nearly made it back to the First Division in 1930-31 but Harper broke a leg at a vital moment and Spurs dropped silly points to finish 3rd. Two seasons later, they did win promotion but only after a very indifferent spell at the start of the season when relegation to Division 3 (South) was even pessimistically predicted.
Smith's young team (which has never been acclaimed as the great team it was, possibly because its promise was never fulfilled) did well in their first season back in the top flight, finishing third. But during 1934-35, manager and board were at loggerheads, the team was hit by injuries and many indifferent players were signed by a Board determined to buy players on the cheap, mostly those coming to the end of their career. Small wonder then that Smith resigned once relegation became a certainty.
Back in the Second Division, Spurs never figured in the hunt for promotion. Their new manager, Jack Tresarden, used tactics that did not go down well with the Spurs faithful and in 1938, the Board terminated Tresarden's contract, persuading Peter McWilliam to return to the club.
The war came too soon for McWilliam to influence events but Ted Ditchburn, Bill Nicholson and Ronnie Burgess were already on the books. McWilliam retired in 1943 and Spurs ticked over until after the war. (They had quite a good team during the war years but that's a tale for another day.)
The war over, the Board sprang a shock by appointing former Arsenal player, Joe Hulme, as manager. Hulme, at least, bought most of the players that were to win fame and fortune for Spurs during his tenure. He even tried to buy Alf Ramsey from Southampton before the transfer deadline but could not secure his signature. Hulme was ill for much of the second half of 1948-49 and decided not to renew his contract. Spurs appointed Arthur Rowe as manager on 4th May 1949.
The story of 1949-50 will be recounted when I provide potted biographies of the players who won honours over two great seasons.
Cheers, Brian