SPURS' FIRST TITLE SUCCESS - THE STORY OF 1950-51 - Detailed Squad Profiles
(all articles written by the late Brian Judson - unless otherwise stated)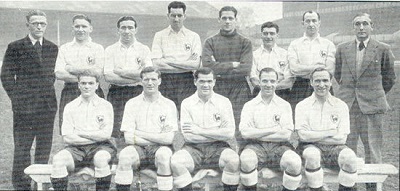 Tottenham Hotspur: First Division Champions 1950-51
Standing, left to right: C. Poynton (trainer), W.E. Nicholson, A.E. Ramsey, H. Clarke, E.G. Ditchburn, A. Willis, R. Burgess (captain), Mr A. Rowe (manager)
Seated left to right: W.E. Walters, L.D. Bennett, L. Duquemin, E.F. Baily, L.D. Medley
Most of this article was written in 1999
Ted Ditchburn was the first really reliable goalkeeper Tottenham had ever had. There had been some fairly good 'keepers in the past, eg Joe Nicholls and Percy Hooper to name but two, but Ditchburn was the first really reliable goalkeeper. Ted was born at Gillingham, Kent on 24th October 1921. He joined the Spurs groundstaff in 1937 and signed amateur forms in June 1938. He then signed professional forms in May 1939. During the war years when he could not play for Tottenham, he played for Aberdeen, Birmingham and Dartford.
After the war, Ted made his Football League debut on 31st August 1946 in the home game against Birmingham in a Division 2 match, having made his wartime debut against Chelsea in a Football League [South] match on 25th May 1940. During his tenure as Tottenham's goalkeeper, Ditchburn created two records. The first is unlikely to be beaten in these days of squads and rotation of players in that between April 1946 and March 1954, Ditchburn missed only two matches, creating a record of 247 consecutive League appearances in goal for Tottenham.
The other record he created was that of being the player with most appearances for Tottenham, succeeding Jimmy Dimmock as the record holder. Eventually, he was overtaken by Pat Jennings, of course. Only Steve Perryman, Pat Jennings and Gary Mabbutt are ahead of him in the overall list of appearances for Tottenham.
Ditchburn's career was ended when he broke a finger playing for Spurs at Chelsea in the second game of what was to be a traumatic season during 1958-59. He was still as reliable as ever and things might have been very different had he not decided to call it a day.
Ted Ditchburn passed away on December 26th, 2005, aged 84.
Alf Ramsey was a Dagenham boy who all the London clubs missed. He was born on 22nd January 1920. He spent some time with Portsmouth as an amateur player from January 1940 until signing amateur forms with Southampton in October 1943, turning professional in August 1944. Spurs soon had their eye on him and tried to sign him on deadline day in March 1949 but the deal fell through. When Arthur Rowe took over, he persuaded Ramsey to join Tottenham. Ramsey made his debut for Tottenham on 20th August 1949 in the match played at Brentford. He was Spurs' first choice right back until he called it a day in August 1955 and left to manage Ipswich Town, then in the old Third Division [South].
Most people will be aware of his subsequent career in that he guided Ipswich Town through two promotions and then guided them to the League Championship in their first shot at the First Division. He then succeeded Walter Winterbottom as Manager of the England team and led England to success in the 1966 World Cup. He was unlucky with the 1970 World Cup campaign when the finest England squad, which I think was better than the 1966 squad, lost to West Germany at the Quarter Final stage. Ramsey was sacked by the FA after England failed to qualify for the 1974 World Cup Finals.
Alf Ramsey passed away in 1999.
Arthur Willis and Charlie Withers were the Tweedledum and Tweedledee of footballers on the Spurs books in the 1940s and 1950s. First, one had the ascendancy in the number 3 shirt, then the other. Both were fine footballers without hitting the headlines. Willis won one England cap against France in 1951 whilst Withers played for England 'B' against Holland in March 1952.
Willis was born at Denaby Main, in Northumberland, on 2nd February 1920 and died at Haverfordwest on 7th November 1987. He started, like so many Spurs players, with Northfleet and also played for Finchley before turning professional with Spurs in January 1944. He made his wartime debut for Spurs on 24th April 1945 against Charlton Athletic and his peacetime debut on 5th January 1945 in the home leg of the FA Cup tie against Brentford. [The FA Cup was played on an home and away basis in 1945-46 as part of the transition from war-time to peace-time football.]
Willis missed out on the promotion season of 1949-50 but was the preferred choice during the championship season of 1950-51. During the 1952-53 season, Mel Hopkins forced his way into the team to end the dispute between Withers and Willis for the position. Willis followed Ron Burgess to Swansea Town in September 1954 and later coached Haverfordwest.
Arthur Willis passed away in 1987.
Charlie Withers was born at Edmonton, North London, on 6th September 1922. He played for Edmonton, London and Middlesex Schools before signing for Spurs as an amateur in 1938. He signed professional for Spurs in October 1947, ousting Vic Buckingham from the left back position during the 1948-49 season. He stayed with Spurs until leaving for Boston United in June 1958. After Alf Ramsey had left for Ipswich Town, Withers filled the vacancy until Maurice Norman transferred from Norwich City in November 1955.
Charlie Withers passed away in 2005.
Any serious student of Tottenham's history should not need to be told about Bill Nicholson's immense contribution to Tottenham's cause. However, this pen-pic will deal with Nicholson's playing career. He was born at Scarborough on 26th January 1919. He was spotted by Spurs playing for various local clubs and was invited to Tottenham for a trial in March 1936. He was taken on to the groundstaff and packed off to Northfleet to learn his profession. He signed professional forms in August 1938 and made his debut in a League match away to Blackburn Rovers, on 22nd October 1938. Nicholson's time in the army as a PT instructor taught him how the art of man-management. He returned to Tottenham after the war and placed a couple of seasons at centre-half before Horace Woodward and, later, Harry Clark, arrived. Nicholson then played right-wing-half for the remainder of his playing career.
Unhappily for Nicholson, his peak playing years coincided with those of Billy Wright, of Wolves, who won 105 England caps, a record for England until Bobby Charlton and, later, Peter Shilton overtook that mark. Nicholson won one England cap, scoring one goal, against Portugal, at Goodison Park, in May 1951. He was selected on other occasions but had to withdraw each time due to injury.
Nicholson was a very unflashy player and was the defensive foil to the attack-minded Burgess on the other flank. Like Rowe before him, Nicholson was a deep thinking and it came as no surprise when Tottenham appointed him as coach following his retirement as a player.
The great Bill Nicholson passed away on October 23rd, 2004.
Harry Clarke was born at Woodford, Essex on 23rd February 1923. He was one of the best buys that Tottenham ever made, joining them in March 1949, just before Rowe was appointed manager following Joe Hulme's departure due to ill-health. Clarke was spotted playing for Lovells Athletic by Tottenham's scouts. He replaced Horace Woodward as centre-half and was, more or less, a permanent feature as centre-half, from the day he made his debut on 19th March 1949, against Luton Town. Clarke quickly built up a very good understanding with Ted Ditchburn. He remained a first team regular until Spurs were almost relegated during the 1955-56 season and it became clear that it was time for some long overdue rebuilding of the team. Retiring from playing during the 1956-57 season, he stayed on at Tottenham as a coach with the juniors for a while before trying his han d at management with Llanelli Athletic. Clarke won England 'B' honours against West Germany in March 1954 and a full cap against Scotland the following month.
Harry Clarke passed away in 2000.
Ronnie Burgess was one of the greatest players that Spurs have ever had the good fortune to have on their books. Unfortunately, I never had the pleasure of seeing Burgess play as he retired three seasons before I started to attend Spurs home games. And Tottenham so very nearly discarded him before his career had even begun.
Burgess was born in Cwm, South Wales, on 9th April 1917. He was first spotted playing for Cwm Villa by Cardiff City but nothing ever came of their promises to give him a trial. He took a job as a pit boy in the local colliery, one of many that dominated the South Wales sky line.
In May 1936, Spurs offered him a twelve month trial and he signed amateur forms for them. But after twelve months, Tottenham decided that he had not made the grade and handed him his train fare back to South Wales, but, before leaving Tottenham, Burgess decided to make one last visit to the ground to watch the 'A' Team play. He discovered they were a player short and that he was required to make up the team. He never looked back after that. He was quickly packed off to Northfleet to learn his trade.
By the time he returned to Tottenham, Peter McWilliam had been re-instated as manager since resigning from that position in February 1927. He had decided to overhaul the team and to bring in the youngsters. Burgess made his first team debut on 4th February 1939 in an away match at Norwich City. Burgess was rarely absent after that until the time came for him to retire.
Like most footballers of his generation, his best years were lost to the war. He won many representative honours during the war and turned out for Tottenham when he could do so.
On the resumption of peace, Burgess found that Peter McWilliam had retired and Joe Hulme was now manager. Gradually the bits and pieces of the team that was to sweep to the Second and First Division championships was created and all that Rowe had to do when he succeeded Hulme as manager was to sign Alf Ramsey, as related above.
Once Rowe had convinced Burgess that push and run could work, Burgess was its most enthusiastic supporter. It was Burgess' drive as captain that spurred Tottenham on to successive championships and narrowly missed a third in season 1951-52. But thereafter Tottenham declined in power and thrust and the team began to break up.
Between 1946 and 1954, Burgess won 32 caps for Wales, many as captain. He only missed two international matches in that period. Shortly after stepping down from international duty in May 1954, Burgess left Tottenham to take up a post as player-coach with Swansea Town. It was while Burgess was with Swansea Town that Spurs purchased Terry Medwin and Cliff Jones. Later in his managerial career, Burgess signed the great Pat Jennings from Newry Town in the summer of 1963 for Watford. That surely proves he had a keen eye for spotting future players!
Ron Burgess passed away on February 14th, 2005.
No one ever called 'Sonny' Walters by his given name William. He was another local lad as he was born at Edmonton, North London, on 5th September 1924. He played for Edmonton and London Schools before signing for Spurs as an amateur in 1938, when he was only 14. He played for Tottenham Juniors, Walthamstow Avenue and Finchley before signing professional forms for Spurs in September 1944. He had already made his wartime debut for Tottenham on December 25th 1943 against Fulham in the Football League South, scoring on his debut. His official debut was on January 4th 1947 in an away game at West Bromwich Albion.
In the early post war years, Walters had to compete with Freddy Cox before Walters was finally preferred to Cox in April 1949. Ironically Cox left Tottenham for Arsenal where he enjoyed a successful career and later had the satisfaction of managing Bournemouth when they knocked Spurs out of the FA Cup in March 1957.
Walters was a key element in Tottenham's two championship sides. He was the top scorer in Tottenham's 1949-50 side. He blended perfectly with the dour defenders Ramsey and Nicholson. Walters was very unfortunate to be at the peak of his career at the same time as Stanley Matthews and Tom Finney. His only representative honour was an appearance for England 'B' against Holland in February 1950.
After leaving Tottenham in July 1957, he played for Aldershot for a couple of seasons before retiring. Walters passed away at Enfield on 25th November 1970.
Les Bennett, who was born on 10th January 1918, at Wood Green, was spotted playing for the local schools side and joined Tottenham Juniors before being farmed out to Northfleet for a couple of years. He returned to Tottenham in May 1939 and played for the club during WW2 on a number of occasions but mostly turned out for other clubs. His first match was on 11th November 1939 against Watford in the wartime Football League (South). Spurs beat Watford 8-2, Bennett scoring 3, Les Medley scoring 3 and Johnny Morrison scoring 2. But Bennett had to wait for his official debut against Birmingham on 31st August 1946 which Spurs lost 2-1. Bennett was a first team regular from August 1946 until he joined West Ham United in December 1954 as Rowe's great team broke up. He was unlucky never to win an England cap, the nearest he came to winning one was when he was 12th man for one match during the 1951-52 season.
After leaving Tottenham, he had short spells with West Ham United, Romford Town, Clacton Town, becoming their manager in July 1956. After that, he severed his connection with football and worked on the security staff at the University of Essex.
Les Bennett passed away in 1999.
Len Duquemin was born on Guernsey on 17th July 1924. He spent the war years evading the Germans, who had occupied the Channel Islands in June 1940. After their liberation, he was recommended to Tottenham, in December 1945 and they gave him a trial. He was immediately signed as an amateur and signed professional forms in September 1946. His unofficial debut was against Fulham in a Football League (South) match on 9th March 1946, which was a 1-1 draw. His official debut was against Sheffield Wednesday on 30th August 1947, against Sheffield Wednesday, which Spurs won 5-1, Johnny Jordan and Les Bennett scoring two apiece and Duquemin once.
Duquemin was a regular in the first team until 1954-55 but he lingered on for two more seasons, making his final first team appearance in the 2-2 draw at Newcastle United on 23rd March 1957. He came close to beating George Hunt's record number of goals but could not quite make it. (Bobby Smith and Jimmy Greaves later set new records.)
After leaving Tottenham, Duquemin had short spells with Bedford Town, Hastings United and Romford before finally retiring. He ran a news agency in Northumberland Park for many years and was later a publican at Cheshunt. After retiring, he was often seen with Les Bennett and Bill Nicholson, and attended matches at Tottenham.
Len Duquemin passed away in April, 2003.
Eddie Baily was born at Clapton on 6th August 1925. He was spotted playing for Hackney Schools and eventually signed for Tottenham Juniors. He also had a pell with Finchley. When he was called up during the war, he was mistakenly reported missing in action and Spurs allowed his registration to lapse, thinking he had been killed. But Baily turned up again and, hearing that Spurs had allowed his registration to lapse, he signed amateur forms for Chelsea. However, he popped into the club for some unknown reason and when the club realised that Baily had not been killed in action, they negotiated with Chelsea for his release and re-signed him as an amateur.
Baily made his unofficial debut for Tottenham on 20th February 1946 in the Football League (South) in the home game against Aston Villa on 20th February 1946, which Spurs won, 3-0. His official debut was made on 4th January 1947 in the home game against West Bromwich Albion, which Spurs won 2-0, thanks to goals by Burgess and Walters. Baily was a regular in the Spurs first team until December 1955, making his final appearance in the away game at Burnley, which Spurs lost 0-2. He then left for Port Vale but quickly moved on to Nottingham Forest, for whom I saw him play in the League match against Spurs in October 1957, which we lost, 3-4. He then joined Leyton Orient as a coach and after the death of Harry Evans, the popular Assistant Manager at Tottenham, Baily returned to become Assistant Manager in October 1963. After Bill Nicholson resigned as manager in September 1974, Baily was sacked by Spurs after Terry Neill took up his appointment as manager. Baily then became a scout for West Ham, succeeding Bill Nicholson as Chief Scout when Nicholson returned to Tottenham.
Eddie Baily passed away in October 2010.
Baily's partnership with Les Medley was an integral part of the push and run side and for four years it was unbeatable. Les Medley was born at Edmonton on 3rd September 1920. Like so many of his generation, he was spotted playing for the local schools side and signed for Tottenham Juniors. He was signed as an amateur in the close season during the summer of 1935 and farmed out to Northfleet. He signed professional forms with Tottenham in February 1939. His unofficial debut occurred in a friendly match against Arsenal, played at Colchester, on 17th April 1939, which Spurs lost 2-1. His official debut was against Brentford in home leg, drawn 2-2, of the FA Cup 3rd round tie, which was played on a home and away basis that season, on 5th January 1946. (Spurs lost the second leg 0-2). But his wife, who was Canadian, could not settle in this country and they emigrated to Canada in November 1946. However, Medley became homesick for England and returned to pick up the threads of his career in January 1948 but he did not re-establish himself in the side until April 1949. Medley's role was rather like Cliff Jones' a decade later in that he roamed all over the pitch. He was the top scorer in the promotion side with 18 goals during season 1949-50.
Medley was capped for England on six occasions, four of which saw him renew his partnership with Baily on the international stage. But by the end of the 1952-53 season, his wife was again unhappy and he retired and emigrated again to Canada. He was the first of the side to leave Tottenham. Later, he spent some time coaching in South Africa.
Les Medley passed away in 2001.
Cheers, Brian