SPURS' FIRST TITLE SUCCESS - THE STORY OF 1950-51 - November 1950
(all articles written by the late Brian Judson - unless otherwise stated)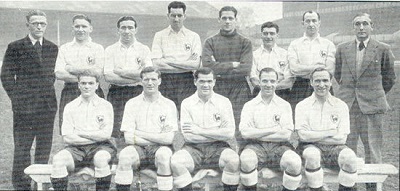 Tottenham Hotspur: First Division Champions 1950-51
Standing, left to right: C. Poynton (trainer), W.E. Nicholson, A.E. Ramsey, H. Clarke, E.G. Ditchburn, A. Willis, R. Burgess (captain), Mr A. Rowe (manager)
Seated left to right: W.E. Walters, L.D. Bennett, L. Duquemin, E.F. Baily, L.D. Medley
On Saturday, 4th November 1950, Arsenal were League Leaders after beating Wolves 1-0 at Molineux. In second place were Newcastle United, who beat Liverpool 4-2 at Anfield. Third were Middlesbrough, who won at Villa Park, 1-0.
Spurs rose to 4th place in the table following their 5-1 thrashing of Portsmouth, the League Champions. Eddie Baily scored three that afternoon with Walters and Duquemin adding one apiece. Portsmouth had won the League Championship in each of the preceding two seasons and had been hoping to win the title for a third successive season when the big kick-off had taken place in August. (Final score:- Spurs 5 Portsmouth 1. Attendance:- 66,402)
Manchester United dropped a point at home to Burnley whilst Blackpool thrashed Everton, 4-0, at Bloomfield Road. This defeat condemned Everton to bottom position in the table. They had only won one game out of 16, conceding 38 goals, the worst of the top 22 clubs.
Keeping Everton in extremis at the bottom were Sheffield Wednesday, in 21st position, as Sunderland had thrashed them 5-1 at Roker Park. Chelsea had improved their position by beating Charlton 2-1 at the Valley.
The other games played that day were Bolton Wanderers v Stoke City, which was a 1-1 draw; Derby County v Huddersfield Town, a 3-0 victory for the Rams and Fulham v West Bromwich Albion, an away win by 0-1 for the visitors.
A week later, on Saturday, 11th November 1950, Arsenal thrashed Sunderland, 5-1, at Highbury, to remain in pole position. Newcastle United surprisingly lost at home to Fulham, 2-1, which allowed Arsenal to gain a two point lead.
However, Spurs climbed to third place in the table by travelling to Everton and beating them 2-1 on Merseyside. Baily and Medley scored the goals that pushed Tottenham into third place, three points behind Arsenal. (Final score:- Everton 1 Spurs 2. Attendance:- 47,125)
Middlesbrough dropped to 4th place by drawing at home to Derby County 1-1 whilst Manchester United surprisingly lost 0-1 at Stamford Bridge, thus remaining in 5th place. Burnley's 2-0 home victory over Wolves pushed the Midlanders further down the table to 8th place.
Everton remained bottom but Aston Villa were in 21st position, as a result of Sheffield Wednesday beating them 3-2 at Hillsborough. Chelsea were 19th.
In the remaining matches, Huddersfield Town and Liverpool drew 2-2 at Leeds Road, Portsmouth and Charlton Athletic drew 3-3 at Fratton Park, Stoke City beat Blackpool 1-0 in the Potteries and West Bromwich Albion lost to Bolton Wanderers 0-1 at the Hawthorns.
A week later, on Saturday, 18th November 1950, Arsenal still led the table after winning 3-1 at Anfield against Liverpool but Spurs were breathing down their neck as a result of thrashing Newcastle United 7-0 at White Hart Lane.
Spurs were in brilliant form that afternoon. Before a crowd of 70,336 spectators, Spurs took the lead after 5 minutes. Duquemin collected the ball in midfield, beat his marker and passed to Baily. Baily pushed the ball on to Medley, who cut inside whilst Baily raced down the wing to collect a return pass from Medley. Baily centred the ball and Bennett timed his run perfectly to head the ball home. After 24 minutes, Baily took the ball off Harvey, rounded him and put Spurs 2-0 up. Medley then scored twice to take Spurs to a 4-0 lead at half-time.
In the 54th minute, Walters scored to make it 5-0 with a long range shot. McMichael, the Newcastle left back was then concussed after a collision and had to go off. Medley then completed his hat-trick and Ramsey scored the seventh from the penalty spot after Cowell had handled the ball in the penalty area. This was Spurs' eighth consecutive win, during which they had scored no less than 28 goals and conceded just 6. (Final score:- Spurs 7 Newcastle 0. Attendance:- 70,336)
Middlesbrough were third after winning 2-0 at Bolton. Newcastle were 4th and Manchester United, who had been held to a 0-0 draw by Stoke City, at Old Trafford, were 6th.
Everton were still bottom having been thrashed 4-0 by Wolves at Molineux and were three points behind Sheffield Wednesday, who were 21st. The Owls had lost 4-2 at Fulham whilst Chelsea had crashed 4-2 at Villa Park, a win which took Aston Villa up to 19th.
Of the other matches that day, Blackpool beat Huddersfield Town 3-1 at Bloomfield Road; Charlton Athletic lost at home to West Bromwich Albion 2-3; Derby County and Burnley drew 1-1 at the Baseball Ground and Sunderland and Portsmouth drew 0-0 at Roker Park.
On the final Saturday of the month, 25th November 1950, Arsenal retained their lead by thrashing Fulham 5-1 at Highbury. Middlesbrough regained second place by beating Blackpool 4-3 at Ayresome Park, whilst Spurs slipped to 4th place as a result of losing to Huddersfield Town at Leeds Road. Bill Nicholson and 'Sonny' Walters scored our goals, after the "Terriers" had taken a three goal lead. (Final score:- Huddersfield 3 Spurs 2. Attendance:- 39,519)
Newcastle were 3rd after beating Charlton 3-2 at St James' Park. Manchester United were 5th after beating West Bromwich Albion 1-0 at the Hawthorns.
At the bottom of the table, Everton reduced the gap as a result of beating Sunderland 3-1 at Goodison Park. Sheffield Wednesday remained 21st in the table after losing to Bolton Wanderers 4-3 at Hillsborough. Chelsea were 20th after losing 2-1 at Stamford Bridge against Derby County.
Of the other matches, Burnley and Liverpool drew 1-1 at Turf Moor; Portsmouth and Aston Villa drew 3-3 at Fratton Park and Stoke City lost at home to Wolverhampton Wanderers 0-1.
December 1950 was a busy month but Spurs had a lot to celebrate by New Years' Eve ........

Pos.                  P   W   D   L    F-A    Pts
  1  Arsenal         19  13   4   2   45-15   30
  2  Middlesbrough   19  11   5   3   42-22   27
  3  Newcastle       19  10   6   3   35-26   26
  4  Spurs           18  11   3   4   46-24   25
  5  Man Utd         19   9   5   5   21-13   23
  6  Wolves          18   9   3   6   37-23   21
  7  Burnley         18   6   8   4   24-17   20
  8  Bolton          19   8   4   7   33-33   20
  9  Blackpool       19   7   5   7   33-27   19
 10  Derby County    18   8   3   7   35-30   19
 11  Stoke City      19   5   8   6   21-26   18
 12  Huddersfield    19   7   4   8   29-48   18
 13  Liverpool       18   5   7   6   25-27   17
 14  Portsmouth      18   5   7   6   29-33   17
 15  Fulham          19   6   5   8   23-34   17
 16  West Brom       19   5   5   9   25-26   15
 17  Aston Villa     19   4   6   9   31-35   14
 18  Sunderland      18   4   6   8   22-33   14
 19  Charlton        18   5   4   9   27-42   14
 20  Chelsea         18   5   2  11   22-28   12
 21  Sheffield Wed   19   4   4  11   27-46   12
 22  Everton         19   4   3  12   24-45   11

Cheers, Brian