SPURS' FIRST TITLE SUCCESS - THE STORY OF 1950-51 - October 1950
(all articles written by the late Brian Judson - unless otherwise stated)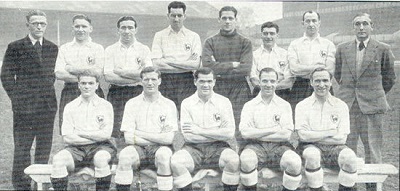 Tottenham Hotspur: First Division Champions 1950-51
Standing, left to right: C. Poynton (trainer), W.E. Nicholson, A.E. Ramsey, H. Clarke, E.G. Ditchburn, A. Willis, R. Burgess (captain), Mr A. Rowe (manager)
Seated left to right: W.E. Walters, L.D. Bennett, L. Duquemin, E.F. Baily, L.D. Medley
Middlesbrough's 4-3 victory at Wolverhampton took them to the top of the table on Saturday, 7th October 1950. Newcastle's 3-0 defeat at Villa Park dropped them back to 3rd place after leading the table. Arsenal's 3-1 victory at Charlton lifted them into 2nd place. Manchester United were 4th after the day's matches after beating Sheffield Wednesday, 3-1.
Blackpool's 3-2 victory over Chelsea left them in 5th place whilst Liverpool were 6th after their goal-less draw with Stoke City at Anfield. Spurs beat Burnley 1-0 at Tottenham to creep into 7th place. Les Medley scored the only goal of the game. (Final score:- Spurs 1 Burnley 0. Attendance:- 46,518) Wolves and Huddersfield, the early pace makers had fallen away. The Terriers had drawn 0-0 at Roker Park.
At the bottom of the table, Bolton Wanderers thrashed the Champions, Portsmouth, 4-0, at Burnden Park. Derby County and West Bromwich Albion drew 1-1 at the Baseball Ground and Everton continued their improvement by travelling to Fulham and thrashing them 5-1 at Craven Cottage.
A week later, on Saturday, 14th October 1950, Arsenal beat Manchester United, 3-0 at Highbury, to regain the leadership. Middlesbrough's failure to beat Sunderland at Ayresome Park (the two sides drew 1-1) cost them the leadership. Newcastle United beat Derby County 3-1 at St James' Park to remain 3rd.
Tottenham's 2-0 victory at Stamford Bridge against Chelsea lifted them into 5th place. Walters and Duquemin scored the goals before an attendance of 65,992 spectators. (Final score:- Chelsea 0 Spurs 2. Attendance:- 65,992)
Liverpool's 1-1 draw at the Hawthorns was enough to keep them in 6th place. Huddersfield Town beat Aston Villa 4-2 to halt their slide down the table. Wolves dropped another point when they could only draw 2-2 against struggling Sheffield Wednesday at Hillsborough. Portsmouth beat Blackpool 2-0 in a mid-table battle. Burnley beat Charlton Athletic 5-1 at Turf Moor. Stoke City and Fulham also drew 1-1.
At the bottom of the table, Everton and Bolton Wanderers drew 1-1 at Goodison Park, leaving the bottom three as Everton, Sheffield Wednesday and Chelsea.
On Saturday, 21st October 1950, Tottenham produced the day's biggest score when they thrashed Stoke City, 6-1. Bennett and Duquemin scored two each and Walters and Medley scored one apiece. This victory left Spurs in 4th place behind Newcastle, the new leaders, Arsenal and Middlesbrough. (Final score:- Spurs 6 Stoke 1. Attendance:- 54,124)
Newcastle returned to the top of the table by winning 2-0 at Bolton. Arsenal failed to beat Aston Villa at Villa Park, drawing 1-1 and losing the leadership. Middlesbrough also lost ground, drawing 0-0 at Anfield. Manchester United and Portsmouth drew 0-0 at Old Trafford. Wolverhampton Wanderers beat Chelsea 2-1 to continue their rise up the table to 6th place. Blackpool beat West Bromwich Albion 2-1 to improve their chances of returning to the top half of the table. Fulham drew with Huddersfield 1-1 as did Sunderland and Burnley.
At the bottom of the table, Charlton Athletic beat Everton 2-1 to ensure they remained deep in trouble whilst Derby County beat Sheffield Wednesday 4-1 at the Baseball Ground.
On the last Saturday of this review, Saturday, 28th October 1950, Spurs won their fifth consecutive victory, this time at West Bromwich Albion, 2-1. Our goals were scored by Walters and Medley. (Final score:- West Brom 1 Spurs 2. Attendance:- 44,543)
The top six remained unchanged. Newcastle beat Blackpool 4-2 in what was a rehearsal for the following April's Cup Final. Arsenal beat Derby County 4-2 at Highbury and Middlesbrough drew with Fulham 1-1 at Ayresome Park.
Manchester United kept up their challenge by thrashing Everton 4-1 at Goodison Park. Burnley beat Aston Villa 2-0 to return to winning ways. Stoke City beat Charlton Athletic 2-0 at the Victoria Ground. The reigning champions, Portsmouth, were thrashed by Wolverhampton Wanderers 4-1 at Fratton Park.
The teams at the bottom of the table generally enjoyed a good afternoon. Chelsea beat Sunderland 3-0 at Stamford Bridge. Huddersfield Town were humiliated at home by Bolton Wanderers, who won 4-0. Sheffield Wednesday beat Liverpool 4-1 at Hillsborough.
The table that follows shows the position as it stood at the end of October 1950.

Pos.                  P   W   D   L    F-A   Pts
  1  Newcastle       15   8   6   1   27-13   22
  2  Arsenal         15   9   4   2   31-12   22
  3  Middlesbrough   15   8   4   3   34-18   20
  4  Spurs           14   8   3   3   30-19   19
  5  Man Utd         15   8   3   4   19-11   19
  6  Wolves          14   7   3   4   32-20   17
  7  Burnley         14   5   5   4   19-14   15
  8  Blackpool       15   5   5   5   23-21   15
  9  Liverpool       14   5   5   4   19-17   15
 10  Huddersfield    15   6   3   6   23-38   15
 11  Bolton          14   6   2   6   26-26   14
 12  Portsmouth      14   5   4   5   22-22   14
 13  Stoke City      15   4   6   5   19-24   14
 14  Derby County    14   6   1   7   28-27   13
 15  Charlton        14   5   3   6   19-31   13
 16  Fulham          15   4   5   6   16-25   13
 17  West Brom       15   3   5   7   21-22   11
 18  Aston Villa     15   3   5   7   22-26   11
 19  Sunderland      14   3   5   6   15-24   11
 20  Sheffield Wed   15   3   4   8   18-31   10
 21  Everton         15   3   3   9   20-34    9
 22  Chelsea         14   3   2   9   16-21    8

Cheers, Brian