SPURS' FIRST TITLE SUCCESS - THE STORY OF 1950-51 - February 1951
(all articles written by the late Brian Judson - unless otherwise stated)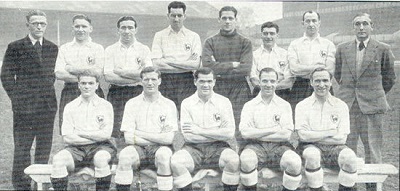 Tottenham Hotspur: First Division Champions 1950-51
Standing, left to right: C. Poynton (trainer), W.E. Nicholson, A.E. Ramsey, H. Clarke, E.G. Ditchburn, A. Willis, R. Burgess (captain), Mr A. Rowe (manager)
Seated left to right: W.E. Walters, L.D. Bennett, L. Duquemin, E.F. Baily, L.D. Medley
On Saturday, February 3rd 1951, Spurs made the long journey north to Roker Park and held their hosts to a goal-less draw. (Final score:- Sunderland 0 Spurs 0. Attendance:- 56,817) Middlesbrough, in second place, lost at Old Trafford to Manchester United, who had seemingly dropped right out of the Championship race. Arsenal and Newcastle United drew 0-0 at Highbury.
Bolton, who had struggled earlier in the season, were held to a 2-2 draw at the Baseball Ground, checking their rise up the table. Wolves, fast dropping off the pace, crashed 3-2 at home to Charlton, who were on the fringe of the relegation battle. Blackpool won 3-0 at Villa Park, to condemn Aston Villa to further struggles. Villa's position at the foot of the table was serious and they were already looking around for new talent. Meanwhile, a certain Mr Blanchflower was quietly plying his trade at Barnsley, in the Second Division .......
At the bottom of the table, Sheffield Wednesday dragged Huddersfield Town closer to the drop zone by winning 3-2 at Hillsborough. Chelsea improved their position by drawing 1-1 at home with Stoke City, who were safe in mid-table. Everton travelled to Fratton Park where the reigning champions thrashed them 6-3.
Of the other matches, Burnley lost at home to West Bromwich Albion, 1-0 and Liverpool beat Fulham 2-0.
A week later, on Saturday, February 10th 1951, there were only two matches played because this was the day the Fifth Round of the FA Cup was played. Neither match had any bearing at either end of the table. Bolton Wanderers and Burnley drew 1-1 and Liverpool beat Portsmouth 2-1.
In the FA Cup, the ultimate Finalists, Newcastle United and Blackpool, both progressed at the first attempt. Newcastle won 4-2 at Stoke City and Blackpool beat Mansfield Town 2-0 at Bloomfield Road. Arsenal lost to Manchester United 1-0 at Old Trafford, leaving Fulham as the only London club left in the FA Cup, after they had beaten Chelsea (after a replay).
On Saturday, February 17th 1951, Spurs returned to winning ways when they beat Aston Villa, 3-2. Alf Ramsey scored from the penalty spot and Eddie Baily and Les Medley scored one apiece. (Final score:- Spurs 3 Aston Villa 2. Attendance:- 47,842)
Middlesbrough also returned to winning ways, beating Huddersfield Town, 3-2, at Leeds Road. Arsenal lost ground on the top two by crashing 2-0 at the Hawthorns against West Bromwich Albion. Bolton Wanderers climbed to 4th place by beating Liverpool, 2-1. Newcastle United beat Sheffield Wednesday, 2-0, to keep in 5th place. Manchester United beat Wolves 2-1 at Old Trafford, thus pushing Wolves further off the pace.
Everton and Chelsea clashed at Goodison Park in a relegation battle, which Everton won 3-0. Everton looked to be fairly safe as they were now five points clear of the bottom two positions.
Of the other games, Blackpool beat Derby County, 3-1; Charlton Athletic beat Sunderland, 3-0; and Stoke City and Burnley drew 0-0.
On the following Saturday, February 24th 1951, the Sixth Round of the FA Cup took place, so there was a reduced programme of fixtures. Spurs travelled to Turf Moor where Burnley beat them 2-0. (Final score:- Burnley 2 Spurs 0. Attendance:- 33,047) Fortunately for Spurs, Middlesbrough had no game as their scheduled opponents, Wolves, were playing a Cup-tie. Spurs were also helped by Charlton Athletic, who surprisingly trounced Arsenal 5-2 at Highbury.
Only one game had implications for the bottom of the table. Sheffield Wednesday were hosts to Chelsea and the match ended 2-2, which did not augur well for either clubs prospects of survival. The match had been postponed from Saturday, December 16th 1950.
Of the other games, Portsmouth beat Bolton Wanderers, 2-1, at Fratton Park; Stoke City lost at home to Liverpool, 2-3, at the Victoria Ground and West Bromwich Albion crashed at home to Derby County, 1-2.
In the FA Cup, Newcastle United needed a replay to dispose of Third Division (South) Bristol Rovers and Blackpool beat Fulham, 1-0. Wolves needed a replay before they clinched their Semi-Final place by beating Sunderland and Second Division Birmingham City beat Manchester United, 1-0.
On Monday, February 26th 1951, Manchester United travelled to Hillsborough, in a fixture postponed from the Saturday, and thrashed the Owls, 4-0. This lifted the Reds into 4th place in the table, five points adrift of Spurs who remained the leaders. Two nights later, Chelsea crashed at home to Blackpool, 0-2, whilst Everton beat Fulham, at Goodison Park, 1-0. Both games had been postponed from the preceding Saturday.
As the clubs welcomed March, Danny Blanchflower's move from Barnsley to Aston Villa began to take shape ......

Pos.                  P   W   D   L    F-A    Pts
  1  Spurs           30  17   7   6   62-37   41
  2  Middlesbrough   29  16   8   5   67-41   40
  3  Arsenal         31  15   7   9   58-38   37
  4  Man Utd         30  15   6   9   44-32   36
  5  Newcastle       28  14   8   6   48-38   36
  6  Bolton          31  15   6  10   52-45   36
  7  Blackpool       30  13   8   9   57-41   34
  8  Wolves          28  13   6   9   56-37   32
  9  Burnley         31  10  12   9   37-31   32
 10  Derby County    30  12   7  11   60-55   31
 11  Stoke City      31   9  13   9   37-38   31
 12  Liverpool       31  12   7  12   42-46   31
 13  Portsmouth      29  11   8  10   53-54   30
 14  Charlton        31  11   6  14   52-67   28
 15  Everton         31  11   5  15   45-62   27
 16  West Brom       31   9   8  14   40-43   26
 17  Sunderland      29   7  10  12   42-56   24
 18  Fulham          30   8   8  14   35-53   24
 19  Chelsea         29   8   6  15   36-45   22
 20  Huddersfield    29   8   5  16   43-70   21
 21  Aston Villa     29   5  10  14   42-51   20
 22  Sheffield Wed   31   7   6  18   43-68   20

Cheers, Brian