SPURS' FIRST TITLE SUCCESS - THE STORY OF 1950-51 - August 1950
(all articles written by the late Brian Judson - unless otherwise stated)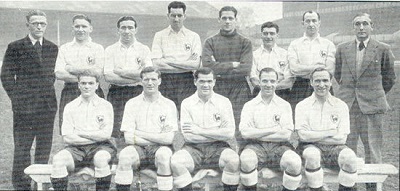 Tottenham Hotspur: First Division Champions 1950-51
Standing, left to right: C. Poynton (trainer), W.E. Nicholson, A.E. Ramsey, H. Clarke, E.G. Ditchburn, A. Willis, R. Burgess (captain), Mr A. Rowe (manager)
Seated left to right: W.E. Walters, L.D. Bennett, L. Duquemin, E.F. Baily, L.D. Medley
Spurs first season back in the top flight, after an absence stretching back to May 1935, did not get off to a very good start on Saturday, August 19th 1950. Spurs were hosts to Blackpool, who had finished 7th in the championship the previous season. During the summer, Spurs had sold Billy Rees to Leyton Orient and secured Peter Murphy from Coventry City to cover Les Bennett and Eddie Baily in the inside forward positions. They had also purchased goalkeeper Ron Reynolds to cover Ted Ditchburn. When Reynolds signed from Aldershot in the summer of 1950, he did not know he would have to wait until the spring of 1954 to make his first team League debut.
The thousands who thronged the High Road before the match against Blackpool could not have known what lay ahead. They had cantered through the Second Division the previous season so they must have felt optimistic to say the least! Yet by 4.40pm, Spurs had crashed 4-1 at home with Eddie Baily scoring the only goal for Spurs. 64,978 spectators saw that match and many must have gone home convinced Spurs were destined to face a relegation battle. (Final score:- Spurs 1 Blackpool 4. Attendance:- 64,978)
Elsewhere, Aston Villa beat West Bromwich Albion, 2-0; Burnley lost at home to Arsenal, 0-1; Charlton Athletic, who had scarcely avoided the drop to the Second Division the previous season, beat Bolton Wanderers, 4-3; Chelsea beat Sheffield Wednesday, 4-0; Everton beat Huddersfield Town, 3-2; Manchester United beat Fulham, 1-0; Portsmouth, the reigning Champions, were held by Middlesbrough to a 1-1 draw; Stoke City lost at home to Newcastle United, 1-2; Sunderland, who had finished 3rd, beat Derby County, 1-0; and Wolverhampton Wanderers, who had finished runners-up to Portsmouth beat Liverpool, 2-0.
On Monday, 21st August 1950, Aston Villa beat Sunderland, 3-1; Blackpool lost at home to Burnley, 1-2; Sheffield Wednesday surprisingly beat Portsmouth, 2-1.
Tottenham made the long trip north to Burnden Park to play Bolton Wanderers, on the Wednesday. Spurs comfortably won 4-1, thanks to goals by Walters, Murphy, Duquemin and Medley. The match was played on a soggy pitch after a three hour deluge of rain. Bolton took the lead and had Spurs on the ropes. Murphy, replacing the injured Les Bennett, equalised after a long 50 yard dribble that Hanson could only help the ball on its way to the net. In the second half, Spurs demonstrated their superiority. Watching the match as Bolton's coach was George Hunt, Spurs' record goalscorer with 138 goals, a record that was to stand for another ten years. (Final score:- Bolton 1 Spurs 4. Attendance:- 21,745)
The same afternoon, Arsenal and Chelsea drew 0-0; Derby County lost at home to Wolverhampton Wanderers, 1-2; Fulham lost at home to Charlton Athletic, 1-3; Huddersfield Town beat Stoke City, 3-1 at Leeds Road; Liverpool beat Manchester United, 2-1 at Anfield; Middlesbrough thrashed Everton, 4-0 at Ayresome Park; Newcastle United and West Bromwich Albion drew 1-1 at St James' Park.
On the following Saturday, 26th August 1950, Tottenham made the short trip to Highbury for the first time for League points since their 5-1 thrashing in October 1934. This time, the two teams drew 2-2. 64,638 spectators crammed into Highbury to watch the game. Murphy again deputised for the injured Les Bennett. Roper scored for Arsenal after 17 minutes. It was a freak goal as he was intending to centre the ball but the wind caught it in flight and the ball dropped behind Ditchburn. Burgess equalised five minutes afterwards when Lishman conceded a free-kick for a foul on Eddie Baily. Ramsey took the free-kick and Burgess timed his run to perfection to head the ball in off the far post. In the second half, Sonny Walters gave Spurs the lead with 20 minutes left. Medley beat Leslie Compton, lobbed the ball into the goalmouth and Walters, stumbling, somehow forced the ball home with the Arsenal defence spreadeagled. But with 2 minutes left to play, Nicholson conceded a penalty by bringing down Lishman, and Wally Barnes converted the resulting penalty. (Final score:- Arsenal 2 Spurs 2. Attendance:- 64,638)
Blackpool and Charlton Athletic drew 0-0 at Bloomfield Road; Bolton Wanderers surprisingly beat Manchester United 1-0 at Burnden Park; Derby County beat Aston Villa 4-2 at the Baseball Ground; Fulham surprisingly beat Wolverhampton Wanderers 2-1 at Craven Cottage; Huddersfield Town beat Portsmouth 2-1 at Leeds Road; Liverpool thrashed Sunderland 4-0 at Anfield; Middlesbrough beat Chelsea 3-0 at Ayresome Park; Newcastle United and Everton drew 1-1 at St James' Park; Sheffield Wednesday lost at Hillsborough to Burnley, 0-1; West Bromwich Albion and Stoke City drew 1-1 at the Hawthorns.
On Monday, 28th August 1950, Spurs played the return game with Bolton Wanderers, at White Hart Lane. Langton had provided the passes from which Moir scored twice for Bolton to give them a 2-0 lead. But Spurs fought back with Duquemin scoring twice and Baily once with an own goal ensuring Spurs won 4-2. 44,246 spectators were there to see Spurs claim their first home win of the season. (Final score:- Spurs 4 Bolton 2 Spurs 4. Attendance:- 44,246)
Elsewhere, Stoke City lost at home to Huddersfield Town, 0-1; and at Molineux, Wolves' poor start to the season saw them lose to Derby County 2-3.
On Tuesday, 29th August 1950, Burnley and Blackpool drew 0-0 at Turf Moor.
On Wednesday, 30th August 1950, Charlton Athletic and Fulham drew 0-0 at The Valley; Chelsea lost at home to Arsenal, 0-1; Everton surprisingly beat Middlesbrough, the early pace-makers, 3-2, at Goodison Park; Manchester United beat Liverpool, 1-0, at Old Trafford; Portsmouth showed something of their championship form by beating Sheffield Wednesday, 4-1, at Fratton Park; Sunderland and Aston Villa fought out a keenly contested 3-3 draw at Roker Park; West Bromwich Albion lost at the Hawthorns to Newcastle United, 1-2.

Pos.                 P   W   D   L    F-A   Pts
  1 Huddersfield     4   3   0   1    8-5    6
  2 Charlton         4   2   2   0    7-4    6
  3 Newcastle        4   2   2   0    6-4    6
  4 Arsenal          4   2   2   0    4-2    6
  5 Middlesbrough    4   2   1   1   10-4    5
  6 Spurs            4   2   1   1   11-9    5
  7 Aston Villa      4   2   1   1   10-8    5
  8 Burnley          4   2   1   1    3-2    5
  9 Everton          4   2   1   1    7-8    5
 10 Liverpool        4   2   0   2    6-4    4
 11 Blackpool        4   1   2   1    5-3    4
 12 Derby County     4   2   0   2    8-7    4
 13 Wolves           4   2   0   2    7-6    4
 14 Man. Utd         4   2   0   2    3-3    4
 15 Portsmouth       4   1   1   2    7-6    3
 16 Chelsea          4   1   1   2    4-4    3
 17 Fulham           4   1   1   2    3-5    3
 18 Sunderland       4   1   1   2    5-10   3
 19 West Brom        4   0   2   2    3-6    2
 20 Bolton           4   1   0   3    7-12   2
 21 Sheffield Wed    4   1   0   3    3-10   2
 22 Stoke City       4   0   1   3    3-7    1