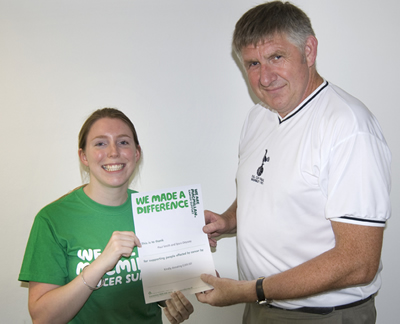 Photograph by Derek Ridgers See Derek's website archive here
Spurs Odyssey Webmaster Paul Smith (accompanied by friend and photographer Derek Ridgers) went to the head office of Macmillan Cancer Support last Thusday (6th August, 2009) and made a presentation to Rebecca Steadman of Macmillan for the sum of £269 on behalf of Spurs Odyssey members.
The money was 50% of the sum raised during the 2008-09 season by a series of pledges made by Spurs Odyssey members through the popular Spurs Odyssey message board
Some pledges had a fun element to them, and cost their makers nothing (such as £1 for every goal scored by Didier Zokora!). Others were more expensive such as amounts for every goal scored by Darren Bent, clean sheets and goals scored in Cup competitions. The scheme was one of a number of elements that makes the Spurs Odyssey message board one of the fun places to be throughout the football season and the close season. If you are interested in joining the board, then send me an e-mail for details of how to join
Donations direct to Macmillan Cancer Support are of course always welcome, and very much needed for this magnificent organisation to maintain the wonderful support they give to those suffering from Cancer, and their loved ones. Just go to the Macmillan home page for more information.
Macmillan can be summarised as follows:- "Macmillan Cancer Support improves the lives of people affected by cancer. We are a source of support: providing practical, medical, emotional and financial support. We are a force for change: listening to people affected by cancer and working together for better cancer care. One in three of us will get cancer. 2 million of us are living with it. We are all affected by cancer. We can all help. We are Macmillan."
Spurs Odyssey members are already making their pledges for the new season, and no doubt will be supporting a worthy charity or two in the new season!
An album of five pictures of the presentation can be viewed here - http://www.facebook.com/album.php?aid=130943&id=627192344&l=63f5aea267