The story of Spurs 1963 European Cup-Winners' Cup win - Introduction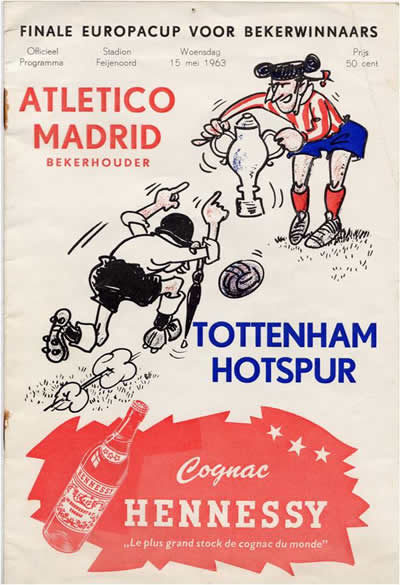 On May 15th, 2013, Tottenham Hotspur Football Club will celebrate the fiftieth anniversary of their magnificent 5-1 European Cup-Winners' Cup Final win over Athletico Madrid. That victory took place in Holland at the Feyenoord Stadium. It is possible that we could reach the final of the 2012-13 Europa League, which will be played in Holland on the exact anniversary of our historic win, when we became the first British Football club to win a major European trophy.
This season's Europa League Final will be held in Amsterdam. It is even possible that our opponents could again be Athletico Madrid, who, like us, join the Europa League at the Group stage this season. What an occasion that would be!
Ten years ago, Brian Judson wrote a short series of articles about Spurs' quest and success in Europe. These articles are being published at the appropriate times during this season for the first time on Spurs Odyssey:-
Spurs qualified for the 1962-63 European Cup-Winners Cup by virtue of retaining the FA Cup in 1962. This was not an easy task for them. In the third round, Spurs were drawn away to Birmingham City and were fortunate to escape with a draw, thanks to two goals by Jimmy Greaves and one by the great John White. The replay was just as hard but Spurs eventually came out on top, courtesy of two goals by Terry Medwin, Allen and Greaves.
· Birmingham 3 Spurs 3 - 6th January 1962 - Attendance:- 46,096
· Spurs 4 Birmingham 2 - 10th January 1962 - Attendance:- 62,917
In the Fourth Round, Spurs did not have much trouble in disposing of Plymouth Argyle. Greaves had made his Tottenham debut in a Football Combination match there some six weeks before and was grateful for the wide open spaces of Home Park once again. Spurs won 5-1, with Greaves scoring twice, Medwin, White and Jones completing the rout.
· Plymouth 1 Spurs 5 - 27th January, 1962 - Attendance:- 40,040
Spurs were then drawn away again in the Fifth Round, this time against West Bromwich Albion. Spurs had some problems in breaking the Baggies' defence down but eventually won 4-2, through goals by Bobby Smith and Greaves, who each scored twice.
· West Brom 2 Spurs 4 - 17th February, 1962 - Attendance:- 53,539
The 6th Round saw Spurs drawn at home against Aston Villa. I remember the pitch was a mud-heap and quite boggy. It was impossible to play football on in the manner usually played by Spurs. The ball had to be hacked out of the mud. If I remember correctly, the goals were late in coming before Blanchflower and Jones scored and Spurs emerged 2-0 winners.
· Spurs 2 Aston Villa 0 - 10th March, 1962 - Attendance:- 64,000
Spurs were then drawn to play Manchester United at Hillsborough in the Semi-Final. The Mancunians had not enjoyed a very good season as they had struggled to avoid relegation as they were still re-building the club after Munich in February 1958. Blanchflower scored from the penalty spot and Bobby Smith and Greaves bagged one a piece in a 3-1 win.
· Manchester United 1 Spurs 3 - 31st March, 1962 - Attendance:- 65,000
The Final against Burnley (at Wembley) was like a chess match. Both sides knew each other's tactics and ploys very well, so it was always going to be the side that saw Lady Luck smile on them that would win the Cup. Greaves was put through after only 4 minutes. He very nearly lost the ball after over-running, but recovered in time to plonk the ball behind Blacklaw.
Burnley took a while to recover from the shock but were soon harassing Baker and Henry on the wings. But half-time came and went without Burnley grabbing the equaliser until five minutes after half-time. Pointer sent Harris away; the centre was low and Robson bundled the ball into the net behind Bill Brown.
Spurs struck back before the cheers had even died away at the Burnley end of the Stadium. Jones slipped the ball to White out on the left wing, Smith rounded the Burnley centre-half and smashed the ball behind a frantically clawing Blacklaw.
Although Burnley fought like tigers, there was no way back from them. A penalty by Blanchflower, which sent Blacklaw the wrong way, merely confirmed the inevitable.
And so Spurs retained the FA Cup, and qualified for Europe.
· Spurs 3 Burnley 1 - 5th May, 1962 - Attendance:- 100,000
However Spurs could, and should have won the League again to clinch a second Double. They were in a titanic battle with Burnley for the title for much of the season. Tottenham's mistake, in my opinion, was to undertake a friendly in Egypt in November. There was a slight blip of form after that friendly and Spurs lost both games against Ipswich Town, who came from nowhere to win the title. Had Spurs beaten Ipswich ONCE, they would have completed a back-to-back double.
Spurs did not, of course, compete in the Football League Cup in those days. The only addition to the playing staff from the previous season was Greaves. But Smith and Jones both spent spells out of the side for various reasons, mostly injury.
In the coming months, at approximately the time of each round of the European Cup-Winners-Cup tie, I will provide a write-up of each tie Spurs played.
Cheers, Brian
· Round One - Spurs beat Glasgow Rangers 8-4 on aggregate.
· Round Two - Spurs beat Slovan Bratislava 6-2 on aggregate.
· Semi-Final - Spurs beat OFK Belgrade 5-2 on aggregate.
· The Final - Spurs beat Athletico Madrid 5-1.