| | | |
| --- | --- | --- |
| S | | 66% |
| P | | 69.28% |
| U | | 60.38% |
| R | | 64.32% |
| S | | 55.92% |
| = | | 63.18% |

 P  W  D  L   F-A  GD  Pts
38 19 13  6  69-35 34  70

Position:- 3rd

+15 Cup matches

Mauricio Pochettino
| | |
| --- | --- |
| Team Selection | 7.09 |
| Tactics | 6.82 |
| Substitutions | 6.52 |
| Overall | 6.81 |
· May 2016 figures
· Last Year's figures
2014-2015 season


Savour the favourite moments!

To say the season ended in a disappointing fashion because of our thrashing by relegated Newcastle; our terrible final four results in what became a title chase, and the surrender of second place to Arsenal is a major under-statement.

However, we have qualified for next season's Champions League for only the second time, and this time we don't even have to take part in the play-off round. Harry Kane scored 25 league goals and won the Premier League Golden Boot. Spurs finished in their highest ever Premier League position. The team; most players, and the manager (no longer known as "head coach") improved dramatically over their performance last season, winning six more points; scoring 11 more goals; conceding 18 less goals, and climbing two precious places in the league.

Any review of a season should focus on savouring the favourite moments, and there were plenty of those, although Mauricio Pochettino recognises only too well the potential for improvement next season.

The summer transfer window had seen Pochettino successfully thinning out his squad with the departure of the likes of Paulinho, Lewis Holtby, Etienne Capoue, Benjamin Stambouli, Roberto Soldado and Vlad Chiriches. Aaron Lennon was sold to Everton, but it took longer for Spurs to finally cut the contractual cord with Adebayor. Agreement was reached during the Autumn to mutually end the contract. Adebayor would sign for Crystal Palace in January, and even got a losing Cup Finalists' medal in May, although he didn't get off the bench.

One significant signing had been made in January 2015 by Spurs with the acquisition of Dele Alli for a bargain £5 million. Alli was loaned back to MK Dons. Little did we know then of the talent and genius we had acquired, but Mauricio Pochettino was happy to expose him to Premier League football at the very start of the season with a substitute appearance at Old Trafford. Alli soon became a firm favourite of the crowd "We've got Alli!", and would have a fantastic season with 10 Premier League goals, including the goal of the season at Crystal Palace, making his full England debut, and scoring in his first full appearance against France! Now he is one of five Spurs players going with England to Euro 2016.

Our most significant signing of the summer though had to be Toby Alderweireld. Alderweireld has been "Ledley-esque" at the heart of the Spurs defence which conceded equally the least goals of any team in the Premier League. That figure should easily have been the best had it not been for Newcastle.

Alderweireld was truly a rock. He was ever-present in our 38 league games, missing only the very end of the Chelsea game when he was injured. Toby got his first of only three league bookings at Watford in late December. His accurate long passing became a common and much-appreciated trait, and he also scored four goals in significant matches (Man City & West Ham 4-1 wins; 2-2 draw with Arsenal, and 3-0 win over Man Utd.)

Alderweireld's partnership with his Belgian compatriot Jan Vertonghen was a clear strong point in Spurs' armoury, but when Vertonghen was injured at Selhurst park in January, another summer signing Kevin Wimmer stepped up to the plate in confident and admirable fashion. Wimmer was unfortunate to be usurped by Vertonghen as soon as he returned to mach fitness.

The other summer signings were right back Kieran Trippier, along with striker/midfielders Son Heung-min and Clinton N'Jie. Son scored two goals on his home debut in the Europa League, and a late significant winner at Watford, but over the course of the season looked lightweight, although he does show flashes of skill and scoring ability. N'Jie had few chances, and also was hampered by injury.

The Pochettino style of high-pressing possession football makes huge demands upon the full-backs, and whilst Kyle Walker and Danny Rose (also going to the Euros) have been clear first choices, Kieran Trippier and Ben Davies have been very good cover - occasionally offering stand-out performances, usually in Europa League games.

Toby Alderweireld was our player of the season. Unlike Spurs who finished third in "a two-horse" race, Mousa Dembele ultimately came from behind to grab second place in what had looked like a two-horse race between Alderweireld and Lloris. Due to his mis-behaviour at Chelsea (and a six-game ban that carries over into next season), Dembele had the good fortune to miss our subsequent defeats to Southampton and Newcastle in which most players, including Lloris, got poor grades.

Lloris, Dembele and Alderweireld (in that order) hogged our player of the month votes, whilst Erik Lamela chipped in with one such award. Lamela has won over most doubters with his 100% effort, making loads of impact, not least with assists. The finest example of this was his inch-perfect defence-splitting pass which put in Christian Eriksen for one of our best winning moments off the season at The Etihad Stadium, Manchester on Valentine's Day.

Harry Kane has now scored 49 Premier League goals, and joined the rather exclusive club of players scoring 20 or more goals in two successive Premier League seasons. Harry scored 28 goals in all games for Spurs. The one that comes to my mind immediately is the fantastic curler in the 2-2 home draw against Arsenal. Harry will be going to France with England.

The only one of our five current England Internationals I have yet to mention is Eric Dier, who hasn't played as many minutes this season as Alderweireld, but he has started one more game. Dier, who last season was soon moved to the defensive midfield slot, has been a stalwart in that position for Spurs. Dembele has made the position next to Dier his own, but Pochettino surely needs to strengthen the back-up for these two key positions in the summer to come.

It's not easy to find a favourite moment in what was a moderate start to the season, with three draws and one defeat, but Dele Alli scored his first Spurs goal at Leicester with a fine floating header. Unfortunately, Mahrez immediately equalised, and Spurs lost the first two of what would be a crucial five points lost to title winners Leicester. Leicester were already in the top four, and once they returned there in November, they would never look back.

September's highlight has to be the exhilarating 4-1 home win over Man City, who do have to play a qualifier for the Champions Leaue in August. City missed Kompany on this day, and would often miss him throughout the season. Harry Kane scored his first Premier League goal of the season in our seventh league game, but after that slow start, he (like Leicester) would never look back.

October's highlight probably has to be another high-scoring win - the 5-1 away annihilation of Bournemouth, with Kane getting his only hat-trick of the season to start a run of 6 consecutive games in which he scored. That run had included two Europa League games, but there was a time when we wondered if he might emulate Jamie Vardy's record sequence of Premier League goals in consecutive games (11).

November saw another big win, and one that was highly satisfactory - 4-1 against West Ham. Kane scored two, Alderweireld got another, and Kyle Walker completed the rout with his one goal of the season which was a rasping drive. In December we completed our Europa League Group J qualification as group winners with yet another 4-1 win. This time our victims were Monaco. Man of the match Erik Lamela got a hat-trick.

We had a happy Christmas with wins over Southampton (away), Norwich (home) and Watford (away). Spurs Odyssey reader Joshua Hudson offered this account of his favourite moment of the season in our England Euro 2016 shirt competition:-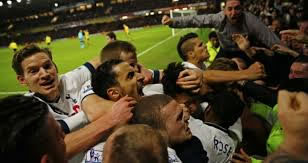 "My favourite moment of the season had to be the winning goal at Watford. There is nothing I have against Watford, but to score so late in the game with such a fantastic flick from Sonny was always going to be full of testosterone and excitement. The thing I liked most is that when Sonny and co went to celebrate, they instantly went to the fans....as a team should act. None of that "look at me and how good I am" celebrating like Yaya Toure. The togetherness is clearly evident. And the Passion. I have never seen so much (passion) from a premier league player as Jan Verthongen. I couldn't find the image in my head but I attach the closest one I could find. Anyway, in terms of chasing the winner, it was the least Spurs thing I have ever seen. In the past we seemed to have settled with the point but the fight, grit and determination got us the win. Considering Sonny is a "flop" that was a pretty good goal for someone with "no future"."
Joshua's point about the connection between the players and the fans would be demonstrated on other occasions later in the scene, and would be supplemented by true emotion from Mauricio Pochettino..
January was eventful, with seven games and two more 4-1 wins. We beat Sunderland at home in the league, and Colchester away in the fourth round of the FA Cup. This success was severely tempered by the 1-0 home defeat by Leicester, who we did knock out in an FA Cup away replay. The highlight was most definitely THAT Dele Alli goal, receiving flicking and scoring in one continuous moment of sublime skill. That was a terrific away day. Once again we won 9 away games, the same as last season. In the previous two years we won 10 games away from home!
In February we played another seven games, and climbed to second place with performances that were capturing the eye and imagination of all observers. Not least was the 2-1 away win over Man City, with Christian Eriksen's winning goal my personal favourite moment of the season. Birthday boy Eriksen claimed the glory of a magnificent winning goal, beautifully teed up by substitute Erik Lamela. Lamela went on a run just inside the City half, before pushing a precision ball to Eriksen, who beat Hart with a good low finish. The love-in commenced in front of three tiers of ecstatic away fans, but there would be some ten minutes for Spurs to hold out against a most determined City side.
Getting knocked out of the FA Cup by Crystal Palace at White Hart Lane was a huge blow, but we did get full revenge on Fiorentina with a 3-0 home win in our "Round of 32" Europa League game.
March was not good for us, as we lost the last game we would play at Upton Park, and also surrendered to in-form German side Borussia Dortmund in the Europa League. Pochettino's team-selection for the 3-0 defeat in Germany was much-criticised, but we at least restored the five point gap between us and leaders Leicester with a convincing 3-0 home win over Bournemouth. April saw genuine hope with magnificent wins, and performances at home against Manchester United (our first such win for 15 years), and a simply supreme 4-0 away trouncing of Stoke City.
Sadly, our last four games brought us only two points, and nothing but disappointment, except for a great first half at Chelsea, where we went 2-0 up, and sang throughout the interval. You don't want me to re-live the closure of the season, do you? Dembele was not the only Spurs man to get a retrospective ban, as Dele Alli had to serve the final three matches suspended following an incident in the West Brom game. At least we will have Alli back at the start of the season.
There is a lot to look forward to in the seasons to come, with Wembley announced as our venue for home Champions League games next season, and for whole of the following season (2017-18) when we have to vacate White Hart Lane where we have a fantastic 61,000 seat stadium to come. Pochettino will continue to encourage youth, and 19 year old Josh Onomah has gently been introduced to the very highest level. Midfielder Harry Winks, defender Cameron Carter-Vickers and striker Shayon Harrison are also players training with the first team squad, who we are likely to see more next season.
Spurs fans (me included) will be hoping for strengthening in some key positions (including that of striker). Whilst the clear objectives will be to succeed in both Premier League and Champions League next season, I would dearly love us to get some silverware. I say it every year these days, but we are well overdue (26 years next year) for an FA Cup Final appearance and a win!
To be sure you are up to date about Spurs latest news and rumours follow thelilywhites.co.uk website.
· A comparison with Spurs' 1977-78 season
Remember, there are Over 25 years of archives at Spurs Odyssey, where you can find reports on our games at all levels, including our under-21 and under-18 teams.
Don't forget to check out the players' current figures re. appearances, cards, goals scored and accumulated ratings to date below.
...if you want to read reports of the matches played during this season, then links are on the Spurs Odyssey Fixtures/Reports page here. By working your way back through the previous month's figures, you can review the performances over 16 years!