Win a personalised England Euro 2016 shirt!
With thanks to our friends at Paddy Power and their Euro 2016 offers, Spurs Odyssey is able to offer one of you a chance to win a personalised England Euro 2016 shirt!.
Note that the competition was only open to those resident in England, and is now closed. The winner will be notified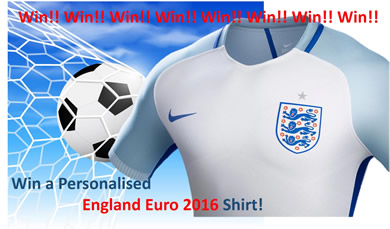 With five Spurs players named in Roy Hodgson's 26 man squad, all of whom will hopefully make the final 23, there are several options open for you to choose which Spurs name you would have on the back of your shirt. Alternatively, perhaps you'd just like to put your own name on the brand new England shirt!
Here's what you have to do to stand a chance of winning this prize:-
Spurs' season ended with a whimper, to say the least, but I want you to think about your favourite positive experience of the 2015-16 season. Send me an e-mail at webmaster@spursodyssey.com with a few lines about your favourite moment of the season. It may be purely related to one of the 91 goals we scored in all competitions this season. Perhaps a piece of defensive play, or a Hugo Lloris save caught your eye. Your favourite experience watching a Spurs game might not directly relate to a piece of footballing action or a result, but might be special because of where you were, or the people you were with.
Have a think, but don't take too long because the closing date will be next Friday 27th May, 2016. Send me a few lines, and I will pick a winner. My decision will be final. A selection of entries may be used in my review of the season.
So send me your e-mail to webmaster@spursodyssey.com. Don't forget to include your name, address and most importantly - shirt size!
Remember - the competition is only open to those who reside in England, and is now closed.
Thanks again to Paddy Power and Euro 2016!