| | | |
| --- | --- | --- |
| S | | 53.33% |
| P | | 53.33% |
| U | | 55% |
| R | | 55% |
| S | | 65% |
| = | | 56.33% |
Form Guide February 2006


P  W  D  L  F - A  GD  Pts
3  1  2  0  6 - 4  2    5

Pos:- 4th
· January 2006 figures
· Last year's figures
February 2005

It has been another disappointing month for Spurs form-wise, and we have not marked the team (in our exclusive monthly form guide) above the 50-59% zone since October. Yet, here we are, still in fourth place, with our destiny in our hands.
After a convincing home win against Charlton, Spurs have managed only draws against bottom side Sunderland, and Wigan - who managed to lose 4-0 to Man Utd in the League Cup Final. Mind you, Paul Jewell's side played in a far more open style than they did at White Hart Lane.
We Spurs fans tend to be obsessed with the team down the road, but the fact is that they are in the worst form of any of the teams challenging us for the coveted last Champions League place. I thought it would be interesting to compare the current form (February) of the four teams below us - all of whom I regard as genuine challengers:-

Blackburn (3 pts behind)
P   W   D   L   F-A   Pos
5   3   0   2   7-6   5th

Bolton    (4 pts behind)
P   W   D   L   F-A   Pos
4   1   3   0   5-4   6th

Arsenal   (5 pts behind)
P   W   D   L   F-A   Pos
5   1   1   3   5-6   7th

West Ham  (5 pts behind)
P   W   D   L   F-A   Pos
3   3   0   0   8-2   8th

I'll be previewing our game against Blackburn in more detail, later in the week, but we have to pay full respect to Mark Hughes' side, which beat both Man Utd and Arsenal at Ewood Park this month. Bolton are a big danger too, as they have two games in hand, but we do have to play them in our last home game of the season on April 29th (subject to TV re-scheduling).

West Ham have won their last five Premiership games, but they have yet to face Man Utd and Chelsea away, and Liverpool at home before we meet them in the very last game of the season.

There is an exciting end to the season in prospect, and Spurs have it all to do. I just hope they can regain some tremendous form and start doing it for themselves, instead of relying upon those below to keep slipping up!

...if you want to remind yourself of the matches played during this month, then See the Fixtures page here. By working your way back through the previous month's figures, you can review the performances over the last 5 years!
Key:
S Skill levels
P Pluck (ie effort)
U Unforced errors*
R Resolve (defensive ability)
S Score ratio (goals to shots)
= Overall mark Total Percentage
Percentages given for each category.

* less errors equals a higher mark

The Spursometer was brought to you by Spurs Odyssey in association with My Eyes Have Seen The Glory.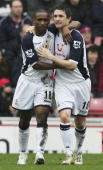 >
Fancy a bet on Spurs, or any sport? Why not go to Betfair, quoting this referral code 49FTCV6HK, and you will find details of a possible free bet and generous offers to follow.