"Audere est Facere"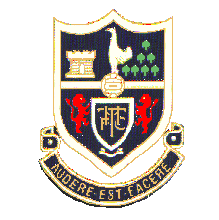 "The great fallacy is that the game is first and last about winning. It's nothing of the kind. The game is about glory. It is about doing things in style, with a flourish, about going out to beat the other lot, not waiting for them to die of boredom." - Danny Blanchflower
The first of the two quotes above is of course, the club motto "To dare is to do". The second is the famous quote of Danny Blanchflower ( the sig file of one of my colleagues on the Spurs Trust Board). Both sum up superbly what Spurs should be about. Sadly, I have to write "should", and cannot write "what Spurs is about", or what being a Spurs supporter is about. No realistic Spurs fan expects glory all the time, or even too often, but what we are entitled to expect is to be thrilled when we go and watch our beloved team. This brings me to my point, as I write at the end of the most disappointing season I can recall for several years - possibly since the Gerry Francis era. Yes, I include the two years under "The Predecessor" (George Graham for the uninitiated), when we might have been bored with some of the football, but not disappointed to the degree that we have experienced this season.
My point is, "When were you last truly thrilled by the football served up by Spurs?". I don't mean those moments (and they have been few this year) such as Christian Ziege's glorious free kick against Arsenal, any of Robbie Keane's dazzling runs and goals, or Kasey Keller's great saves throughout the season.
I mean, when did you last leave the ground with that feel-good factor so rich that the smug grin of satisfaction stayed on your face for the best part of the following week? I would suggest the last time was last season's marvellous 5-1 win over Chelsea that sent us to Cardiff. I know we must not expect such wonders week after week, but the fact is that we did have two good cup runs last year. After the defeat at Cardiff, our form and season fell apart,and we started to experience humiliation such as three consecutive 4-0 defeats, one of which was the drubbing at home to Chelsea in the FA Cup. That semi-final victory was soon put in perspective for the brief flash of inspiration that it was.
Even at the start of this season, when we were top of the league for 10 days, we knew it was temporary, and we also knew that two of the wins that put us there (Aston Villa and Southampton) were scrapes and somewhat fortuitous. Add to those results the 3-2 win at home to West Ham, when Anthony Gardner scored a last minute winner, and you have 9 precious points, without which we could have been involved in the relegation dogfight. You have to ask yourself if Spurs have the sort of team that could have pulled through a relegation battle. Our form since Christmas suggests that we could not, and many people will have been looking at the bookies' odds of just 6/1 for Spurs to be relegated next season. (Less than the figures given for West Ham this time last year).
How can it have been such a bad season, when Glenn Hoddle won his second "Manager of the Month" trophy since returning to The Lane, and Spurs spent the season camped in the top half of the league, and most of it as genuine (mathematical) contenders for a UEFA Cup slot?
The answer lies in the disgraceful Cup exits at Burnley (Worthington Cup) and Southampton (FA Cup). It also lies in the disgraceful lack of (detectable)motivation at crucial stages of the season, when we did still have a chance of Europe. There are so many bad performances that one could list here, but they are well documented elsewhere. Just remember that FOUR times this season, Spurs lost three consecutive games; that Spurs had the worst defensive record in the Premiership barring Sunderland and West Bromwich Albion; and that Spurs have conceded 4 or more goal in a game 8 (YES - EIGHT) times under the management of Glenn Hoddle.
Can it be right that when Spurs play, there are three voices at the touchline sending instructions to the players? (Hoddle, Gorman, and Hughton share the job of barking at the players) Can it be right that, with the notable exception of Jamie Slabber and Jonathan Blondel (both for about 10 minutes) and Dean Marney (DC United), youth is denied an opportunity at White Hart Lane? Is the coaching right when players are too often like statues, rather than moving intelligently off the ball. Can Spurs survive next season without more pace in the side, and grit in midfield? Is the back-room set-up right when we continue to be beset with injuries, injuries and more injuries? I said at the time that it was not right that Sergei Rebrov and Les Ferdinand were allowed to leave in January, without adequate cover up front. I asked a question at a Trust Q & A, attended by Messrs Pleat and Kemsley (Executive Directors of the Club), "Should heads roll if we fail to qualify for Europe as a result of weakening the team". No clear answer was forthcoming.
This reporter (and my associates including my good friend Ray Lo - to whom I am most grateful) has reported exclusively to you this season on 41 first team games, at least another 40 reserve and youth games, and a few friendlies. I have probably had most fun watching the young players develop, and many readers will want to know if Spurs have the next Wayne Rooney. Well, I'm not sure, but I would like to see is the glamour boys of the first team playing more for the Spurs cause, as the marks over the season for Skill, Effort, lack of unforced errors, defensive ability and score ratio have all declined drastically since last season.
I described last season as a "6 out of 10" for Glenn Hoddle, which did represent progress over the previous year. This season has been a "5 out of 10", which is not only a decline on last year, but a step back from where Hoddle picked up the reins. See the end of season "Spursometer" here.
The board of Tottenham Hotspur Football Club deludes itself if it thinks that the majority of the fanbase is happy, and that they will roll in next season without quick action to address the all too obvious problems mentioned above. I expect (not hope); I EXPECT such action before the deadline for season ticket renewal. I expect improvement next season. The board would also do well to remind themselves of the Club Motto and read Danny Blanchflower's quote. It makes me weep to think of what Spurs used to be; where we are now; and where we must go in the future - STARTING NOW!!
· Premiership Review Index
· Check the current team appearances, cards and scorers in all competitions