FA BARCLAYCARD PREMIERSHIP RESERVE LEAGUE (South)
At Broadhall Way, Stevenage
MONDAY 8TH AUGUST, 2005-08-08
SPURS RESERVES 4 (1) WATFORD RESERVES 1 (1)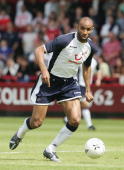 Spurs scorers:-
Kanoute, 10
Lennon, 54
Davenport, 57
Barnard, 88
Watford scorer:- Grant, 45 (later announced as Francis as the players were wearing the wrong numbers!)
Referee:- Mr. N. Kinseley
Attendance: - Est. 2,000
Teams:-
Spurs (4-4-2):- Fulop; Kelly, Bunjevcevic (Capt.), Davenport, Ziegler; Lennon, Huddlestone (sub McKie, 71), OíHara, Jackson; Kanoute, El Hamdaoui (sub Barnard, 78)
Subs not used: - Burch; Ifil; Hallfredsson
No bookings
Watford (4-4-2):- Lee; Osborne, Griffiths, Homand (sub Gill, 69), Sietes; Devlin (sub Mariappa, 68), Mahon, Hand (Capt.) (sub Campana, 68), Devaney; Francis, Grant
Subs not used: - De Villiers; Parkes
Spurs kicked off their official Reserve programme tonight with a team even stronger than one I had anticipated. All bar one of the starting eleven have been allocated first team squad numbers, and Kelly, Lennon and Kanoute must surely travel to Portsmouth this week-end. With a number of unfamiliar and young names in the Watford line-up, I anticipated a three goal margin of victory, but Spurs had to go up through the gears as they had their one goal lead snatched away on the brink of half time. The second half was almost one-way traffic, as Aaron Lennon starred with dazzling pace and trickery at close-quarters, with Fredi Kanoute being a beacon of star quality throughout. This was surely not a man about to leave Spurs, as he clearly relished his 90 minutes of action.
Watford were able to keep in touch partly due to their application, whilst most of the Spurs team were still in pre-season mode, wanting to show their tricks but not so keen for the physical battles required against a team which did have some experience in the shape of midfielder Gavin Mahon Ė a veteran of some 250 senior appearances for different clubs, and Paul Devlin (playing for Birmingham a couple of years ago). Martin Devaney (signed in the summer from Cheltenham) provided plenty for Stephen Kelly to think about in the first half, and the likes of centre-back Adam Griffiths and skipper Jamie Hand were never shy in applying force to say the least.
Spurs were skippered by Goran Bunjevcevic, partnered by Calum Davenport, and it looks like these two are fifth and sixth in the centre-back pecking order. Reto Ziegler and John Jackson swapped roles at left back and left midfield, and at times Ziegler frustrated even his coach, Clive Allen, seen to bash the dug-out wall in frustration on one occasion when Ziegler was hesitant on the ball. On this form he will not be challenging wither Reid or Edman in either left field role.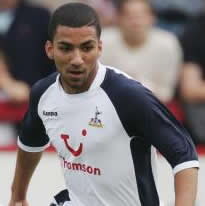 On the right wing, Aaron Lennon pushed Kanoute hard for a man of the match award, possibly even edging it with his second half debut goal, then teeing up and easy finish for substitute Lee Barnard. Barnard came on when El Hamdaoui was worryingly stretchered off, with his left leg braced. Tom Huddleston also asked to be subbed, as he took a knock. Huddlestone played in the middle today, and often sent piercing balls down the middle or along the line for Lennon to chase and win!
Those of us expecting a procession, were taken aback by early possession for the visitors and a chance for the number 10 (now believed to have been Grant), which was fired well over. Junior Osborn and Mahon were then involved in a good build up which led to Devlinís cross being scooped up by Fulop at the near post. After a great fast move down the right featuring Kelly, Lennon and Kanoute, a corner taken by John Jackson was headed over by Davenport. Watford hit the target again after 8 minutes, when Grant headed Devaneyís cross at Fulop.
Then Spurs went ahead through a piece of quality. Jackson sent an early deep cross to the back of the area, where Fredi Kanoute loomed large and hit a smashing first time right footed drive past the keeper to burst the net. Spurs started to play some flowing football, as you would expect of this line-up, and the midfield were getting into good attacking positions, with half chances falling to OíHara, Jackson, and then Huddlestone driving a shot just past the post. Mid-way through the half, Jackson took a free kick on the left and Davenport had virtually a free header which he put over the target.
After more skill on the right from Lennon and especially Kanoute, Ziegler got to the edge of the area, miscued his first shot dreadfully, and then hit a second chance just over the bar. El Hamdaoui has had a number of chances to show what he can do in the pre-season, and most of those opportunities have been from a midfield position. Tonight he was up front, and despite a number of chances, failed to make the most of them. He also lost the physical battle with Griffiths. First Kanoute set him up, then a good low ball from Bunjee was returned to El Hamdaoui by Lennon, but the striker fired wide.
Just before the break, it was a defensive slip-up that gave Francis two bites at Fulopís goal. The first was parried by the keeper, but the second was too easy, and Spurs must have been more than a little shocked to go in on level terms at the interval.
The necessary verbal must have been given by Clive Allen, and Spurs dominated the second half. Lennon latched onto a loose ball crossing the area, to jink into the box and hit a shot that went under the keeper for a soft lead. Three minutes later, a corner (won by El Hamdaoui) taken by Jackson was flicked across to the back of the area, where Davenport hooked the ball home to make up for his earlier inaccuracy. Lennon gave El Hamdaoui another chance with a fine piece of work in the middle, despite some close attention, but the shot was saved and cleared.
When Huddlestone went off, Marcel McKie took the left back slot, and now John Jackson played in the centre of midfield. Mahon did have a good effort go just over the bar from 30 yards, but Spurs remained in the ascendancy, capped by Lennonís great run at lightning speed through tight gaps to take the ball almost to the line, and then cross for Barnardís easy finish.
Those left on the bench for Spurs (Burch, Ifil and Hallfredsson) must hope that the older players do not get too much exposure at this level, but I do think that this game was seen as the last stage of pre-season preparation for some of the senior Spurs players.