FA BARCLAYS PREMIERSHIP RESERVE LEAGUE (South)
(at Dagenham & Redbridge Ground)
Tuesday 18th October, 2005
WEST HAM RESERVES 1 (1) SPURS RESERVES 2 (1)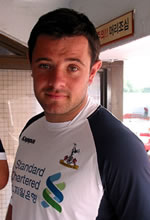 West Ham scorer:-
Ward, 5
Spurs scorers:-
Reid, 32
Barnard, 51
Referee: - Mr. S. Tomlinson
Attendance: - Est. 400
Teams:-
West Ham (4-4-2); - Reed; Newton, Ward, Cohen (Capt.), Clarke; Bellion, Stokes, Fletcher, Reid; Ephraim (sub Cowley, 46), Jeffrey (sub Hines, 67)
Subs not used: - Henry, White (West Ham team details not confirmed due to late changes)
Booked: - Ward, Stokes, Clarke
Spurs (4-4-2):- Fulop; Riley, Huddlestone (Capt.), Lee, Daniels; McKenna, Davis, O'Hara, Hallfredsson; Barnard, Reid
Subs not used: - Forecast; Martin; Lewis; Barcham, Dawkins
Booked: - O'Hara, McKenna, Huddlestone
Having fallen behind to a 5th minute Elliott Ward header, Spurs took a while to find a pattern in their play, but eventually gained control and came back with a great equaliser from Andy Reid, and then a second half winner from Lee Barnard. Spurs had a few scares in the closing quarter of the game, such as a free kick that went crashing down from under the bar, and two late shots by Manchester United loanee David Bellion that tested Marton Fulop to the full.
Both sides featured strong line-ups. West Ham made a couple of late changes, but still fielded 8 players with first team experience, whilst Spurs included under-21 International Tom Huddlestone (skipper tonight), Sean Davis and Andy Reid. Reid, I suspect was playing his first game at this level for Spurs, and after taking a while to get going, had a ten minute spell in the first half where he might have had a spectacular hat-trick. I even saw him use pace to get to the bye line in the second half!
The Spurs blend of youth and experience took a while to gel, and my view was that Huddlestone failed to pick up Ward who powered home his header from a 5th minute corner to give the home side an early lead in front of a moderate crowd. Ward had an eventful start to his game, as it wasn't long before he found his way into the referee's book for a heavy challenge on Barnard. Jamie O'Hara had a couple of particularly wayward efforts on goal, before he too got into Mr Tomlinson's book, basically by not taking the talking to he was due for heavily criticising a decision, but then aggravating the situation by persisting in his vehement abusive conduct.
Spurs first penetrative move came when Hallfredsson threaded a fine pass from the middle for Lee Barnard, but goalkeeper Reed (Included at a late stage in place of Shaka Hislop) was out in time to beat Barnard to the ball. A pattern for Spurs did start to emerge, which included good balls down the line from deep positions from Huddlestone (one of his fortes), and matching runs from Hallfredsson, supported by Charlie Daniels. Kieran McKenna on the right did not seem to be getting so much service. Spurs were persistently closed down by their opponents and generally allowed little time to settle on the ball.
The equaliser came from a great move started by Huddlestone's pass from the back, picking out Sean Davis in the middle, who fed Reid, who turned, ran and hit a great curling shot from at least 30 yards, which beat Reed, desperately grasping thin air to his left, as the ball nearly burst the net. Soon after that, Charlie Lee collected a corner beyond the back post, chipping it to Huddlestone, whose header was saved. Lee had a great game in my opinion. He is dwarfed by Huddlestone (am I allowed to say that? (Readers abroad note – this is a reference to more political correctness about a well-known panto) ), but made many great tackles and interceptions tonight, two of which were memorably during the later stages when Spurs came under some pressure.
Sean Davis's work ethic could not be questioned and he picked up a bad pass from West Ham's defence, sending Reid away. Reid now hit a powerful low drive that rebounded about 25 yards back into the field of play off the foot of the post. Reid's next offering was even more spectacular, winning applause from around the ground. Hallfredsson had made a good run from his own half, before sliding the ball to Andy Reid, fully 40 yards from goal. Reid hit a stunning shot that was only just tipped over by the keeper as he arched back to reach it.
The Hammers then had a couple of chances before the break. Firstly, Fletcher beat the offside flag on the right channel, shipping the ball to Jeffrey, whose shot from close range was way over the bar, and nearly out of the ground. Then Stokes got to the back post to meet a cross from the left, hitting a low shot that Fulop did well to save, having been wrong-footed initially. Spurs carried on where they left off, after the break, with O'Hara intercepting a wayward short pass, sending Hallfredsson away, who passed into the path of Reid, but the shot went wide. It wasn't long before Spurs had the lead though, and once again Hallfredsson made the final pass to Barnard, who cut inside from a position on the left, before turning and hitting a strong right foot shot across the keeper and into the net.
Chris Riley has been getting a few games at this level now, and seems to be settling in well. He would have made his father (sitting near us) swell even more with pride, as he made a good run and ended it with a strong left foot shot that the keeper could only tip over for a corner. Riley's stronger foot is his right. With 20 minutes to go, Barnard strongly resisted Cohen's challenge, turned and headed for goal, but was challenged in the area, necessitating another turn, before he hit a right foot shot over the bar, with the goal beckoning.
Now the scares started to arrive, as it seemed that Spurs were not going to commit numbers to attack, and perhaps sit on their slender lead. O'Hara was perhaps harshly penalised just outside his area, and it was Clarke's belter of a free kick that beat Fulop, and rattled the underside of the bar, before going to safety. Next I saw that pace from Reid, and his cross reached McKenna who should have done better than head to the keeper. McKenna had an even better chance with 6 minutes left, after Reid sent a good ball to Hallfredsson, whose shot reached McKenna, firing over from only 8 yards out.
Finally, came the late chances for Bellion, which were repelled by a brave Fulop, making one double save, to ensure that Spurs won the three points which took them above the Hammers, into fourth place, but six points behind the leaders – Arsenal – who also won away tonight.
Spurs next Reserve game is not until November 2nd – away to Portsmouth, followed on 8th November by a home game against Leicester.