· Last Year's Game - Spurs 2 Everton 0
· Last Year's Spursometer - 68%
· This week - last year
· What happened in the Premiership in Match 2005-6
· Spurs drew at Blackburn. Everton were in Europe!

Full Record of Spurs -v- Everton

Prem          Pl   W   D   L   For- Ag  Pts
Home          14  10   4   0   33 - 16  34
Away          14   6   6   2   15 - 11  24
==========================================
Total(Prem)   28  16  10   2   48 - 27  58
==========================================
Football Lge
Home(Div 1)   54  25  16  13  107 - 67  72
Away(Div 1)   54  10  17  27   60 - 88  38
==========================================
Total(Div 1) 108  35  33  40  167 -155 110
==========================================
Football Lge
Home(Div 2)    1   1   0   0    1 -  0   2
Away(Div 2)    1   0   0   1    2 -  4   0
==========================================
Total(Div 2)   2   1   0   1    3 -  4   2
==========================================
Total(Prem)   28  16  10   2   48 - 27  58
Total(Div 1) 108  35  33  40  167 -155 110
Total(Div 2)   2   1   0   1    3 -  4   2
==========================================
Grand Total  138  52  43  43  218 -186 170
==========================================

Last Six Premiership results:-

Spurs

Spurs      1-2   Man Utd
Arsenal    1-1   Spurs
Spurs      1-0   Bolton
West Ham   2-1   Spurs
Bolton     2-0   Spurs
Spurs      2-0   Sheff Utd

Everton

Chelsea    3-0   Everton
Everton    0-0   B'mingham
M'brough   0-1   Everton
Everton    2-2   West Brom
Everton    2-1   Watford
Blackburn  1-1   Everton

Pos          P  W  D  L  F-A GD  Pts
 6  Everton  2  1  1  0  3-2  1  4
11  Spurs    2  1  0  1  2-2  0  3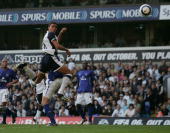 Spurs always beat Everton, don't they?

Robbie Keane loves scoring against The Toffees, doesn't he?

Let's trawl through our recent matches against David Moyes boys:-

· Everton 0 Spurs 1 - 15th April, 2006

Spurs had a convincing win at Goodison Park, although the only goal came from a Keane penalty in the 33rd minute, after he had been tumbled by Alan Stubbs. The ball had run to Jermaine Jenas, who thrashed it into the net, but referee Howard Webb had already blown his whistle and could not allow the goal.

· Spurs 2 Everton 0 - 15th October, 2005

Robbie didn't score in this game, but then he didn't get on till 12 minutes before the end! Spurs won through two headed goals. The first by Mido from a Jenas cross, and the second by Jenas, who ghosted in (Peters' style) to head home Defoe's chipped cross. Jenas is a much-criticised player by many Spurs fans, but he scored on Tuesday night and did plenty from the midfield last season to keep me happy.

· Spurs 5 Everton 2 - 1st January, 2005

It was Happy New Year to Spurs and to young Dean Marney, who scored 2 smashing goals, to be added to those by Ziegler, Mendes, and er yes - Robbie Keane!

· Everton 0 Spurs 1 - 2nd October, 2004

Now this was a tough one. Moyes had the ball boys assisting his team to play fast tempo football, with the ball never out of play for more than a few seconds. Jamie Redknapp got a yellow on the day and a supplementary red for his challenge on Cahill, and Noe Pamarot headed the Spurs winner!

I won't go back anymore for now, partly so as not to depress Everton readers too much, but also because on Good Friday 2004, Everton did manage to beat Spurs for only the second time in our Premiership history.

Robbie Keane's first match for Spurs against Everton was on 12th January, 2003, when he scored a hat-trick in our 4-3 victory. He scored again in October, in a 3-0 win, and has scored a total of 6 of his 54 Premiership goals for Spurs against this opposition. I would have to fancy Robbie strongly to get his first goal of the season this Saturday.

Everton already look a stronger side this year, holding Blackburn to a draw at Ewood Park on Wednesday night, with a late goal by Cahill, and beating Watford last week with one decent goal from the new Beattie-Johnson strike-force. Watford were unlucky though, as they conceded a penalty for a lawfully headed ball by Chris Powell!

This game will be another stern test for David Moyes' team, who will be as desperate to improve their record against us, as we are to beat a team that wears blue and plays in West London. They've now got Tim Howard in goal (on loan from Man Ud). Stubbs and Yobo may have their work cut out at the back against any two from Berbatov, Keane and Defoe. Arteta is a skilful midfielder, and Phil Neville has plenty to offer, despite the "If Phil Neville plays for England" chants. Our former star - Simon Davies - did not establish himself in the Everton side last season, but may well play a part this week.

Berbatov and Jenas are both described as doubtful, having suffered knocks on Tuesday, but I fancy they'll both be fit, and I have to take Spurs to carry on the amazing form against Everton. I'll go for a 3-0, with a goal for each of our three strikers.

Spurs always beat The Toffees, don't they? Let's hope they don't come unstuck this week!

Everton fans only! I have given one copy of ILC's "Greatest Everton Cup goals" DVD to the first Evertonian who e-mailed me with the name of the Spurs player who signed for you on loan in 1986. A winner has now been found and therefore the competition has closed. Thanks to all those who entered. The answer to the question was, of course, Pat Jennings, who signed at the end of his career to cover incase of a need for an emergency goalkeeper, as you approached the FA Cup Final. Pat returned to Spurs and still works for us as a part-time goalkeeping coach.