I thought that as a final part of our review of last season, it would be appropriate to re-live our first trophy for 9 years - the Carling Cup Final on February 24th.

Spurs Odyssey member "Alfie" (Alan Fisher) compiled a number of comments and quotes from various sources in the run-up and aftermatch to this game, and has kindly agreed to have them published here. Firstly, you might like to re-live the match through the original Spurs Odyssey report.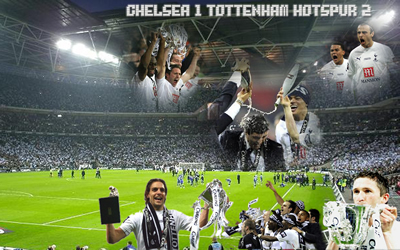 On Sunday 24th February 2008 Tottenham Hotspur played Chelsea at Wembley Stadium in the final of the Carling Cup.
Whilst our opponents and their supporters were used to domestic and European success, for Tottenham the context was very different. Their loyal fan base had been starved of success in recent years and had watched helplessly as bitter London rivals Chelsea and Arsenal prospered. Ecstatic after the 5-1 semi-final victory against Arsenal, as the game approached expectation amongst Spurs fans reached fever pitch.
This is the story of the game in the words of those fans. Most of the quotes are from members of the Spurs Odyssey Message Board, others are from E-mails, messages and conversations. Contributors are anonymous, as I've not been able to contact everyone due to time pressures, but next time full credits will be given! You know who you are – sincere thanks. But in one sense, we are all speaking as one here, for each other, as part of the Spurs community.
Massive thanks to Paul for his advice and for allowing me this space in his site.
This is the first step in a larger project to write a history of the club in the words of the fans.
Alan Fisher
alfie.conn@yahoo.co.uk
Anyone Got a Spare?
"Anyone know how many tickets we'll get? How many loyalty points? Anyone?"
"If I can find one for £350 I'll buy one but at the minute they are going for stupid prices."
"126 POINTS!!!!!!"
"Bingo! Wembley here I come ..."
"Tell a lie, i missed it by 2 points, I have 124…How gutting is that…."
"Loyalty has been rewarded. The more games you go to, the better chance you'll have of getting a ticket. It's as fair as you can get."
"So a guy from Germany is advertising 10 tickets for sale for the Chelski end and 10 at our end. Charging 200 stg each and you must buy two. Simply .......how the hell did he get them ? And when I email the club about it in the morning what will they do about it.? Like some people here are only a few points away from 126. And a guy like this can sell 10. Really pisses me off."
"There is only one place the tickets for the Spurs end the touts are selling will have come from. From players, stewards and anyone who didn't actually want to go so that's disappointing…."
"Isn't it terrible that people have to gamble just to get tickets" (referring to competitions run on the official site by Tottenham's shirt sponsors).
"Logged in to the ticket system at 9.45 am (i.e. only 15 minutes after it opened) on the first day of the gold members ticket application and attempted to buy 2 x £80 seats but there were not 2 seats available next to each other. Although platinum members had the previous day to purchase tickets I would be astounded if they had taken up that many of such seats. it seems likely to me that the vast majority of these seats were never released for members and were used by the club for their corporate use and for players, staff and other various hangers on."
"Sure they haven't added on points for some games. How can I check?"
"One of our lawyers in work, you know, the usual part time jonny cum lately Fickle Broadway Chav fan (last game was the FA Cup final, no lie) has just asked me if I knew anything about the rumours circulating that 100's, if not 1,000's of Spurs fans, have tickets in the Chav end on Sunday and he is concerned it could all flare up. I said it would not surprise me if those Fickle part timers flogged their tickets to agencies and were then snapped up by far more loyal fans who have not discovered "soccer" in the past 4 years, i.e. our lot. However, could see it being v. messy if were the case. Imagine if the other way round and a couple of their lot jumped up in our end if they scored.
Could be an interesting day on Sunday; me-thinks we will have far greater support in the stadium; lets hope it's peaceful, but could see it getting nasty."
"The club have confirmed they have made a mistake with my points. I've got 128 now, but they've sold all the tickets. There's about ten of us in this position. Don't hold out much hope"
"One of my dad's mates swapped 2 tickets in the Chelsea end for 1 in the Spurs end, that's how many Chelsea tickets are floating around."
"The rumour has just been substantiated by a contact of an agent, (whose the son of a well known Premiership manager), that agencies (touts) have acquired a large number of tickets from Chavski season ticket holders and these have been sold indiscriminately i.e. almost certainly to Spurs fans."
"Paul Barber has come up with a ticket – I'm going!!!!"
There's History
"There is one thing for certain, with the history between the clubs it WILL go off somewhere whether it's in the ground, outside or at Baker St or Finchley Rd. It will happen because there is probably more hatred between the fans than there is Spurs and Arse."
"Now that's being a real Silly Billy, I've yet to meet any Spurs fan who hates the Chavs more than the filth, it just ain't possible."
"I remember being at a League Cup game against them in the late 80s/early 90s. I was on the Shelf and there was a group of about 20/30 Chelscum fans in there. They turned us over 3-0. When Denis Wise scored the 3rd, a penalty, instead of running to the away end he ran over to the shelf to acknowledge the few Chelscum fans who had infiltrated the shelf and were going mental.
What happened after that wasn't pretty."
"Who can forget that day there was a pitched battle out on the middle of the pitch…yes there have been spats between Spurs and Arse fans over the years but nothing along the lines of Chelski V Spurs games, probably because most of us have Arse loving mates. I have a fair few Arse loving mates but only one Chelski friend, they are more distant to us. Yes the rivalry is greater between us and the Arse but I honestly think there is more actual hatred for Chelski."
"I only hope that the day isn't spoilt! If anyone's to blame it's those that decide corporates are more important than real fans."
"Didn't see any trouble on the tube, coming or on the way back. Mind you, they all buggered off, didn't they. When they went up to get their losers medals (that sounds good, losers medals), I'd be surprised if there was more than 500 Chelsea in their end. Plenty of Spurs, mind!"
"Afterwards we were drinking in a pub with Chelsea fans. The police tried to keep us out, but there was no bother."
"One thing's for certain. We will outsing them tenfold even if the numbers were even."
Where you gonna be?
"Right, went straight out and booked the flights (from Ireland) and hotel. Probably won't get a ticket so it's a pub in Tottenham for me. Got to be close to the ground on a day like this. Where you gonna be, then? Coach or the Irish Centre?"
"5 of us Scotspurs met up in the sports cafe in Glasgow, I feared that it would be full of Rangers/ Chelski fans. There were a few Spurs tops floating around. We had reserved tables at the front of the big screen so everyone was behind us. Our initial efforts to get people singing fell on deaf ears. When Chelski scored I expected the pub (now packed) to erupt, but there were only a few strangled cheers. At half time I went out for a smoke and everyone was a Spurs fan!"
"My day was fantastic... Started off by waving off all the locals from the pub at about 9am. There was 3 coaches and an open topped bus. So as you can imagine a lot of people. The pub was actually open at 9 but I was still hanging from the day before and decided to stay off the beer. Well after we had waved everyone off it was off to the Cafe and then we was back to the pub and started on the beers about half 10. Come kick off the atmosphere was a little subdued. We was missing a lot of regulars from the pub. The place was pretty busy but didn't feel the same..."
"…was invited with 2 of my teenage sons to join with some great guys and gals from the Dorset Spurs supporters club, at the Bell in Wimborne, which had been decorated with flags and scarves before lunch and was a Spurs only establishment, with a life time Yid landlord. Ronnie who runs the Dorset Spurs had organised it superbly, and we easily had 50 Yids in good voice by early afternoon to enjoy the 5-1. Last minute face painting and mock transfers of the logo was the final touches prior to the teams coming out. Numbers had risen and by the kickoff, the noise was superb."
"Me and hubby will be in the Thatch in Berwick-Upon-Tweed, the owner is a yid, which is great because most of the people up here support the barcodes. He has said that there will be flags up, pie and mash and a spurs quiz at half time. So if anyone is up this way, lets us know…"
"I'll be (hopefully) above the middle of the Atlantic if anyone cares to join me."
"S E Wales Yids will be in Varsity in the capital …"
"Bricklayers, TOTTENHAM about 50 of my lot... (includes footie mates, and extended lads) GONNA BE MADNESS…"
"Going to the match. 15 mins walk from the stadium."
"The lounge bar............. My house."
"Magnum Bar, Krosno, Poland, lager 75p a pint, double vodka shots 65p - all welcome…"
"…an English pub in Pahpos called King Odysseans ! How fitting is that !"
"I was unfortunately stuck in work, but luckily there is a big 42'' HD TV with Sky HD set up where I work (which is Currys by the way, piss taking can wait until later). Don't think my boss appreciated me shouting "f**k Yeah!!!" in a shop full of customers at the end of the match, but ah well..."
"Here on my PC....wherever we saw it it was intense.....can't wait to read worldwide reports on the game in the media and hopefully catch snippets of live action on Fox Soccerchannel here in Indy."
"I watched it at home alone. I prefer watching matches this way so I can talk to the television in peace."
"It never ceases to amaze me how much this team has a hold on its followers. I adore the idea that we are all focussing on one thing today, whoever we are and wherever we may be. Spurs fans are gathering around the TV in all parts of the world."
"I still don't know where people will be. Coach and Horses or the Irish Centre. C'mon guys!!!"
Pre-match Preparation
"Just looking out of my front room window and Wembley is bathed in sunshine. It's gonna be a b-e-a-yootiful day."
"Breakfast in Smithfield at 0930.......onto Wembley and a few drinks in the Torch which was banged out with Spurs.....walking up Wembley way and not seeing any Chavs at all......the open top bus from Cheshunt which looked a great idea and got a cheer when it drove past the pub in Wembley when the sun was shining but a little less good when it was dark and pissing down afterwards."
"Was told this yesterday....true story...very uplifting.
Spurs fan: "Do you sell DVDs from previous games?"
Arsenal employee: "Yes."
Spurs fan: "Do you have any from the game against Spurs at White Hart Lane last month? They have run out."
Arsenal employee: "I am sick to death of you arseholes ringing up. (Hangs up abruptly)."
So here's the number and opening times......"
"Started out at Reuben's on Baker Street to properly get my yid on, kosher-style with a group who are strict about it including one lifelong spurs man in his 80's who'd flown in from Israel where he has retired. Stuffed myself with great food there to give me the base for the many beers to follow."
"On the tube up to Wembley, mostly full of Spurs, stepped off the train and immediately joined in the singing with the throngs all the way on the approach to the stadium. Have to say I was buzzing both from the vibe and the drinks I'd already had."
"Hope we're not knackered from Thursday. F**king Chavs never played, how come they have five f**king days rest?"
"He (Ramos) is well known for not tolerating players that do not give 100% and there were definitely a few in that category on Thursday (when Spurs played in the UEFA Cup). If there is one player in particular that I would not be surprised if Ramos did not start with it would be Aaron Lennon. He was one of the few first team regulars that started on Thursday and his performance was one of the most disappointing. I'm also not 100% convinced that Robbo will start. Despite a couple of good stops, I thought we looked nervous at the back and Robbo just lacked authority at crosses. So I'm going to predict that Cerny and Tainio start tomorrow instead of Robbo and Lennon."
"Remember when there always used to be loads of witty banners at cup finals? I think ITV even used to offer a prize for the best one. Does anyone remember examples? My favourite, from '81, is: ' Jesus saves - but Hoddle scores the rebound.'"
"My stomach is now churning - Leaving home at 11.15 WITH my ticket"
"…saw Ricky Villa…. also saw the people that sit near us at the lane and we had a chat before the game. Got to my seat and the stadium was astounding, truly breathtaking. I couldn't get over how big it was! Took a few pictures and then it was time for the game."
They're Just Like Us, Really…
"One of the best parts was having Gary Mabbutt sat at the end of our row at Wembley...... he spent at least an hour before the game signing autographs, posing for pics, what a true gentleman...... he signed my tickets."
"We got there early to soak up the atmosphere. Standing by the Bobby Moore statue, suddenly spotted Ricky Villa dashing into the ground. He smiled and shyly acknowledged the applause. Great man."
"Got into the ground early, after having my son's orange juice cartons confiscated by the stewards, arseholes!!! Got my boys programme signed by Gary Mabbutt who is a true gentleman!!! Bump into Roger Lloyd Pack (Trigger in only fools...) and the whole concourse broke out into song...'Trigger is a Yido..' Brilliant!!!!!"
"Met Allan Neilson in the Ibis just next to Wembley and met Trigger inside the ground both were top blokes."
"On the way home David Howells was on our coach…."
"Graham Roberts on our bus from the ground…"
"What was nice was the number of ex-players dotted around the ground with the fans....... whether that was done on purpose or not I don't know, but was nice nonetheless......Mullery, Jennings, Perryman, Howells, Mabbutt, Ardiles, Villa...... among the ones I have heard about...."
"On the way out of the stadium this girl who her minder said was probably going to win Miss Great Britain started joining in with all our songs, I think she might have had her eye on me but that might be the Kronenburg talking."
The Game
"Once more unto the breach, dear friends, once more,
Or close the wall up with our Spurs dead!
In peace there's nothing so becomes a man
As modest stillness and humility;
But when the blast of war blows in our ears,
Then imitate the action of the tiger:
Stiffen the sinews, summon up the blood.

I see you stand like greyhounds in the slips,
Straining upon the start. The game's afoot:
Follow your spirit, and upon this charge
Cry 'God for Harry Hotspur, England, and Saint Ramos!'
COME On You Spurs..."
"To be honest I can't see us beating them Sunday, I think they will be just too strong. Chelski don't concede goals and they have so much quality in every single position. They don't seem to have a weakness. I also think Chelski have too many players who won't be fazed by the occasion or the crowd on Sunday while we have a few players who won't have played in anything like Sundays game This final is great but I think it's come a year too soon."
"O'Hara inconsolable. At being left out of the 16. He looked totally devastated....Keane and Kaboul trying to cheer him up….That's tough....very tough."
"Did you see Robbo in the warm-up? Some soppy cheerleader was taking the mascot off the field, so Robbo stops his warm-up, goes and picks her up and takes her back to Ledders and the ref. Quality bloke – to think of that two minutes before kick-off, Wembley final."
"Surprised he didn't drop her."
"WTF was Robbo doing with the free kick. Sets up the wall then stands behind it. What was he doing, hiding?"
First half we were poor, I thought. Couldn't see where a goal was coming from."
"At 1-0 Spurs bought on Huddlestone (62mins) to vary our approach play cos we hit a brick wall - and it worked, forcing the penalty."
"Couldn't believe it when the linesman put his flag across his chest for the pen. Couldn't believe it – they never have the bottle to give pens. I certainly didn't see it. Still, who cares?
"Talk about having ice in his (Berbatov) veins. I didn't doubt he'd miss it and he made a muppet of Cech and slotted it away with consummate ease. No pressure mind, just the expectations of every Spurs supporter on his back and a World Wide tv audience."
"He's done precisely the same thing three times in a row now. He knows that the goalkeeper will dive, so he's put a jink in his run, because he has ultimate confidence in his ability, his skill to get the ball on target in either direction on an instant's notice. So he waits until he sees which way the goal keeper is headed before he decides which way to pass the ball into the net."
"What a man, what a penalty…"
"That chance, control and shoot in one movement, but Cech saved it. That would have been a goal fitting to win a final."
"Chimbonda, wtf was he doing, walking off slowly (when substituted). He can f*** off as far as I'm concerned, f*** right off back to France or some so-called big club. We're a f**king big club. I know we won, but it's the principle."
"Zokky had a good game, but why did those chances have to come to him? Why?? And how can a professional footballer not even get it on target from 6 yards? That's all he had to do with that rebound. I was up, thought it was in. Thought we'd never score, not after that. You know, you start thinking, it's not our day. We were on top, totally, but it wasn't going to happen."
Extra Time
"It was a funny old goal to win a final. I didn't jump up immediately, I thought there must have been a foul or offside. Then I just jumped up and down shouting over and over, 'it's gone in, it's gone in'."
"Got back from the lavs late for extra time. We were redirected to the little girls' room to ease congestion but with no urinals it probably took longer. Got back to my seat and declared "Excellent, I'm back in time for our winner" and with that the free-kick floated in and Woodgate only bloody did it!"
"Late in the game, Huddlestone chased down John Terry into the corner. They made contact and Terry bounced off him. An old-fashioned shoulder charge but a foul in the modern game. Terry, as ever, had a few words, Hudd looked him in the eye and answered back. And there you have it, Hudd's not afraid of the big guys any more."
"Did you see Tainio when that tosser Drogba was having a go? Just stood there and pointed at the scoreboard. That's what you get when players are fans of the club too."
"Halfway through extra time it all got a bit too much. I started to feel a bit wobbly. The blokes in front of me couldn't watch, they spent half the time judging what was going on by looking at my reaction, but I must have been bad because they were helping me calm down. Mind you, they were totally pissed. The stewards missed the hip flask on the way in. At least I have the distinction of being the only person at Wembley doing relaxation exercises. At my age I should know better, but I wanted to win so much".
"How did he manage to play a total of over 5 and a half minutes of injury time in extra time, especially that extra 30 seconds added on to the first period?"
The Blessed Relief
"Brilliant !!! I am so proud !!! Well done !!!!! Bloody hell I'm in tears !"
"Relief, the blessed relief. Admit it. Even if you were confident of success today you must have thought about what would happen if we lost. How would you feel if we lost. What if we were thrashed, humiliated......."
"ITS ALL OVER. WE WON !!! COYS !!!"
"We can step out of the front door tomorrow, blinged up with as much Spurs tat that we can find and walk tall, take the congratulations of rival fans, laugh at Chelsea fans, tell Arsenal fans that WE ARE BACK ! Tonight is a watershed, I believe that. Walk tall tomorrow friends and enjoy !"
"My MOM was Zokora, OK he gave a way the free kick but he was everywhere and he and Jenas made their mf look ordinary. His energy levels are astounding."
"What an absolute f**king hero. You just know that when the ball goes near him (Woodgate), especially in the air, he's going to end up coming away with it. Magnificent and a 'stand out by a mile' man of the match. If he was bought as King's partner or replacement I really don't care."
"Whatever you think about Robbo, he saved us in extra time."
"But you won't be alone in revising views on Jenas. Lots of people have done just that in recent months. He was something of an unsung hero yesterday as he didn't get to do the spectacular, but ran his legs off to compensate for Chelsea's extra man in midfield."
"We totally outsung those plastic chelsea "fans", the atmosphere at our end was fantastic. When berba scored his penalty, the whole of our end went absolutely mad! Then came zokoras chance. I thought I'd be reliving that chance in my nightmares forever, but turns out it didn't matter! When Woodgate scored I started to think maybe we could do it. but after that goal everything seemed to take forever! It was horrible waiting for that whistle to blow. And when it did, absolute f**king euphoria! I was crying my f**kin eyes out i was so happy and relieved. it was all over, we'd done it."
"Outside we bumped into the people that sit in front of us at the lane and had good chat. It was raining, took us a while to get back home but I didn't care, I was so happy."
Celebrations
"Lovely touch at the end from King, sharing the cup lifting it with Keane, who has been our effective captain for most of the campaign. Shows what a great bunch of lads they are."
"Yeah I nearly lost it when they showed him, the first one to race onto the field at the end, practically in tears. He really is a legend at this club. Keano!!!!
"So many great moments, but the look on John Terry's face when he went to collect his losers medal and the guy behind me just shouted out .... "SUFFER"
"Who was the little bloke with no hair wearing jeans going mental with the players when the team photo was being taken???"
"Well sitting in the Chelsea end just made me realise that our club is blessed with the best support around!! I think our version of 'when the spurs go marching in' has the same effect as you'll never walk alone!! Really makes the hairs stand up on the back of your neck!! Even when we were one nil down all the noise was coming from the Spurs end. Also surprised at just how many Spurs there were in their end. Soon caught on to a few behind us and when we scored it was secret handshakes all round!! Like being in a secret club! If it wasn't for the two nasty looking Chelsea fans in front of us who talked about battering spurs fans all game we could even have had a good cheer! At the end of the game though we all went down to the front and went nuts!!"
"Scariest moment of the day - my phone ringing in the toilet just before half time - my ring tone is 'Spurs are on Their Way to Wembley, very quickly put on to silent before any of the chavs noticed."
"When we got the penalty the place went mad, from then on the whole pub was singing Spurs songs, 50 + people, not all Spurs but friends of Spurs fans as well, we added about 10-12 new members to Scotspurs yesterday and the party went on well into the night! Best day for ages, so proud to be a Spurs fan!"
"Spent most of Monday just soaking it all in, reading everything that I could on the web. I impressed work by staying late – in fact I was downloading photos. Usually I save a few action shots, especially pictures of our goals, but this time, without being conscious of it, I chose a large proportion of our celebrations. This is because the players were obviously as wholeheartedly delighted as the supporters. This was no fake badge-kissing or choreographed collections around the corner flag. This was sheer unadulterated excitement, kids stuff almost (who had the silliest jig of celebration?). They wanted this win as much as we did. Players and fans united. They learned to love the club that afternoon."
"I threw everyone into the car (not literally), and headed off down Tottenham High Road. What a fantastic atmosphere, it brought back the memories of 99, and all the other cups in the early eighties...."
"After the game I led everyone onto the High Road and we were stopping all traffic, jumping on busses, CLIMBING ON TOP OF BUSES...MENTAL, Met Graham Roberts then hit Rudolphs (DIVE, its Never changed) BUT Spurs songs all night was f***ing BRILLIANT..."
"I couldn't resist the family pull into the Bell and Hare (our traditional pub)….it was love all round and I'm so pleased the High Road still rocks when Spurs win a cup."
"I particularly enjoyed watching it with my dear old dad who is not feeling too great at the moment (nothing too serious so far, old age) and was well chuffed to have company watching it. After he had poured us both an octuple Dalwhinnie in his best glasses to celebrate. I didn't really think I would go down Tottenham High Road which was probably better for my health as I was flying back to France today. We loved it though."
"On Radio 5 they were just saying Abu Dhabi is going mental for Spurs!"
"Had a rough time in my life recently....so today felt so sweet....was at the game with my Dad in roughly the same seats as he watched the 1967 final (he chose them specifically). I was crying at the final whistle....beautiful game....great beers and a curry afterwards with good friends. People were stopping me in the street to clap and cheer and hug me (I was waving my Spurs flag all the way home to Belsize Park) on the way back. I think everyone (even a lot of Gooners!) wanted us to win...just so happy. Hope you all enjoyed today as much as i did. Sweet. My two year old son has been running around with a Spurs flag....just brilliant. Big love to all the Spurs out there!"
"Went mad when Berba scored....sat next to a nice bloke who told me Jenas had to go off....obviously I disagreed! Woodgate scored and I was incredulous....the rest of the game seemed to last an eternity. Just started crying and hugging my dad at the final whistle. Hugging people and shaking hands. Emotional as Ledley limped up the steps to pick up the trophy. Laughing at the front of 'Mr Team Spirit' Pascal Chimbonda celebrating after storming off down the tunnel. Slow walk back to Wembley Park station....just looking back at Wembley in lights behind me it seemed like some magical place where dreams come true."
"Jeez, it's all coming back to me. I was in the C&H Marquee and didn't even notice that that TV got broken. I was up watching the other one. Just been speaking on the phone to my girlfriend in America and apparently at one point I had rung her and held up the phone to let her hear the singing. Forgot to switch it off and all she heard was muffled commotion for about 10 mins until she hung up. Don't know what time I left it at. I was trying to hang on for people coming back from Wembley but when I went into the front bar and sat down I started to fall asleep, so had to bail out as I was wiped. Got into Liverpool Street Stn and joined a crowd of Spurs singing there on the concourse, with a line of peelers watching us. I remember one bloke in our choir shaking his head after I'd led a rendition of Oh When the Spurs...Wondered if I'd done it too fast. I thought I was doing it real slow but for all I know it could have been Pinky and Perky speed."
The Day Spurs Delivered
"February 24th 2008 will always be remembered as the day Spurs delivered."
"I went to my old man's house. Took my girlfriend and we all watched the game together. Was out of my seat, standing in the corner unable to watch, the whole thing was brilliant, me and the old man jumping around like kids. Memories! It was a fantastic day. the old man's wife cooked up a feast afterwards, a few beers and home to settle down for the highlights. For all the times you've let me down Tottenham Hotspur, for all the promise which never delivered, thanks very much. What a day."
"As I said elsewhere, one great thing about this is that we can now justifiably view this season as progression, whereas before today we would have to have seen it as regression. The past two seasons we have qualified for Europe. This season we have qualified for Europe and won a trophy.
Question: when was the last time Tottenham competed in Europe three seasons in a row?"
"Maybe we shouldn't dwell on the past but I wonder what Jol must be thinking!! I hope he had a little cheer.."
"We owe him a great deal and, as I write, I am, raising a glass to the man who got us into a position where we could think seriously again about winning things."
"I've still not really calmed down after yesterday, but in the cold light of this morning I wanted to engage my brain in praise of Ramos and his performance yesterday. Because in the midst of it all, he stayed calm. In the first half, Anelka drifted left to nullify Hutton and Lennon. So second half, Lennon comes inside, giving Chelsea an extra man in the centre to worry about and giving Hutton space on the right. We're a goal down, so Chimbo is off and Hudd on. Steed against SWP - that took some balls but we had to attack. Hud on the right so as not to upset our centre mid dominance. Chels pick that up and move the ball right. We score, so Tainio on at full back. End of chels attacking options. Keep same formation but push midfield forward (shame it had to be Zok not JJ on the end, but never mind!) Keano off and Kaboul on - midfield blanket, drop back to 35 yards out, no space so he knows Chels have no option but to give long ball, our centre halves head it all away. JJ and Hud swap positions, JJ wide to stop Cole and Bridge. Sorry if in my hysteria at the time I got anything out of order there, but the message is - from the start of the second half Ramos is one step ahead of Grant and Chelsea. The guy is a master manager. Superb."
"The day itself yesterday was wonderful, seeing a number of old friends before and after the game, walking back to the station in the rain without a care in the world...... seeing my 4 & 5 year olds faces when my wife and I collected them from my mum's, their beaming smiles and singing "we won the cup, we won the cup, ee i adio we won the cup" made me a very proud father........ I had spent some of the morning explaining to the kids that there was no guarantee we would win the cup etc etc...... but they both just said don't be silly daddy, of course we are going to win......."
"Wembley Stadium NEEDS to be visited by us...... the place deserves fans like ours...... passion, heart, noise......."
"And finally, this morning, at work, exhausted, smiling, happy, so so happy.... no voice, but I don't care...."
"As happy as I am for myself, I am over the moon for all the children that support Spurs. They are the fans for the future, and many parents out there proudly bring up their kids as Spurs."
"It must be so hard for them in the school playground having to listen to countless taunts from other fans. Well today they can go into school with their heads held high and be so proud of their team."
"Also my son could not wait to get to school Monday morning to see all his Chelski mates, even wanted to wear his flag (his mum stopped him). Here's to many more days like Sunday."
"I'm still soaking it all in, but the sight of all those flags waving, all that singing, and the way the boys played those hessians off the pitch despite going down early...it is emblazoned in my mind like something from a dream. stayed around like everyone else until all the players left the pitch, voice hoarse but still singing all the way back to the tube."
"Everything about the way it happened, the strength of the support (even in the Chelsea end), and the road the team took to get there...it really can't be topped."
"I've spent most of to-day going from one website to another reading the wonderful stories and comments from fans far and wide and what the victory meant to each and everyone of them. I hope a lot of these stories and comments might be used in some sort of publication - if only to show everyone the meaning of the word passion and what true fans are all about."
Thanks again to:-
Alan Fisher
alfie.conn@yahoo.co.uk
If you wish to re-live any of the other matches from last season Just see the Match Report Index here
· Season Review (1) - Form Guide
· Season Review (2) - The Goalkeepers
· Season Review (3) - The Defenders
· Season Review (4) - The Midfield
· Season Review (5) - The Strikers