BARCLAYS PREMIER LEAGUE
MONDAY 22ND OCTOBER, 2007
NEWCASTLE UNITED 3 (1) TOTTENHAM HOTSPUR 1 (0)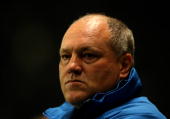 Newcastle scorers:-
Martins, 45
Cacapa, 50
Milner, 73
Spurs scorer:-
Keane, 57
Referee: - Steve Bennett
Attendance: - 51,411
Teams:-
Newcastle (4-4-2):- Given; Beye, Faye, Cacapa, Enrique; Geremi (Capt.), Butt, Emre (sub Barton, 70), N'Zogbia (sub Milner, 46); Martins, Owen (sub Rozehnal, 78)
Subs not used: - Harper; Ameobi
Booked: - Beye, Butt
Spurs (4-4-2):- Cerny; Chimbonda, Dawson, Kaboul, Lee; Malbranque (sub Berbatov, 57), Jenas, Zokora, Bale (sub Tainio, 19); Bent (sub Lennon, 77), Keane (Capt.)
Subs not used: - Forecast; Gardner
Booked: - Bale, Chimbonda
A Spurs team bereft of any creative spark (after the early departure of the injured Gareth Bale) and lacking innovation and solutions from the coaching staff fell to an all too predictable 3-1 defeat at St. James' Park, which leaves Martin Jol's side firmly in the relegation mire. Jol was totally flummoxed by any probing questions in his post-match interview, and with high-flying Blackburn visiting White Hart Lane on Sunday, some much-needed Premier League points look ever harder to obtain. The Spurs board will surely be poised to react quickly in the next few days.
Despite being fortunate to have one of the best available away seats, at the bottom of the upper tier, those of you who watched on television have a much better idea than me of what went on. For a stadium which has hosted England Internationals and which holds over 50,000 mortals, the PA system and information facilities are very poor, so I can only give you a few impressions of the events.
The fact is that this was not a very good game, with relatively few occurrences worthy of note in any case. Spurs defensive frailties let the home side snatch a goal either side of half time, and then, after Robbie Keane's tap-in, second half substitute James Milner was allowed time and space to hit a left foot shot across Radek Cerny at the second attempt.
Spurs lost Gareth Bale within 20 minutes, after he suffered a foot injury and was replaced not by a like-minded attacking player (Lennon), but by Jol's more favoured defensively inclined Teemu Tainio. With that decision, Spurs ability to probe the Newcastle defence dissipated really, as Jenas and Zokora had limited effect and too often were actually by-passed by Dawson's aimless long balls. It was ironic that Cerny (replacing the injured Paul Robinson, who was in Setanta's studio) is inclined to feed the ball short to players within his reach, but Dawson so often hoisted the ball into areas where no white-shirted colleague existed.
Unlike Robinson, Jermain Defoe had once again been left at home, leaving the Spurs fans bemused by his absence and the presence of Berbatov on the bench. Rumours persisted that Berbatov had three times refused Martin Jol's request to leave the bench to warm up, so clearly all is not well in the Spurs camp.
Bale had offered one or two hopeful crosses, one of which fell to Keane at the back post, which Robbie failed to convert. Bale then fell foul of the officials who awarded a corner to the home side, when Bale (and this reporter) clearly felt the ball had bounced over the touchline for a throw. Bale then also attracted the anger of the home crowd after his tenacity in the middle, and with former Toon boy Jenas being baited throughout, the Spurs contingent failed to quieten the Geordies, who later had reason to lord it over the visiting fans. Perhaps their chant "Going South in the morning" had more than one connotation and hinted at Spurs future in this league.
It was the home side who really threatened first when Faye headed down against the post from a 13th minute corner. It may even have been the corner that Bale had contested. Mid-way though the half, Michael Dawson was exposed for the first time by Martin's pace when his error gave Geremi the chance to hit the ball over the top, and Martins raced into the penalty area. Cerny saved his shot from a narrow angle, conceding a corner.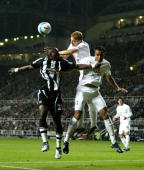 Bent, who proved quite hapless most of the time he was on the pitch, headed on a long clearance for Keane, whose low shot was saved at the left post by the reliable Shay Given. Newcastle skipper, 28 year old Geremi, who Spurs managed to make look like a young energetic puppy, hit a low free kick wide of the post after 37 minutes. As half-time approached, Martins again had the better of Dawson. Martins' shot was saved, then followed up by Owen, but cleared again in front of goal. Then Geremi lifted the ball over the top, Dawson's desperate attempt at a clearance when back-pedalling simply helped Martins, who made no mistake from 12 yards, scooting off for a somersaulting celebration.
Five minutes after the break it was 2-0 as Cacapa was allowed a free header at the near post to plant a firm header into the net from a corner at the Gallowgate End. Spurs suddenly started to play as if the game meant something, and if only they could find it in themselves to work as hard throughout the ninety minutes, perhaps we would not be in such trouble. Zokora lifted a ball from deep on the right, Bent's header rebounded off the post and Robbie Keane tapped in for his seventh goal of the season. The ineffective Malbranque was replaced by Berbatov, and Keane fell back to the midfield. Tainio moved to the right and stayed there – even when Lennon came on after 77 minutes. Keane did have another chance after 63 minutes, from Lee's ball, but Robbie's effort which may have been an attempted cross, passed in front of the goalmouth. Berbatov fed a decent ball to Bent whose shot was yards wide and high.
Spurs fell two goals behind again, after two crosses from the left, both of which were only half-cleared. The second of these fell to Milner, in space 22 yards out. Milner mis-kicked once, but was allowed the time to try again and with gusto hit a left foot shot across Cerny's bows. The game was over, and Lennon's late arrival could not repair the damage, nor the spirits of thousands of loyal fans, facing a mammoth late-night trek home.
· Squad numbers,appearances,bookings & goalscorers
· Read the preview for this game.