FRIENDLY FIXTURE
SATURDAY 4TH AUGUST, 2007
TOTTENHAM HOTSPUR 2 (1) TORINO O (0)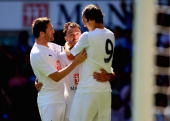 Scorers:-
Keane, 16
Berbatov, 65
Referee: - Mr. L. Probert
Attendance: - Est. 30,000
Teams:-
Spurs (4-4-2):- Robinson; Chimbonda, Dawson, Kaboul, Rocha (sub Stalteri, 72); Tainio (sub Bent, 65), Jenas, Zokora (sub Huddlestone, 65), Malbranque (sub Routledge, 74); Berbatov (sub Defoe, 72), Keane (Capt) (sub Taarabt, 85) (Armband to Robinson)
Subs not used: - Cerny; Ifil
No bookings
Torino (4-4-2):- Sereni; Comotto (Capt.), Natali (sub Franceschini, 68), Di Loreto, Lanna (sub Rubin, 60); Zanetti (sub Bottone, 71), Corini (sub Vailetti, 56), Grella (sub Lazetic, 35)Barone; Ventola (sub Bjelanovic, 46), Di Michele (sub Stellone, 46) (sub Oguro, 87)
No bookings
Ironically as the first real day of an English summer arrived, the new season at White Hart Lane started with what is becoming a traditional opener against Continental opposition. Torino must be much earlier in their pre-season preparation, but in any case, as much as you might try to paint it otherwise, they were not exactly the most auspicious opposition. Torino after all, avoided relegation from Serie A by just one point last season. The "Maroons" did not exactly conform to the usual pre-season convention of restrained tackling and fair play as Chimbonda and Zokora in particular seemed to come in for some rough treatment thanks to the likes of Zametti and Corini in the midfield, seeking to take no prisoners, giving the Spurs bench collywobbles as their precious players writhed and lay on the ground longer than was wanted a week before a tough game at Sunderland.
However, Spurs came out of the game unscathed, and as the victors, thanks to a cracking first half goal by skipper Robbie Keane, and a simpler close range conversion by Dimitar Berbatov, laid on by Steed Malbranque. Keane and Berbatov now have 6 and 3 goals respectively to their names in the pre-season programme, in which the Spurs first team have been unbeaten, and indeed won all 7 games.
Spurs started with Chimbonda and Rocha at right and left back, with Dawson and Kaboul in the middle. Teemu Tainio was stationed on the right side of midfield, with Steed on the opposite flank, and Jenas and Zokora in familiar territory. Robbie partnered Berbatov up front, but would often fall back to link with his midfield effectively. Certainly the work rate of all the players in the searing heat was tremendous.
Shortly before kick off, all four major new signings were introduced to the crowd, with Kevin-Prince Boateng and Gareth Bale in smart suits, and of course Kaboul and Bent were to be on display.
There seemed to be chaos outside as many were still queueing to get in, with access available on the day via the turnstiles. Spurs welcome all the support of course, but they really must get their systems sorted out to cater for demand, surely.
Torino had given Spurs little to worry about, apart from their physical commitment, before Spurs took a deserved lead in dramatic style after 15 minutes. Spurs looked as if they had fluffed a free kick, but Kaboul's determination led to him heading the ball over the defence down the left channel, and Keane latching onto the ball with venom, whacking a terrific rising shot into the roof of the net.
Five minutes, later Spurs enjoyed a period of good possession, before the ball reached Rocha, who looked a little hesitant before deciding to have a pop at goal from 30 yards, hitting the ball just over the bar. Three minutes later, Berbatov was on the end of a Jenas - Keane move, prodding the ball towards goal where Sereni made the save. Spurs next attack came from a Robinson long ball to Keane who was down the right flank, passing back to Tainio, who fed Malbranque. Malbranque's shot was weak, on target and easily held by the keeper.
Torino's Australian midfielder Vince Grella was replaced after 35 minutes by Lazetic, who took up the right wing, pushing Zanetti into a central role alongside Corini.
Three minutes before the break, Spurs worked the ball into shooting territory. Tainio chipped his pass over the defence, and Malbranque raced behind them hitting a shot and forcing a corner off a goalkeeper's save. As the half-time whistle approached, Robbie Keane was fouled by Zanetti, and Berbatov hit a kick around the wall, which was parried with both hands by Sereni, and cleared.
Torino replaced both strikers at the break, and ultimately, one of the subs – Roberto Stellone was to be replaced himself, but he made more impression upon the Spurs defence than any other Torino player. Stellone had a good shot two minutes into the second half after a cross from the right, and it was a Dawson deflection that led to a corner. Berbatov hit a shot over the target after picking up a long ball after 50 minutes, and after 63 minutes, Zokora looked as if he might get on the score sheet with a great run from his own half, but a shot that was parried and cleared again.
Spurs doubled their advantage in the 65th minute, after Chimbonda found Malbranque beyond the back post with a good cross. It looked as if Steed must score, as he shaped to take the ball right then left, but finally passed back to lay on an easy finish for Berbatov. Darren Bent made an entrance and for a while Robbie Keane was deployed behind the front two, but eventually that became a simple front two of Bent and Defoe, as Robbie and Berbatov were ultimately replaced.
Stellone had a great chance in a one on one against Robinson after 78 minutes, but Robbo did not commit too early but did basically snatch the ball off the striker's feet. There was excitement with 7 minutes to go, as Spurs piled on the pressure, after a Robbie Keane shot was saved, Defoe was blocked, and Chimbonda crossed deep for Bent to head goalward. From where I was sitting it looked like the ball was handled to keep it out of goal, but as the referee had missed a couple of other handballs, it was no surprise that he saw nothing here. Indeed, if the referee had been in card-issuing mood, the Italians would not have gone home with an unblemished copybook.
Taarabt only got five or six minutes at the end of the game, but this included a terrific right footed shot that fully tested the Italian goalkeeper.
There is a Spurs XI game at Grays on Tuesday, but Martin Jol's first team squad now have to prepare for that game at Sunderland, when Jol's starting line-up may be no different to today.
I can't wait for the real action to begin!