UEFA CUP ROUND ONE (1ST LEG)
THURSDAY 18TH SEPTEMBER, 2008
TOTTENHAM HOTSPUR 2 (1) WISLA KRAKOW 1 (1)
Spurs scorers:-
Bentley, 33
Bent, 73
Krakow scorer:-
Jirsak, 34
Attendance:- 35,751
Referee:- Mr. Lucilio Batista (Portugal)
Teams:-
Spurs (4-4-1-1):- Gomes; Gunter (sub O'Hara, 56), Woodgate, King (Capt.), Bale; Bentley, Jenas, Zokora, Lennon (sub Campbell, 56); Giovani (sub Ekotto, 70); Bent
Subs not used:- Sanchez; Dawson, Gilberto; Huddlestone
Booked:- O'Hara
Wisla Krakow (4-4-2):- Pawelek; Singlar, Baszczynski (Capt.), Cleber, Diaz; Sobolewski, Cantoro, Jirsak (sub Lobodzinski, 60), Zienczuk; Boguski (sub Malecki, 72), Brozek (sub Niedzielan, 78)
Subs not used:- Juszczyk (GK); Marcelo, Glowacki; Barreto
Booked:- Sobolewski, Malecki
Campbell soups up Spurs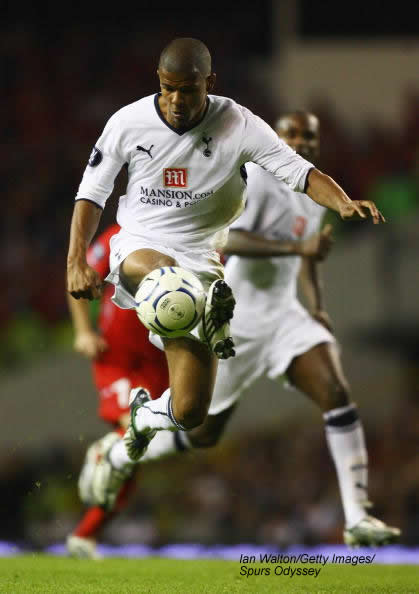 Spurs gained a much needed first win of the season, and a slender lead to take to Poland in two weeks' time, thanks to an improved performance but largely thanks to the insertion after 56 minutes of Manchester United loanee, Fraizer Campbell, whose exciting and energetic play gave an edge to the last half-hour. Campbell capped his performance with a perfect cross to tee up Darren Bent's winning goal. This was Bent's third goal of the season, so statistically, he is doing well! (How strange it seems to write the name Campbell in a Spurs team again)
As expected, and as demanded because of the enforced absence of Corluka and Pavlyuchenko, Juande Ramos rang the changes, with Ledley King making a welcome re-appearance beside Jonathan Woodgate to give the Spurs defence strength, except for the one moment of weakness when Krakow got a quick equaliser to David Bentley's opener. Chris Gunter played at right back, and Bentley played in position, with Lennon on the left and Giovani supporting Bent.
Krakow, the Polish Champions, were supported firstly by the 3,000 allocated visiting fans, and in addition some highly vocal fans found in all quarters of the stadium, thanks of course to the tickets having been on general sale, and our multi-cultural society consisting of many domiciled Poles. This led to a more exciting crowd atmosphere but also much tension in the stands, and the presence of more police than usual. Over here, we are not used to mixing with so many opposition fans, but it is not as if they were gooners, and on the whole they were just being enthusiastic. Spurs fans after all are often found in home stands abroad.
With Spurs in their all-white European nights strip, and the Poles in their national colours of all red, it was like an International atmosphere, with the home fans chanting for "England".
Krakow are a strong side, and their midfield seemed to play in two lines of two, with Sobolewski and Cantoro behind Jirsak and Zienczuk. Boguski supported top scorer Brozek from the right flank. Whilst Spurs did look better organised and more mobile than on Monday night, and once again enjoyed most of the possession, they did struggle to offer meaningful openings. An early cross by Bentley was not collected by the goalkeeper and with Bent on hand the ball was cleared just in time. Sobolewski had a shot wide after 6 minutes which excited and exposed the many Polish fans around the ground.
It was a long time before Spurs threatened goal again, and it came after a Bentley corner, headed down by Woodgate and punched out by Pawelek as the ball bounced up again. Krakow had a decent effort when Brozek got the bye line on the right side of the box, pulled back to Boguski, whose shot was well blocked by Ledley King, before the rebound came off Boguski again to be picked up by Gomes.
Krakow's goalkeeper was on the floor for treatment after a collision with Darren Bent who was perfectly entitled to challenge for the 50/50 ball, which was viewed as legal by the Portuguese referee. Spurs took the lead after a good low cross by Lennon behind the defence reaching Bentley beyond the back post. Bentley had time and space to pick his spot and raced off to the lower West Stand to celebrate. Sadly, Spurs surrendered the lead immediately. Krakow attacked down the right, and Brozek pierced the slow defence with a ball for Jirsak to beat Gomes from 10 yards.
David Bentley hit a powerful shot after good work by Bale, which was tipped over by the keeper, and two minutes later Bentley hit a free kick just wide of the keeper's right post. Gomes had to make a good save with a dive to his left to save Boguski's shot.
After the break, Bentley sent Giovani on a run from the right flank, and he had a decent effort on goal. Following a Spurs corner, Gunter won the half-cleared ball back, and Ledley got the ball down to Giovani, who might have scored himself but tried to lay it up for Bent. The cross was inaccurate and went beyond the area. Then after great approach play by Spurs down the left, with Jenas to the fore, Jenas fed Bent who had already been flagged offside before the ball hit the net. Replays suggest the goal should have stood. The build-up certainly deserved a goal.
Ramos made a double change, with Campbell replacing Lennon, and Jamie O'Hara on for Gunter. O'Hara played behind Jenas, whilst Zokora fell to right back. Giovani now played on the left of midfield. Sobolewski came off the better in a midfield challenge with Jenas, and his run ended with a shot wide of Gomes' right post. Giovani was now replaced by Ekotto, who took over at left back, whilst Bale moved forward.
Fraizer Campbell had already won plenty of cheers with his speed and desire to challenge for the ball up and down the field, but he took half the plaudits when he took the ball down the right channel and lifted a perfect cross for Bent to rise and nod in from close range. Gareth Bale had a great run as Spurs went on the break, and his shot was only parried for a corner, from which Ledley headed wide. Much as they tried, Spurs could not increase their lead, and indeed, with two new strikers, Krakow made every effort to get on level terms.
Spurs (and we fans) face a challenging trip to Poland, where the home support will be very vocal indeed, promising a quite intimidating environment, which will require maturity from our young team. Mind you, one goal there, and we'd be well away, surely!
· Squad numbers,appearances,bookings & goalscorers
· Read the preview for this game.