BARCLAYS PREMIER LEAGUE
SATURDAY 2ND OCTOBER, 2010
TOTTENHAM HOTSPUR 2 (1) ASTON VILLA 1 (1)
Spurs scorer:-
Van Der Vaart, 45, 75
Villa scorer:-
Albrighton, 16
Attendance:- 35,871
Referee:- Mark Clattenburg
Assistants:- Mr. J. Collin & Mr. S. Ledger
Fourth Official:- Mr. S. Attwell
Teams:-
Spurs (4-4-2):- Gomes; Hutton, Huddlestone (Capt.), Bassong, Ekotto; van Der Vaart (sub Sandro, 90), Jenas, Modric (sub Palacios, 77), Bale; Pavlyuchenko (sub Lennon, 46), Crouch
Subs not used:- Cudicini; Corluka; Kranjcar; Keane
Booked:- Bale
Aston Villa (4-4-2):- Friedel; Young, Collins, Dunne, Warnock; Albrighton (sub Bannan, 81), Reo-Coker, Petrov (Capt.) (sub Ireland, 81), Downing; Young, Heskey (sub Carew, 35) (Armband to Reo-Coker)
Subs not used:- Guzan; Clark, Cuellar; Sidwell
Booked:- Young (Handball), Albrighton (foul on Hutton), Collins (foul on Lennon)
The art of Van Der Vaart.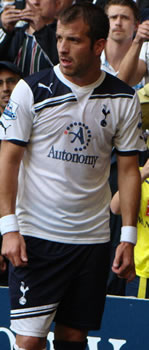 Holland has been famous for a few artists in its time, such as Van Gogh and Rembrandt, but now Spurs have an artist of a different nature in their midst, in the shape of Rafael Van Der Vaart. Rafa arrived at the death of the transfer window, and has been nothing short of an absolute star full of skill and artistry in every game he has played. No wonder he plays with such a smile on his face. When he is capable of dominating a high quality game as he did today, and of course before he got sent off on Wednesday!
Today Van Der Vaart scored his third and fourth goals for Spurs in his last four games. The goals looked simple, being conversions from Peter Crouch head-downs, but that is part of the skill of our man VDV. In particular his second goal was exquisite in the way he took the ball out of Dunne's reach with a subtle touch, before firing a rocket shot past the helpless hands of Friedel. Van Der Vaart had offered so much more to the game apart from his goals. He had other chances, from two of which he should also arguably have scored. He passed and moved, ran into space, pointed the way for his team-mates and was a constant thorn in the side of Villa's resilient defence.
Having watched the Match of the Day highlights, there might have been a suggestion that there was a lot of one way traffic in Villa's direction, but there was more to this game than those highlights indicated. This was a tense game, which did open up towards the end of the first half, as Spurs went more and more on the attack, and did create more chances than the visitors. However Gerard Houllier's side played well, and often had space and time in the midfield, with a man over against Spurs' defence which was further weakened by the anticipated absence of Ledley King, whose place was filled by Huddlestone. Huddlestone sometimes struggled with the pace of his opponents, but the other three covered that problem admirably, apart from Bassong's error against the in-form Heskey when Villa took the lead. It had looked as if Spurs might suffer yet another post Champions League blues day, but a vital goal in first half added time led to a confident second half display.
Former Spurs man Luke Young was succeeding in keeping Gareth Bale relatively quiet in those early stages, and more of Spurs width was being offered by Hutton and Van Der Vaart down the right. Van Der Vaart had started on that right hand side, with his usual freedom to roam, and Harry Redknapp's half-time insertion of Lennon for Pavlyuchenko, giving Van Der Vaart a role behind Crouch was a masterstroke, which led to the victory. Those Crouch-Van Der Vaart combinations are certainly reaping rewards, and this begins to look a classic combination, reminiscent of so many strike partnerships down the years in various teams.
Tom Huddlestone must have won the toss, as Villa kicked off and Spurs decided to play the first half towards the Paxton Road end for the first time this season. Spurs had the first decent chance after a corner taken by Van Der Vaart and a short chipped ball to the back post, where Pavlyuchenko should have scored, but headed over the bar. Chances were then rare as the game took on a chess-like nature, with Villa closing Spurs down, but Spurs managing to stall their advances too. After a quarter of an hour Downing went down just inside the right of the box and was looking for a penalty, but referee Mark Clattenburg would have none of it, as the ball fell to Warnock whose shot was going wide, and hit a defender, before an offside flag was raised anyway. Heskey, despite the usual derision, had been looking powerful, and left Bassong in his wake on the right hand bye-line before crossing low to the back post where the enterprising Albrighton gratefully fired home from close range. There were not as many Villa fans as in some matches, but they were bouncing up and down now.
Spurs had a great chance to get on level terms five minutes later. Jenas and Bale combined on the left and Bale's cross was touched on by Pavlyuchenko to Hutton, who hit a rising shot just wide into the stanchion on Friedel's left. Referee Mark Clattenburg was trying to allow play to flow, and had words with Re-Coker after a foul on Pavlyuchenko in a Spurs move. Ashley Young, playing behind Heskey, did see yellow for a deliberate handball. That man Van Der Vaart raced into the box and wanted the ball earlier from Hutton but got it via Jenas, before he fell too easily, looking for a penalty, without success.
Heskey had been struggling and had to be replaced by Carew after only 35 minutes. Pavlyuchenko should have scored when he touched Bale's cross too wide across the goalmouth. Ekotto had fed the ball for Bale's pass. At the other end Huddlestone was penalised just outside the area, and Young took a curling free kick that passed just outside Gomes' left post. After build up play by Jenas and Pavlyuchenko, Van Der Vaart hit a terrific shot that Friedel could only parry for a corner. Two minutes later Van Der Vaart's deflected shot landed on the top of the net for another corner. Spurs then scored at the perfect moment in firsts half added time. Pavlyuchenko crossed from the right and Crouch headed across the goal, where Van Der Vaart rose to head past the Villa keeper. Cue great celebrations at the Paxton Road End, and plenty of excited chat in the interval.
Harry made the half time substitution of Lennon for Pavlyuchenko, and VDV played behind Crouch. 6 minutes into the half, Huddlestone got forward and sent the ball to Lennon, whose deep cross was headed back across the goal by Crouch. Van Der Vaart had time and space to head home, but contrived to head down into the ground and wide. Carew was causing Huddlestone a problem or two at the back, but generally Spurs were coping.
After 58 minutes, Bale won a battle against Collins and got the ball to Van Der Vaart whose shot led to another Spurs corner, after which a Huddlestone shot was headed clear. The most worrying moment for Spurs in the second half came when Gomes completely missed Ashley Young's deep cross from the left, but luckily so did Carew and Albrighton. Villa were now getting too much space, due to Spurs' attacking intentions. Albrighton crossed and Carew headed wide.
Spurs won a corner after Hutton's ball to Lennon. Modric took the kick and Huddlestone flicked the ball on from the near post. Crouch made good contact and should have scored, but again the ball went wide. A Lennon shot was blocked and Luka Modric bottled out of a 50/50 challenge allowing a Villa break. It was Ekotto who came to Spurs' rescue this time against Carew. With fifteen minutes left, Spurs took the lead. Jenas had hit the ball to Lennon who was finding his form again, hitting a deep cross. Crouch headed the ball back to the middle of the box, and that man Van Der Vaart evaded Dunne's desperate attempt to win the ball with a deft touch before a convincing right foot finish beyond the hands of Friedel.
Now Spurs replaced Modric with Palacios and sought to tighten up at the back, whilst Houllier made a double substitution to try and get back in the game There were one or two tense moments, before Spurs carried on with their attacking desires and made more chances. Bale crossed and Crouch caused problems before Collins saw yellow for a cynical foul on Lennon who otherwise would have broken through to advance upon goal. Bale fed Van Der Vaart who hit a 25 yard shot just over the bar. Van Der Vaart's standing ovation when he was replaced by Sandro was well-deserved.
This was an oh so crucial win, lifting Spurs back to fifth place in touch with the leading group, and back in the mix for another challenge for a top four place This is a great psychological boost going into the International break, and with defenders such as Kaboul and Gallas likely to be fit in two weeks' time, along with Ledley going to Milan, we have everything to look forward to again!
· See the "Spursometer" for this game
· Squad numbers,appearances,bookings & goalscorers
· Read the preview for this game.
· All the Spurs Stats you could hope for here! THFC6061 Sports Stats