Magnificent Team Performance!!"
The number of responses to the opportunity to give individual, team, player and referee grades after this week's epic result in Milan has now exceeded those who responded to the momentous home win against Inter in November. 306 individuals responded in November, and already there have been over 320 "assessors" of Tuesday night's game.
The latest scores and last chance to add your grades and comments can be found here on the exclusive "Spursometer" page. So far the team has been graded at 84.4%, and that is marginally better than the score given for the home win against Inter
As the advert says you can "Go compare" the gradings by following the links above, but I thought I would take the opportunity of making one or two comparisons, and to report some comments made by voters this week.
In the Inter game, Gareth Bale was understandably voted the out and out man of the match, with his scintillating performance. On the other hand, there is a neck and neck race for this week's Spurs Odyssey "Man of the Match" award between goalkeeper Heurelho Gomes, Sandro, Lennon, Crouch and Dawson, with William Gallas and Wilson Palacios close behind. Nine of the 11 starters have got at least 8 out of 10, which confirms what we all knew really - that there was a magnificent team effort in the San Siro against AC Milan!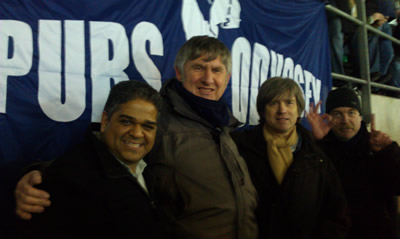 From left to right, Cassim Patel, Paul Smith, Stuart Gibson and Andy Park (indicating the score) at the San Siro in front of the Spurs Odyssey flag
So here we go with some of your comments:-
"Each and every one played magnificently - Sandro especially, since until last Saturday, he had hardly looked the part."
"Beautiful performance all round"
"An outstanding performance by the group, every one of them."
"It was an excellent all-round performance by the team last night making it all the harder to single out just one man-of-the-match. Gomes was fantastic, Sandro in the midfield played a blinder but if I had to choose it has to be Michael Dawson, who proved just how much he's improved since his injury last year. Top-class defending and barely put a foot wrong."
"Sandro was absolutely incredible last night, especially when you consider he has made one full premiership appearance for us- a very encouraging performance from him!"
"Here in the US the view from the satellite football show hosted by Italians was that
a Milan underestimated Tottenham
b Milan played badly
c Redknapp outthought Milan's manager.
d Agreed Flamini should have been red-carded
"One of the best nights in spurs history. Everyone deserves top marks."
"A great night and Man Of The Match to Gomes for his two stunning saves."
"The key to this result, apart from all their wonderful play, was the discipline and non-reactional behaviour displayed by the players in difficult confontational situations that pushed individuals of the proud white shirt to their absolute limits at times."
"Crouchie worked his socks off, was given the '' treatment'' but got on with it, a true pro"
"Crouchie was immense"
"Magnificent team performance!!"
"This was the most satisfying Spurs match since the Glory Days of the 60's"
"Great 94 minute effort by everyone...really tenacious ball tackling in the midfield."
Harry Redknapp also won his highest marks in the three categories of team selection, tactics and substitutions, with an overall mark of 9 our of 10.
"Despite the raft of injuries leaving 'Arry with little room for manoeuvre. It was great to see how well the team played - they looked very comfortable on the ball and passed it around superbly. A joy to watch how they made AC Milan look so ordinary."
"Harry at his best..hate to give 10s but I was tempted. I don't know that I would have played Palacios and Sandro together and charge them with pressing the midfield as hard as they did...but it worked brilliantly."
"Maximum use of what we had available"
"Brilliant just brilliant"
Referee Stephane Lannoy has been marked at 6 out of 10, and drew many comments:-
"Top performance against a lot of gamesmanship from AC, not sending Flamini off for the assault on Corluka was a big mistake, however showed bottle in disallowing the late "goal""
"Lost control of the match. Totally out of his depth"
"Flamini should have got a red card for the tackle on Corluka. Gatusso was also lucky to stay on the field for the whole match"
"Wanted to keep the game coing, but overlooked too many offences before booking Gattuso, and mis-read Flamini's tackle on Corluka"
Thanks to all those who have voted and taken the time to comment. I shall try whenever time does permit to report more frequently on some of the comments offered, and I shall also make sure future editions of the "Spursometer" include the overall grades on the manager and officials.
P.S. Someone pointed me in the direction of an imbecile (must be a gooner) who gave 1 out of 10 to everyone. The "Spursometer" gets loads of interest and responses because I do make it open to non-members and occasional readers of the web site, via the published articles and my use of social networking sites. I am more than satisfied with the overall results which are a "mean average" of all votes cast and not significantly affected by such idiotic responses.
· The original Spurs Odyssey Match Report can be read here