Main Page
News and views from Paul Smith, and links to the interactive features of the Spurs Odyssey Site. [more..]
Features
Articles, reports, views, opinions, comments and other features all related to Spurs. [more..]
News


Match Reports
Spurs Odyssey offers!
Newstemp
SPURS FANS DON LEDERHOSEN FOR CRUNCH EURO CLASH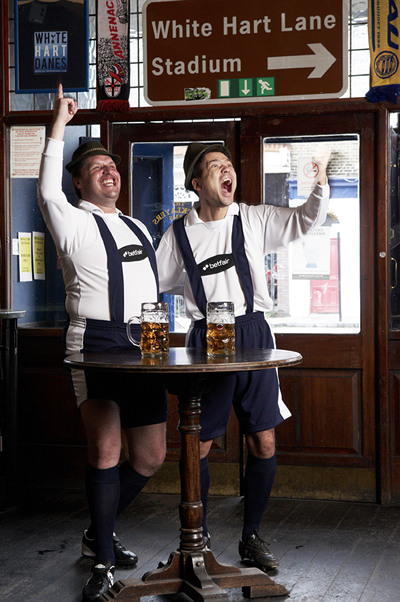 LEDERHOSEN made in the style of Tottenham Hotspur's home colours have been specially designed for fans of the north London club, as they prepare to show their support for German favourites Bayern Munich in Saturday's Champions League final against Chelsea.
Betfair has stepped in to make the traditional knee-length German breeches for the anxious Spurs fans, who are counting on their Bavarian allies to get one over Roberto Di Matteo's men and secure Champion's League football next season at White Hart Lane. Tottenham will be guaranteed a place in the qualifying stages of Europe's elite competition if 1-2 favourites Bayern beat Chelsea in Munich on Saturday.
The limited edition outfit is faithful to Spurs' classic white and navy blue colours, complete with a vintage German hat.
Betfair's Alex Bake said: "This is probably Spurs' biggest game of the season, and they aren't even playing! Tottenham fans everywhere will be becoming Bayern Munich fans for the day, and now they'll be able to get into the German spirit in style. We just hope it's a terrific final for football."
Champions League winner 2011 / 2012 - Betfair bet: 1-2 Bayern Munich, 2-1 Chelsea
Statistics
Fixtures, appearances, current league table, form guide, reserves fixtures, and Spurs Honours. [more..]
Archives
Find match reports, appearances, goalscorers and features from previous seasons. [more..]
Pick of the Week
Every week we select a Spurs related site from the whole world wide web and highlight it in this section. [more..]
Links
View a comprehensive list of links to other Spurs related sites. (With a few extras) [more..]
About this site
· Overview
· History
· Contributors

Contacts
Site Owner
· Paul Smith