John Ellis is known to many Spurs fans and we have over 450 mutual friends on Facebook. I am pleased to add this "third eye" feature article written by "El Gringo". This time John offers his thoughts on our away draw at Watford.
John invariably comments after every Spurs game on his Facebook page, and I usually agree with everything he writes. That applies to John's detailed eye-witness report on this game, which is published below, with kind permission:-
Watford 1-1 Tottenham Hotspur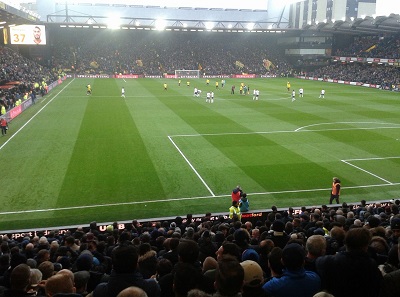 Where has the marauding, swashbuckling, free scoring Tottenham gone?
What a contrast in the split of our Premier League away form this season:
We won our first four away games scoring 12 and only conceding two goals.
The next four has seen us pick up just a solitary point, scoring two and conceding six goals.
We haven't scored more than once away since September.
At home Spurs have only scored more than one goal on just one occasion this season.

A worrying trend is developing which needs arresting very quickly.
At Watford, in wet drab conditions, Spurs started with a higher tempo than in recent games. Eriksen and Dembele were dictating play and it seemed Spurs were heading back to being somewhere near their old selves. In what became a feature of the match, Trippier found a lot of space down the right flank, Dier played a wonderful long range ball into his path and Trippier played a trademark cross volley into the box. For all the world and just like last season it seemed Harry Kane would tuck it away but somehow he didn't and ended up on the floor injured.
It was the first of a few heavy knocks for Harry who takes a hell of a lot of punishment these days. Spurs continued to control the early exchanges but as at Leicester lost possession deep down the left. A long crossfield ball was launched forward down the Watford left and looked to be going out for a Spurs throw in. Richarlison chased what seemed would be a lost cause and did very well to keep the ball in. Fortunately for Spurs, Trippier was alert to the danger and did well to chase back and put in a tackle to concede a corner.
From the resulting corner, Watford took the lead with Kane being out-jumped. It is a sad statistic that Spurs have conceded two goals from set pieces in their last three away games and yet we need to have long memories back to the days Spurs regularly scored from corners and free kicks.
Watford's tails were up and Davies seemed to bundle Richarlison over in the box. As the saying goes "I have seen them given". Just like two seasons ago, with Watford feeling a sense of injustice, Spurs broke forward and to compound Watford's anger, Trippier fed Eriksen down the line who crossed for Son to tap home at the far post.
Martin Atkinson, having upset the home fans, was now busily angering the Spurs fans and players in not showing yellow cards for a number of heavy challenges. This was epitomised by one such foul on Dele who was bursting diagonally forward in full flight from the right and was pulled down for what seemed a nailed on booking - but not in the eyes of Martin Atkinson.
Spurs won a couple of free kicks in threatening positions but alas just like our corners, our free kicks are no longer a threat. Until the League Cup final against Chelsea, some two years nine months ago, yes that is how far back we are talking, a free kick felt almost as dangerous as a penalty. Eriksen used to score sublime free kick goals with the two just before the final at Sheffield United and West Bromwich Albion being particularly memorable. Since then he scored two in one game at Swansea in early October 2015 more than two years ago and no others - none, nada, nothing...
The other free kick was taken by Kane and other than a deflected winner at Aston Villa, Harry has not scored either. As infamously found out at Euro 16, Harry doesn't do free kicks...Dier showed that he can but doesn't get much of a chance. Isn't there anyone else who can?
Son seemed to spend the game being caught offside and unusually for him dived a couple of times and he needs to stamp both of these elements out of his game.
As the half time whistle blew, there was a mood of optimism amongst the fans with most of the players doing ok except Sanchez who looked far less assured than normal and Davies who was having another poor game. Since the return of Rose, the form of Davies and possibly his confidence has dipped remarkably from his early season form.
The second half started with another heavy tackle on Kane which brought a booking. A Watford fan said to me before the game, they struggle when attacked down the flanks and it did seem our greatest threat was coming through Trippier.
However, a few minutes later and the game was turned on its head. Just over the halfway line, Richarlison was on the verge of breaking clear down the left and was hauled down by Sanchez. It seemed a yellow card offence but to our collective horror, Atkinson produced a red card. The Spurs fans were incandescent with rage and let their feelings be known.
As opposed to yesteryear, we now have the dynamic of social media filtering into the ground which showed there could be few complaints with the decision and the foul epitomised Sanchez' poorest performance in a Spurs shirt. He has fitted in so well but looked a little out of sorts in the last week or so and may be at such a young age, adjusting to the continual demands of the Premier League is taking its toll.
Spurs were now up against it against a good Watford side. Doucoure lined one up from outside of the penalty area and fired a shot towards the top corner which looked to have goal written all over it. With Lloris like the rest of us an onlooker, the ball crashed off the upper inside of his left post, ricocheted across goal and thankfully away to safety.
Kane was then virtually assaulted from behind and again incredibly Atkinson deemed the challenge not worthy of a booking. Strangely, Watford seemed content to play the ball around without really committing to a barnstorming push for victory. Spurs were still playing with composure and creating half chances of their own which mainly came down our right wing.
The Spurs fans and Heurelho Gomes showed their continued affection for each other. A great shot stopper who is occasionally prone to the odd catastrophic error, he was always a bit of a drama queen. Memories of years gone by came flooding back when having fallen forward on his knees, holding his head, his legs did a Riverdance type manoeuvre which suggested a serious injury and yet seconds later he was up on his feet ready to continue!
Even down to ten men, the match was fairly even and Pochettino showed his continued faith in Sissoko by bringing him on as first substitute from a strong bench. Most Spurs fans didn't seem to share that faith yesterday.
As an observation, from the Arsenal game, our fans have continued to get behind the team in the Premier League but there doesn't seem to be the same gusto in our singing which is mirroring the performances on the pitch. It's as if we are also saving our best performances for the Champions League.
And so the game moved into stoppage time, a cross came over and a Watford player with both hands wrapped around Kane's torso in the box mauled him to the ground for what should have been a definite penalty. Incredulously, Atkinson waved away the appeals and Watford attacked down the Spurs left, the ball came over and this time it was the Watford fans turn to be left aghast at not being awarded a penalty for what seemed to be a handball by Dier.
Both sets of fans felt aggrieved by Atkinson's poor performance. And so the game ended in an unsatisfactory draw. Whilst Spurs continue to flounder, the top four look in ominous form. Fortunately, there is still more than half of the season to go but Spurs need to sort themselves out and quickly otherwise we will found ourselves cut adrift from the top four.
#Coys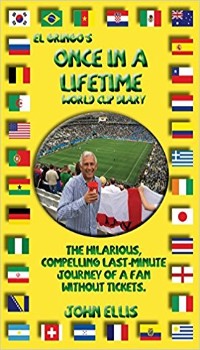 El Gringo's Once in a Lifetime - John Ellis's account of the 2014 World Cup in Brazil