John Ellis is known to many Spurs fans and we have over 450 mutual friends on Facebook. I am pleased to add this "third eye" feature article written by "El Gringo". This time John offers his thoughts on our 1-0 derby win against Arsenal.
John invariably comments after every Spurs game on his Facebook page, and I usually agree with everything he writes. That applies to John's detailed eye-witness report on this game, which is published below, with kind permission:-
Tottenham Hotspur 1-0 Arsenal
Butterflies in the tummy, excitement coursing through the veins, nervous anticipation. Oh the joys of a North London Derby day...! You would think that by the 195th such occasion we would be used to it but oh no, these symptoms are just as horrible as ever. The demons haunt our imagination and all logic goes out of the window. We fret over the renewed partnership of Aubameyang and Mkhitaryan and over Arsenalís nine successive Wembley victories. They fret over the Kane, Dele and Eriksen triumvirate, how calamitous defeat would be for their season and of course the unsettling prospect of being surrounded by 80,000 plus Spurs fans in a packed Wembley stadium.
And so to kick off... The opening ten minutes see Arsenal looking very assured in possession but Spurs looking the most threatening on the break through left wing thrusts by Son and Dele. In the 12th minute a genuine hearts in mouths moment. Aubameyang is put clean through on goal but thankfully the flag is raised for offside. The game begins to settle into a pattern. Arsenal are not high pressing the Spurs defence but instead sitting back in defensive numbers and looking to break quickly.
It was however Spurs who created the most meaningful chance in the 26th minute when Kane - unmarked in the box - seemed to time his jump a fraction too early and headed over from Eriksenís left wing cross. By the half hour mark Spurs were creating inroads into the Arsenal defence with a goalmouth scramble being cleared and a low cross from Eriksen being slightly over-hit.
Son and Trippier were seeing plenty of the ball in wide positions but their end product was all too frequently poor. In the 40th minute Arsenal counter-attacked and Sanchez did well to end the threat by cutting out the cross and shepherding the ball back to Lloris. The half time whistle blew and in truth it hadnít been a classic with few chances being created.
The second half started with Spurs continuing to seek the opening goal. In the 49th minute, Davies crossed, Kane rose, contorted his neck muscles into position and somehow angled a header into the bottom left corner of the net. 1-0 to Spurs! Wembley Stadium erupted! There is nothing like an opening goal against Arsenal! Share elation! Harry really is the scourge of Arsenal!
I havenít seen the statistics but Spurs seem to be scoring a number of early second half goals at Wembley and long may it continue. The goal would surely change the dynamics of the game. Arsenal really needed all three points and were now facing a potentially catastrophic defeat at the hands of their old enemy. In short they had to come out to play which would surely open up more space for Spurs to exploit.
In the 52nd minute, Kane was well placed and should have made it two with a stooping header but he put his effort wide of the post. Arsenal were tottering and a pinpoint cross from Trippier was met full on the volley by Kane but straight at Cech who beat his powerful effort away. In this kind of form Spurs are irresistible.
Son showed good dribbling skills and earned a free kick on the left hand edge of the box. Eriksen stepped up and curled over the wall to bring another save from Cech. From the resulting corner, Vertonghen wasnít able to steer his header on target. Excellent play down the right wing by Dele brought another corner but the elusive second goal just wouldnít come.
Midway through the second half, Arsenal finally managed to muster their first decent effort on goal with Wilshere bringing a flying save from Lloris. Dembele was absolutely bossing the midfield and was the catalyst for Spurs to launch attack after attack. In contrast to the congested first half, there was a lot more space which Spurs were relishing.
Great play from Dele set up Son who with his last touch of the match tried to shoot on goal but only succeeded in skewing the ball high up in the air. It was more akin to a poor conversion effort at Twickenham! Spurs continued to pile on the pressure - continually knocking on the Arsenal door and asking questions of their beleaguered defence with only Cech able to offer any resistance.
In the 70th minute Dele through on goal seemed certain to double the lead. His shot beat the onrushing Cech but agonisingly rolled wide of the right hand post. Lamela then burst through down the right and brought another save from Cech. As against Manchester United and Newport County, Spurs were overrunning the opposition but just not able to turn their overwhelming supremacy into more goals. One goal leads are always vulnerable to a late sucker punch. We had to hope we didnít rue these missed chances...
Following his midweek man of the match performance, Lamela was bristling with energy. He broke forward again and this time passed to Eriksen whose cross teed up Trippier to volley goal-wards for what would have been a stunning goal but alas Cech intervened with yet another save. Dele, having run his socks off, was given a tremendous ovation as he walked off to be substituted by Wanyama.
Momentum is a strange force of nature in sport. A team or say a tennis player can be in total control of a match but an event happens and suddenly the whole play can swing towards the other team and player. As soon as Dele went off for a defensive midfield player, Wenger seized the initiative by bringing on Welbeck for Xhaka. Tottenham were dropping further and further back, conceding territory and possession. Suddenly a game which seemed comfortable looked a little more in the balance.
Spurs though continued to press in search of a game closing second. In the final minute of the 90, Lamela broke clear but showed a lack of composure in shooting across the face of goal from a tight angle when a pass to the well placed Eriksen could have have killed the game.
Having added no minutes at the end of the first half the officials deemed four minutes needed to be added at the end of the 90 minutes. Three minutes would have been enough! Arsenal were now finding more space and attacked down their right wing. Inexplicably Lacazette was left completely unmarked in the box and the cross sailed over towards him. Wembley held its collective breath as the ball landed on to his boot to volley goal-wards. His shot skied high and wide and an audible exhale of relief could be heard from the Spurs fans.
The mood in the crowd and on the pitch had changed though. This was going to be a long four minutes....The Spurs fans rallied behind their side with ďCome on you SpursĒ rolling around the packed stadium. Arsenal made a break forward again and Iwobi played a defence splitting ball to meet the well timed run of Lacazette. Sanchez reads the run but somehow gets himself completely on the wrong side. Oh my...the Premier League record 83,222 crowd look on in disbelief - Lacazette is through on goal bearing down on Lloris and at a great angle to slip the ball into the bottom left hand corner of the net. All Spurs' work appears to have been undone in an instant. Lacazette lets fly and unbelievably screws his shot across the face of the goal and harmlessly out for a goal kick. Phew!
With the home fans now frantically screaming for the referee to blow the final whistle, Arsenal come again. To howls of derision, with the four minutes of added time having been played, they are awarded a soft free kick on the edge of the penalty area which will surely be the last kick of the match. Ozil stands over the ball.... anxiety permeates through the stadium. Surely, surely not? Ozil steps up and it is a poor free kick which goes straight into the wall and the Spurs players gleefully clear their lines. The final whistle blows!
The last minutes were far more edgy than they needed be but overall Spurs thrashed Arsenal 1-0. Seven points out of nine from Manchester United, Liverpool and Arsenal is an excellent return. So much for the media view of not being able to pick up points from the other top six clubs! Spurs leapfrog Chelsea and Liverpool into third place for at least 24 hours or so and open up a seven point gap on Arsenal. Happy days!
The Premier League can now be put aside for a couple of weeks. Two very different challenges await in Juventus and Rochdale. The mighty Old Lady of Italy to the sand covered dunes of the Spotland pitch. What a contrast. Spurs are in fine form and with a full squad well equipped to take on all-comers.
#COYS!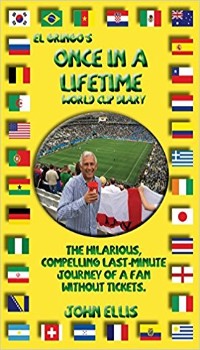 El Gringo's Once in a Lifetime - John Ellis's account of the 2014 World Cup in Brazil