UEFA CHAMPIONS LEAGUE
ROUND OF 16 (2nd leg)
WEDNESDAY 7TH MARCH, 2018
(7.45pm – at Wembley)
TOTTENHAM HOTSPUR 1(1) JUVENTUS 2(0)
(Juventus win 4-3 on aggregate)
Spurs scorer:-
Son, 39
Juventus scorers:-
Higuain, 64
Dybala, 67
Attendance:- 84,010
Referee:- Szymon Marciniak (POL)
Assistants:- Pawel Sokolnicki (POL) & Tomasz Listkiewicz (POL)
Fourth official:- Radoslaw Siejka (POL)
Additional assistants:- Pawel Raczkowski (POL) & Tomasz Musial (POL)
Teams:-
Spurs (4-2-3-1):- Lloris (Capt.); Trippier, Sanchez, Vertonghen, Davies; Dier (sub Lamela, 74), Dembele; Eriksen, Dele (sub Llorente, 86), Son; Kane
Subs not used:- Vorm; Rose; Wanyama, Sissoko, Lucas Moura
Booked:- Vertonghen (foul on Dybala), Dele (foul on Khedira), Dembele (foul on Dybala)
Juventus (4-3-3):- Buffon (Capt.); Barzagli, Benatia (sub Lichtsteiner, 61), Chiellini, Alex Sandro; Khedira, Pjanic, Matuidi (sub Asamoah, 60); Dybala, Higuain (sub Sturaro, 83), Douglas Costa
Subs not used:- Szczesny; Marchisio, Rugani, Bentancur
Booked:- Alex Sandro (foul on Trippier), Pjanic (foul on Dele), Benatia (foul on Dele), Chiellini (foul on Dele)
Gone in 169 seconds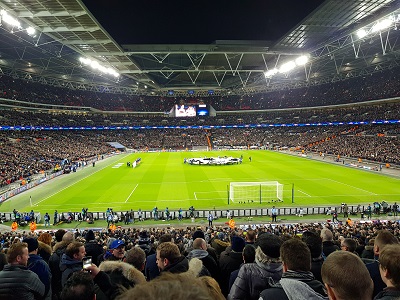 It had all been going so well. Son had given Spurs a deserved first half lead with a goal that had been somewhat fortuitous in its execution, and as a team Spurs were seemingly in control as they held their lead and just about edged possession. Then, in the space of 169 seconds of clinical finishing, Juventus had dashed our hopes and dreams with goals by Mauricio Pochettino's compatriots Gonzalo Higuain and Paulo Dybala. I had bumped into another legendary Argentinean before the game – the one and only Ossie Ardiles. I was convinced that had been a "sign", and I suppose it was, but not the sort of sign I had hoped for.
Wembley was packed, but still not quite as packed as it had been for two of our Champions League games last season. The game was preceded by a one minute silence which turned into applause in respect of Fiorentina captain Davide Astori, who died suddenly at the weekend. All the players wore black armbands as well. As predicted, the only change to the Spurs line-up had been enforced with Kieran Trippier replacing the suspended Serge Aurier. Massimiliano Allegri's side was missing Mandzukic and Bernardeschi, but fielded a strong outfit set up for attack with Dybala, Higuain and Douglas Costa side by side, supported at every opportunity by Matuidi from the middle and Alex Sandro – an attacking left back. With Chiellini masterful at the back, and once they had the lead, the Italians formed a supreme defensive style as only they can.
Son was working on the left of the Spurs attacking midfield, and had an early shot deflected off the target. Juventus had a free kick at the other end, but nothing came of that. Nothing came of Douglas Costa's over-hit cross from the right either. Jan Vertonghen headed clear an Alex Sandro cross, before Dier sent a good ball to Eriksen, who in turn fed Harry Kane. Kane got into the right side of the Juve box, but Chiellini and Matuidi saw to it that he got no further. Spurs tried to force their way through on the left side of the area with Son getting to the bye line with no reward. A minute later Trippier intercepted a poor Juventus clearance and passed to Dele who put Kane through on the right side of the box. Harry had a shot on goal, but hit the side netting.
After 16 minutes Douglas Costa went down in the Spurs area with Vertonghen at his heels. The Bianconeri wanted a penalty but Polish referee Szymon Marciniak waved them away. At the other end a shot by Eriksen was blocked and a header by Son was saved with Dele to the fore along with Trippier too. After 20 minutes Harry Kane was onto Trippier's long ball and passed inside from the right for Eric Dier to shoot, but this was an easy pick-up for Buffon. Dembele, in his own half, picked out Son with a pass and the in-form South Korean made a run before hitting a shot which was deflected and won a corner.
Harry Kane challenged for a Trippier ball after 31 minutes, and it was cleared to the feet of Dele Alli, who hit a low shot from 25 yards, again held by Buffon. Eriksen spread the play from the right with a lovely pass to Kane but his shot was wide across the goalmouth and past Buffon's left post. Son had a great chance from the left as he ran into the box, but he pushed his shot wide. Spurs would ultimately pay for their inaccuracies in front of goal, but they did take a deserved lead when Eriksen passed forward to Dele who was challenged. The ball ran to Trippier, who crossed low for Son to finish with a shot hit with his right foot, but which took a deflection off his leading left leg, wrong-footing Buffon in goal. No matter. It was a deserved lead.
Juve tried to respond quickly, but Pjanic fired wide after Douglas Costa's cross, and then a free kick which was headed over by Alex Sandro.
Dele Alli, who was the target of a number of fouls by the visitors, won an early free kick in the second half on the left outside the Juventus area. This was taken by Eriksen and fed to Vertonghen, whose shot was easily blocked with the visitors clearing Spurs' follow-up efforts. Vertonghen made a great winning tackle against Higuain inside the Juventus half, before passing to Dele, who fired wide. The game was getting a little feisty in the middle with 7 yellow cards shown over the course of the game. After 57 minutes, Kane was deep on the right and touched the ball to Eriksen who found Son at the back of the Juventus area. Son forged a shooting chance, but skied his shot.
A deep corner from the left by Eriksen was met by Kane beyond the back post. Harry hooked a shot back at goal, but this was another easy pick-up for Buffon. Allegri made a double substitution around the hour mark, and it would not be long before a switch in strategy of pushing his full backs forward would bear fruit. A cross from the left was cleared by Sanchez only as far as Dybala, who fired wide. Juventus equalised in the 64th minute. Dybala had sent substitute Lichtsteiner away down the right. He crossed; Khedira headed forward and Higuain stuck out his right leg to score past Lloris's left hand. Within three minutes, the Spurs defence was caught on the hop by Higuain's ball to Dybala who was clear on the left with Spurs hands being raised aloft in a forlorn appeal for offside. Dybala was through and made no mistake with his finish. Quick thinking and clinical finishing had taken the lead and would win the day.
Mauricio Pochettino took off Dier in favour of Lamela, and whilst Spurs desperately tried to get back on terms the Italian defence held firm. Son was onto a long ball from Eriksen and crossed low and hard towards Kane, but Italian feet were there first. Davies hit a cross to the back post where Son's effort reached Eriksen whose shot was blocked and won a corner. Son then had a chance from outside the area, after Eriksen's shot had been cleared to his feet. Son's left foot shot bounced in front of Buffon and passed his right post. Son kept in a cross by Davies and passed to Eriksen, but he fired wide. Buffon was upset with the officials as he thought that Son had let the ball go over the bye-line.
In a last throw of the dice (Pochettino did not use all three substitutes), it was Llorente and not Lucas Moura who replaced Dele. Spurs' one remaining (and best) chance to take the game into extra-time with another 2-2 came when Davies crossed and Harry Kane's header rebounded off the far post. The ball ran along the line but somehow Lamela could not get the touch to get it over as Barzagli was there first to hook clear. 169 seconds and inches on that line had made the difference between success and failure for Spurs, who just have to dust themselves down and get on with the task of qualifying for the Champions League again.
· See the exclusive "Spursometer" and have your say regarding the performances of the team, individual players, manager and officials.
· Squad numbers,appearances,bookings & goalscorers
· Read the preview for this game.
· All the Spurs Stats you could hope for here! THFC6061 Sports Stats