UEFA CHAMPIONS LEAGUE
Round of 16 (1st leg)
TUESDAY 13th FEBRUARY, 2018
(8.45pm C.E.T)
JUVENTUS 2(2) TOTTENHAM HOTSPUR 2(1)
Juventus scorer:-
Higuain, 2, 9 (pen)
Spurs scorers:-
Kane, 35
Eriksen, 71
Attendance:- 41,232
Referee:- Felix Brych
Assistants:- Mark Borsch & Stefan Lupp
Additional assistants:- Bastian Dankert & Marco Fritz
Fourth official:- Markus Hacker (All officials from Germany)
Teams:-
Juventus (4-1-4-1):- Buffon (Capt.); De Sciglio, Benatia, Chiellini, Alex Sandro; Douglas Costa (sub Asamoah (90+2); Bernardeschi, Khedira (sub Bentancur, 66), Pjanic, Mandzukic (sub Sturaro, 76); Higuain
Subs not used:- Szczesny; Rugani; Marchisio, Muratore
Booked:- Benatia (foul on Kane), Higuain (dissent), Bentancur (foul on Davies)
Spurs (4-2-3-1):- Lloris (Capt.); Aurier, Sanchez, Vertonghen, Davies; Dier, Dembele; Lamela (sub Lucas Moura, 89), Dele (sub Son, 83), Eriksen (sub Wanyama, 90+2); Kane
Subs not used:- Gazzaniga; Trippier, Rose; Sissoko
Booked:- Davies (foul on Bernardeschi), Aurier (foul on Alex Sandro)
Heroes of The Allianz!
After going down to what looked like being a devastating two goal early deficit, Mauricio Pochettino's Spurs proved themselves highly worthy of their place in the Champions League with a magnificent comeback to draw the game, and to take two away goals back to what will be a packed Wembley on March 7th!
Spurs were knocked back by two goals in the first nine minutes by Gonzalo Higuain. The first had been superbly created and volleyed home. The second was a penalty, conceded by Ben Davies, which was converted with conviction.
Spurs buckled down to fight back by playing superb crafted football; determined play, and dominated possession (67%) in Juve's Allianz Stadium. These were last year's beaten Champions League finalists, no less!
The stadium is only 7 years old and was almost full with over 40,000 present. The crowd included a full contingent of away supporters who had endured the usual rigours and inconveniences of following their team in Europe, particularly in Italy. The stands have a high rake, encouraging the sort of atmosphere that Spurs hope to have at their new stadium later this year. The game was preceded by flashing lights (on and off stadium lighting), colour and a very pretty local song. The home fans are issued with black and white bin liners to create a massive illustration of the club colours, and the home end had the added colours of the Italian National Flag.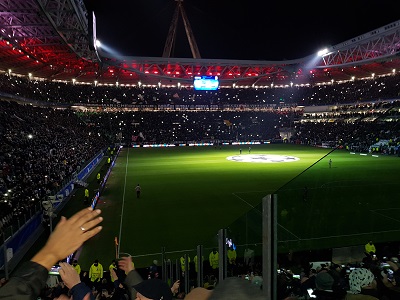 That first goal came after a foul by the man we call "The Moose" upon the man the locals call "The Pianist" Miralem Pjanic. Pjanic stepped up and cleverly chipped a free kick over the wall towards the right of the box. I understand that some say Higuain was offside, but he hit a volleyed shot across Lloris to score a great early goal for the home side.
Spurs responded with a ball to Kane, who headed across for Eriksen, but his shot was well over the target. Jan Vertonghen made a great tackle on Mandzukic after 5 minutes, but the player was offside anyway as he raced onto Douglas Costa's ball.
Spurs were struck what appeared like a severe blow when Davies mis-timed his heavy challenge on Bernardeschi. The referee awarded a penalty and booked Davies. Higuain hit a low shot to the corner of Lloris's net.
Spurs did nothing more than buckle down, roll their sleeves up, and urged on by their ever vocal, ever loyal ever loving fans, they played with character, skill, style and determination.
After a poor Juventus clearance, Eriksen had the ball on the left and crossed to Kane who had a shot go outside the post. It looked as if it should be a corner, but goal-kick was the decision. Spurs made a break from their own half after 16 minutes led by Dele Alli. Eriksen and Kane combined, before Eriksen was down in the box, but there was apparently no foul.
After 25 minutes an Eriksen shot was saved and Kane responded with a header, brilliantly saved by Buffon diving to his right. Eriksen took a free kick after 28 minutes which was blocked. His follow-up attempt was wide.
Dembele and Dele tried to break forward but were thwarted and both Pjanic and Higuain made a quick counter-attack. Pjanic provided the final pass and Higuain hit a left footed shot outside the right post.
Buffon made another great save from Kane after Dembele's pass. Harry's shot looked like being a goal, but Buffon stretched and pushed the ball out for a corner. Four minutes later Spurs were right back in the game. To a man they battled like lions for the ball in midfield. Dele's final pass put Kane clean through. Buffon came out; Kane pushed the ball past him to the left, then rolled it home into the far corner in front of the ecstatic away fans!
There was no let-up from Spurs. Following a free kick, Eriksen hit a shot which Buffon could only parry. After this and some good work by Harry Kane, Eriksen crossed to Dele, who hit a header just over the bar, with the ball landing on the side netting.
In first half added time, Aurier committed a stupid foul on Douglas Costa. Up stepped Higuain for a potential hat-trick. Lloris tried distraction tactics and I thought he got a touch to the ball, but essentially, Higuain had missed and hot the top of the bar. It was the last kick of the first half and a pivotal moment in the game.
Three minutes into the second half Aurier was booked for his foul on Alex Sandro. This is his third yellow card in the competition, and he will be suspended for the second leg at Wembley. What with his reckless penalty, Aurier really is a player who worries you as a Spurs fan at times. No doubt his pace was a big requirement for Pochettino in this game. Despite his obvious abilities and potential Sanchez was the only other Spurs player to give me kittens on one or two occasions. Juventus attacked through Costa and Higuain after a poor clearing header by Sanchez, but Spurs defended that situation well. After 56 minutes Lloris made a great save from Bernardeschi as he cut in from the left and fired at goal. From the corner Mandzukicís header went straight to the Spurs keeper. There were more defensive heroics from Jan Vertonghen, and to his credit the referee was allowing play to go on at times when Juventus wanted a foul.
Former Real Madrid man Sami Khedira was replaced after 66 minutes by Bentancur. So far in this half the game had been more measured, but as Spurs increased the pace and pressure, the home team started to look tired at times and a little vulnerable. Following a Spurs corner and Eriksen and Deleís work on the left Harry Kane hit a low shot from outside the box, which was parried by Buffon.
Then came a fantastic moment for Spurs. Dele Alli was fouled just outside the box by ace defender Chiellini. Eriksen stepped up and hit a low free kick which beat Buffon to his right just inside the post! It was a great goal and a wonderful moment for the Spurs fans in the arena. Spurs had levelled the game in the most challenging of circumstances.
Spurs fans had been positive throughout the game, and earlier had chanted ďThereís only one Ryan MasonĒ in response to the news on matchday that Ryan had been forced to retire at the age of 26 as a result of that serious head injury playing for Hull at Chelsea.
Juventus coach Allegri was trying fresh legs and replaced Mandzukic with Sturaro. Pochettino maintained his faith in the eleven he had picked until the later stages. Lamela had a great game in place of Son, and what he offered was his physical determination and ability to win the ball in challenging situations along with his pace and skill in attack. Lloris had to dive low to his left to save from Bernardeschi again, but this was a comfortable save.
Finally Pochettino did make a sub and this was Son replacing Dele, who had had a magnificent game. There was a worrying moment when Douglas Costa crossed from the left but Vertonghen met the ball before the near post and put it out for a corner. Spursí remaining substitutions were very late with Lucas Moura making his club debut when replacing Lamela and Wanyama a very late replacement for Eriksen. Both managers seemed now to be wanting to play down time and hold onto the draw. Lucas made a bright cameo. He has plenty of pace and carried the ball through tight marking. We can look forward to seeing more of him, starting perhaps at Rochdale on Sunday.
I mentioned in my preview that this game was being played 7 years (almost to the day) after we beat AC Milan in the San Siro. This was another truly heroic night for Tottenham Hotspur FC, and one which made its fans so, so proud. Those of us lucky enough to have been present will never forget it! The game comes at the end of an intense period in which we have beaten Manchester United and Arsenal at home and drawn away to Liverpool and Juventus. Donít forget that Juventus had only conceded one goal in their last 16 games, and had not conceded two at home since October. Spurs have come through that tough spell of games with flying colours, and who knows what could yet come this season?
Whatever happens, we have had some truly great results and great times this season watching our team. I truly cannot wait for March 7th and Juventusís visit to a packed Wembley. A 0-0 or 1-1 would do us, but I donít see either score line occurring. It will be another great game!
∑ John Ellis's "Third-Eye" report.
∑ See the exclusive "Spursometer" and have your say regarding the performances of the team, individual players, manager and officials.
∑ Squad numbers,appearances,bookings & goalscorers
∑ Read the preview for this game.
∑ All the Spurs Stats you could hope for here! THFC6061 Sports Stats