UEFA CHAMPIONS LEAGUE GROUP H
MATCHDAY FOUR
WEDNESDAY 1st NOVEMBER, 2017
(7.45pm at Wembley Stadium)
TOTTENHAM HOTSPUR 3(1) REAL MADRID 1(0)
Spurs scorers:-
Dele, 27, 56
Eriksen, 65
Real Madrid scorer:-
Ronaldo, 80
Attendance:- 83,782
Referee:- Cuneyt Cakir
Assistants:- Bahattin Duran & Tarik Ongun
Additional assistants:- Huseyin Gocek & Baris Simsek
Fourth official:- Mustafa Eyisoy
(All officials from Turkey)
Teams:-
Spurs (3-4-2-1):- Lloris (Capt.); Alderweireld (sub Sissoko, 24), Sanchez, Vertonghen; Trippier, Dier, Winks (sub Dembele, 66), Davies; Eriksen, Dele; Kane (sub Llorente, 79)
Subs not used:- Vorm; Rose, Aurier; Son
Booked:- Dembele (foul on Ramos)
Real Madrid (4-3-3):- Casilla; Hakimi, Nacho, Ramos (Capt.), Marcelo; Modric (sub Hernandez, 81), Casemiro, Kroos; Ronaldo, Benzema (sub Asensio, 73), Isco (sub Mayoral, 73)
Subs not used:- Ramos Wade; Vallejo; Vasquez, Ceballos
Booked:- Ramos (foul on Llorente)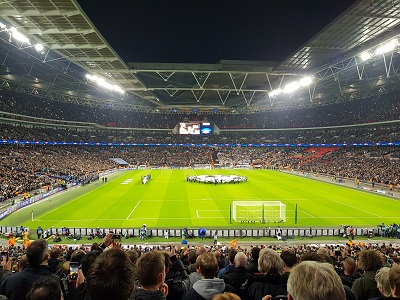 Magnificent Spurs get historic win!
It was as if this was the game for which Mauricio Pochettino had honed his men. Except that we saw other great performances two weeks ago in Madrid, and in the subsequent 4-1 drubbing of Liverpool. This was a truly magnificent Spurs performance against the current European Champions (and 12 times winners!), which deserves to go down in the history of a great club as one of the most memorable wins. Indeed Spurs did make their own history with a first competitive win over Real, who had not lost a Group game for five years, and who had never before lost a Group game to an English team. After four Group H games, Spurs are top with 10 points, and are already assured of qualification for the Round of 16! Now they can go for top place!
Not only Pochettino and his Spurs, but Dele Alli firmly arrived on the European stage. Dele had of course had to sit out the first three Champions League games, but here he was scoring two against Europe's elite, tricking the likes of Casemiro and Ramos, and almost scoring a hat-trick. The truth is that every member of the Spurs team, including the three substitutes excelled themselves, sending at least 80,000 of the 83,782 fans home with smiles that will be fixed for a long time to come. I thought we might have beaten last year's record Champions League crowd at Wembley, but somehow that was not the case.
One of the Spurs substitutes – Moussa Sissoko – was required much earlier than planned, as Toby Alderweireld hobbled off with a hamstring injury after only 24 minutes. Not long before that Alderweireld had ventured into the final third with a bursting run. Perhaps that did the damage. Hopefully Toby can recover as quickly as has Harry Kane, who returned last night, and who has been described as "bullying" the great Sergio Ramos. Alderweireld's departure did not affect Spurs' style or rhythm, as Eric Dier slipped smoothly between Sanchez and Vertonghen, and Spurs returned to business as usual. In fact they took the lead soon after Sissoko's arrival.
When the Real manager Zinedine Zidane says "Tonight we lost to a better team – in all aspects of play they were ­superior", you know how good we were. I told my son to always remember this night. I certainly will.
The noise level at Wembley was truly immense, and in my experience the fans had been truly "up for it" in the pubs around Wembley for hours before the game. No wonder, and quite right too! With Kane's return, and that of Dele Alli, Pochettino was able to field his first choice team. That is a team which included 21 year old Harry Winks who had a fine game in Madrid, and did it again last night. The word is that Harry will win another call to Gareth Southgate's England squad this week. No wonder, as it appears he is keeping Dembele out of the team. Winks, along with Kane were replaced after Spurs had gone 3-0 up with the finest goal of the night scored by Christian Eriksen in the 65th minute. More of that later.
As in The Bernebeu, the game was played at high pace, with both sides intent on attack. Ronaldo was turning up on the left and right. Real kicked off playing towards the West goal, away from their fans. The 80,000 sang "When the Spurs go marching in" from the outset. Hugo Lloris was down to hold an early curling shot by Isco and after a 5th minute corner, Ramos headed wide. In a move that pre-empted the first Spurs goal, Harry Winks carried the ball into Real territory, passing to Dele on his left. Dele switched the play and Trippier sent in a low and powerful cross which went to Casilla in goal. After 10 minutes, Dele fed Kane with a clever ball. Kane was towards the left but turned to his right before hitting a shot saved again by Casilla.
Another great piece of attacking play came when Vertonghen moved forward and passed to Davies on the left. Davies switched the play also, sending it to Trippier, whose cross passed the area. Spurs needed strength at the pack, and had it in great quantity, with both Alderweireld and the mighty Sanchez making crucial defensive headers. Eriksen won a corner, after which Vertonghen hit a couple of decent crosses. Following another corner Casilla was required to make a good low save of a Harry Winks effort. Vertonghen made a great intercepting tackle on Ronaldo who was chasing a Real ball from the left, which resulted in nothing more than a Real throw.
Alderweireld's surging run, and early departure followed. Dier moved back, and Sissoko took over in midfield. That first goal soon followed. Winks moved forward in his pivotal central position, and fed a sharp ball to Trippier on the right. The word is that Trippier might have been marginally offside, but no matter Spurs fans – Trippier crossed hard and low and Dele scored!
Real, led by Ronaldo, tried desperately to get back on terms. Ronaldo used his trademark side-stepping play and did get a shot on target, with a deflection hitting the side netting to win a corner. A lot of Real's attacks stem from the flanks through full backs Hakim and Marcelo and Ronaldo met a Hakim cross from the right, but Lloris held his shot. Spurs also use their flanks, of course, but perhaps one of the big factors today was how Modric (who had starred in The Bernebeu) was almost marginal tonight and in fact was replaced 10 minutes before the end.
Marcelo had a shot go into the side netting too, after Ronaldo had crossed deep from the right. Spurs countered through Dele and Kane, but Casilla once again was a match for Kane's shot. Kane had another chance after Trippier's skill and cross, Sissoko's mis-hit effort, which ran to Harry, whose shot was blocked by the keeper and cleared. In fairness, Sissoko had played a good role in an earlier stage of that attack. Benzema got through on the right side of goal, but Spurs defended well and cleared. Then Hakim crossed and Benzema hit a shot on target which Lloris held. Just before the break, Dele went down in the box, after a penalty, which was not awarded.
Half-time came and we breathed in, former Real and Spurs star Rafa van der Vaart was introduced to rapturous cheers for a half-time interview, but I am afraid I could not pick up what was being said. Rafa looked his usual ebullient and cheerful self.
Soon after the break, Sissoko sent Kane away towards the right of goal. Harty's cross gave Eriksen a sniff at goal, but he was beaten to the ball by Casilla. At the other end, Lloris punched clear a Real free kick, floated in by Kroos, and two minutes later, carrying a knock, Hugo struggled to reach Marcelo's low cross but Dier coolly cleared. More pressure followed with Real winning two corners. Marcelo ended on the floor but there was no foul and Spurs won a goal kick.
Spurs (and Dele's) second goal came in the 56th minute. It followed Vertonghen's through ball from his own half. Dele had Eriksen to his right – perhaps he used him by not using him to coin a Barry Davies phrase – but he took the ball on his own, tricking Casemiro, leaving him on the floor before hitting a shot from just inside the box which took a deflection off Ramos to beat the goalkeeper. The 80,000 roared their delight!
Spurs had to defend quite desperately as Kroos' shot was deflected over for a corner before Spurs cleared a goalmouth scramble. Four minutes later, Spurs scored a simply magnificent end to end goal. A ball out of defence was collected by Dele in his own half. Dele raced forward and fired a pass to Harry Kane down the right channel. Harry hit a short pass to Eriksen, in space, who beat Casilla with an excellent finish hitting his left foot shot low to the left of the keeper. Now the stadium was bouncing!
Lloris held a left footed shot by Ronaldo, before Sissoko gave Eriksen another chance to score. Eriksen's shot this time was almost out for a throw-in! Well, I remember even Bobby Charlton could do that sometimes. Zidane made a double substitution, and Real certainly did not give up, clearly hoping to get something out the game. However, Dele might (should?) have had his hat-trick after Kane passed outside to Trippier, whose cross was somehow headed wide by Dele. 4-0 would have been astounding!
What might have been 4-0 became 3-1 as Ronaldo got a goal back with a deflected shot which beat Hugo to his left. Substitute Mayoral had been the provider. Lloris then held Casemiro's shot after a Marcelo effort had been blocked. Hugo's next save – a quite comfortable one- came from another Ronaldo shot. Dele won a free kick at the other end, which eased the pressure, but Trippier fired over. Substitute Dembele had a ruck with Ramos, and both players ended up in the referee's book over separate incidents. In Ramos's case it came after a foul on Fernando Llorente in added time. Llorente had already had a good chance after he held up Trippier's ball, passing to Eriksen, before running onto Eriksen's pass. Llorente was one on one against the keeper, but it was Casilla who reached the ball first.
The final whistle came, and "Glory Glory Allejuhah" rang out on one of the most deserving occasions I can recall. It was a truly magnificent night. Who knows how far we might progress in The Champions League this season after a result like this? I will be watching and savouring my recording of the game later today!
"Oh what a night!" Sung by Frankie Valli – rhymes with Dele Alli!

Group H Table 
                P  W  D  L  F-A  GD  Pts

1. Spurs        4  3  1  0 10-3   7  10
2. Real Madrid  4  2  1  1  8-5   3   7
3. Dortmund     4  0  2  2  4-8  -4   2
4. APOEL        4  0  1  3  2-8  -6   2 

· See the exclusive "Spursometer" and have your say regarding the performances of the team, individual players, manager and officials.
· Squad numbers,appearances,bookings & goalscorers
· Read the preview for this game.
· All the Spurs Stats you could hope for here! THFC6061 Sports Stats