PREMIER LEAGUE
TUESDAY 23RD APRIL, 2019
(7.45pm)
TOTTENHAM HOTSPUR 1(0) BRIGHTON 0(0)
Scorer:-
Eriksen, 88
Attendance:- 56,251
Referee:- Chris Kavanagh
Assistants:- Daniel Cook, Gary Beswick
Fourth official:- Anthony Taylor
Teams:-
Spurs (4-1-2-3):- Lloris (Captain); Trippier, Alderweireld, Vertonghen, Rose; Wanyama (sub Davies, 82); Eriksen, Dele; Lucas Moura (sub Janssen, 80), Llorente, Son (sub Foyth, 90)
Subs not used:- Gazzaniga; Sanchez; Dier, Skipp
Booked:- Eriksen (foul on Bernardo)
Brighton (4-5-1):- Ryan; Montoya, Duffy, Dunk (Captain), Bernardo; Jahanbakhsh (sub March, 73), Gross, Stephens, Bissouma (sub Kayal, 86), Locadia; Andone (sub Murray, 64)
Subs not used:- Button; Bong, Burn; Balogun
Booked:- Andone (foul on Rose), Bernardo (foul on Son)
Eriksen breaks the deadlock!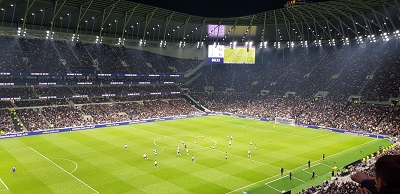 It's not the first time Christian Eriksen has scored at the death for Spurs. There was an added time winner at Wembley against Burnley in December, and I remember late goals at Swansea, at Palace and also this season at home to Inter Milan. That Inter goal came 10 minutes before the end. This goal, in front of Spurs' South Stand came in the 88th minute and finally broke a Brighton resistance that had looked impregnable. All of Spurs' outfield players were basically camped in the Brighton half in the second half, with centre-backs Alderweireld and Vertonghen amongst them. Chris Hughton's game plan so nearly worked, as his team seek the precious point or points to ensure they play Premier League football next season. Mauricio Pochettino was so desperate he even allowed outcast Vincent Janssen on for Lucas Moura for the last 10 minutes. Janssen got almost as big a cheer as did Eriksen's goal!
Spurs lined up with Wanyama protecting the back four. The "exclusive Spurs app" had indicated Eric Dier would play tonight but he remained on the bench. Eriksen and dele patrolled in front of Wanyama, and we had a front three of Lucas Moura, Llorente and Son. It was not long before Lucas and Son switched flanks, but I think Son was more effective on the left than was Lucas, who always needed to cut back to get the ball on his right foot. It was distressing that Spurs had a big centre forward but rarely even tried to lift balls in is direction. Brighton showed more adventure and must have had more touches in the Spurs are in the first 20 minutes than they did in at Molineux at the weekend. Going forward they looked like a 4-3-3 with Jahanbakhsh and Locadia supporting Andone, but when Spurs were on the attack a Brighton dome-like defence resisted them. Glenn Murray was held on the bench until the second half.
The crowd figure is somewhat disappointing, and I wonder when we will fill the ground. It looked to me as if there were a number of Premium seats not filled tonight. Perhaps we will see a full house for West Ham on Saturday.
Spurs kicked off, playing towards the North Stand and within a minute had a free kick as Lucas Moura was prevented from cutting in from the right. Trippier took the kick but Jan Vertonghen headed over. After 8 minutes, Dele pushed a ball out to Lucas Moura who passed inside to Eriksen. Eriksen tried a long shot from nearly 30 yards which skimmed low past Ryan's right post with Dele having advanced trying to get a touch upon the ball. Brighton had a free kick on the right which was booted out for a corner by Wanyama. Brighton had two corners from the left and right, but they came to nought. Their fans were in good voice, and after the initial excitement they could be heard above the spurs crowd, at one stage singing "Is this The Emirates?". As the game progressed there were times when the home crowd desperately tried to urge on their team.
Spurs had a free kick on the left after a foul on Danny Rose. The kick was taken by Eriksen with Wanyama challenging the goalkeeper as Jan Vertonghen's shot was blocked in the middle of goal. Brighton managed to clear. After a Brighton attacking throw Spurs won possession in their own half and Dele skilfully advanced down the left, passing inside to Son. Son couldn't get a shot and passed to Wanyama who was fouled. Brighton defended the Spurs free kick well. Jan Vertonghen tried a shot from distance, but this went over the target. Lucas Moura passed inside to Eriksen 9from the left) and Eriksen hit a right footed shot from 25 yards, but this was also off target.
A cynical foul by Montoya upon Lucas Moura was punished only by a free kick, taken by Aanholt and held by Ryan. Dele tried to send Son away, but the ball ran to the Brighton keeper. A Lucas Moura low cross/shot from the left was cleared. An Alderweireld shot was blocked and Toby had a chase as Andone made a break from deep in his own half all the way to the Spurs area. It was Danny rose's sliding challenge which prevented a shot on goal. Lucas Moura had a shot held by Ryan, after he had cut in from the left. In added time Trippier lobbed a ball into the area and Dele's shot was blocked on the line by Duffy.
Early in the second half Eriksen was booked for a foul on the advancing Bernardo. Duffy's header from the free kick was held by Hugo. Spurs had a free kick at the other end after Lucas Moura was fouled and after the kick Eriksen hit a left footed shot over the bar. Llorente and Son combined to get the ball to Danny Rose, but his shot was never on target. The pattern was now emerging very distinctly of Spurs camping in the Brighton half, but struggling for ideas as to how to break the resistance. Son and Llorente again combined and Eriksen hit a shot from the left side wide across the goal. Wanyama hit a shot low and wide from 25 yards. The shot was never at full strength.
Another shot by Eriksen was wide. A left footed effort by Son won nothing more than a corner. Danny Rose had a decent effort saved by Ryan after Wanyama's pass. Spurs took a short corner on the right after 71 minutes with Trippier, Son and Eriksen all involved. The ball was fed to Alderweireld who hit a left foot shot which rebounded across the goalmouth off the inside of the post, but was cleared. Dele had a left shot go over the goal after an Eriksen ball was cleared to his feet. Son was fouled by Bernardo, who was booked. Eriksen's free kick was headed out to Rose, whose mis-placed shot fell to Son, who turned and hit a left foot shot over the far corner of the goal. Alderweireld had a shot deflected and Dele tried to get a head on the ball, but could only hit the ball over.
It was beginning to look as if Spurs would not be able to take advantage of those wonderful results in their favour over the weekend when Manchester United and Arsenal had lost and Chelsea only drew. We were so desperate for a win to increase our advantage in third place. Now Janssen came on to those massive cheers. He didn't have an influence on the game but I do recall one sharp touch deep in Brighton territory which won applause. Davies came on for Wanyama, and this released Danny Rose, although Rose had already spent most of the time in an advanced position down the left wing, often looking the most likely to lead to a positive move for Spurs.
Eriksen had a low shot saved and the ball was cleared from Janssen's feet. Trippier picked up the ball, passing to Son, but Spurs could only get a throw. At the other end Brighton substitute Kayal had a chance after Toby Alderweireld uncharacteristically lost possession, but the Brighton man's shot was well over the target.
Finally, to the great relief of all Spurs connections, that deadlock was broken! It was a terrific shot too, which followed a build up down the right led by the scorer with Dele getting the final pass. The goal though was all Christian's work. He was 25 yards out, and found a narrow space for a powerfully hit shot which beat Ryan just inside his left post. The stadium roared!
Pochettino put on Juan Foyth for Son to ensure the lead was held, but Spurs were threatened in added time by March cutting in from the left before he hit a shot wide.
Spurs had won their fourth game in their new stadium, and still have to concede a goal. They went three points ahead of Chelsea (who play at old Trafford on Sunday), and four ahead of Arsenal, who play tonight at Molineux. A Champions League place is very much in Spurs' hands with West Ham next to visit "New White Hart Lane" on Saturday lunchtime.
COME ON YOU SPURS!
· See the exclusive "Spursometer" and have your say regarding the performances of the team, individual players, manager and officials.
· Squad numbers,appearances,bookings & goalscorers
· Read the preview for this game.
· All the Spurs Stats you could hope for here! THFC6061 Sports Stats