PREMIER LEAGUE
SUNDAY 16TH FEBRUARY, 2020
(2pm)
ASTON VILLA 2(1) TOTTENHAM HOTSPUR 3(2)
Villa scorers:-
Alderweireld (o.g.), 9
Engels, 53
Spurs scorers:-
Alderweireld, 27
Son 45+2, 90 +4
Attendance:- 41,874
Referee:- Martin Atkinson
Assistants:- Daniel Cook, Stuart Burt
Fourth official:- Anthony Taylor
VAR:- Jonathan Moss
Assistant VAR: Simon Long
Teams:-
Villa (3-4-3):- Reina; Konsa, Engels, Hause; Guilbert, Drinkwater (sub Nakamba, 60), Douglas Luiz, Targett; El Ghazi (sub Trezeguet, 70), Samatta (sub Baston, 83), Grealish (Capt.)
Subs not used:- Nyland; Taylor, El Mohamady; Hourihane
Booked:- Guilbert (foul on Bergwijn), Nakamba (foul on Bergwijn)
Spurs (4-2-3-1):- Lloris (Capt.); Aurier, Alderweireld, Sanchez, Davies; Winks, Dier (sub Lo Celso, 60); Son, Dele (sub Gedson, 83), Bergwijn (sub Vertonghen, 90+6); Lucas Moura
Subs not used:- Gazzaniga; Tanganga; Ndombele, Skipp
No bookings
Scenes at Villa Park after Son's late, late winner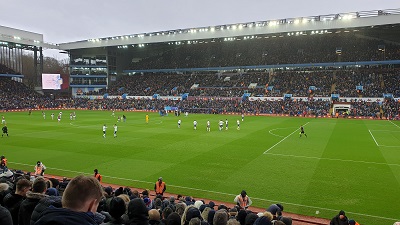 There were scenes of great joy in the Spurs section at Villa Park after Son Heung-min scored the winning goal in the fourth minute of added time. Villa's players were on their knees after the goal, when they knew there was no coming back, and again at the final whistle in the knowledge they face a continuing relegation battle. Son had seen a penalty saved in first half added time, but managed to score with a follow-up shot. The South Korean now has 9 Premier League goals to his name and has a very good chance of catching and beating the injured Harry Kane. Had he converted just 50% of all the chances he had today "Sonny" would already have overtaken the Spurs talisman, who is stuck on 11 league goals at this time.
Son was not the only player guilty of not being clinical with his finishing (Dele was another), but credit has to be given to Villa for a very bright start and an opening goal which put Spurs under pressure. Grealish was, of course, very impressive for Villa, but they played well as a team going forward. Goalkeeper Pepe Reina must have been their man of the match though with the number of saves he made, some of which were very good.
This was the fourth 3-2 win for Spurs under Jose Mourinho, and he cannot be accused of being defensive with all of the front four attacking en masse. Ben Davies made his first start since the first game under Mourinho which was the 3-2 win away to West Ham back in November. Davies made two vital defensive blocks that I can think of, but he was sometimes caught out by the pace of El Ghazi who played on Villa's right flank.
Villa looked like a back five when defending, but Guilbert and Targett were wing-backs. There had been torrential rain only hours before kick-off, but the rain had eased by the time the game started and we even had sunshine before the end of the first half. The pitch was in good condition.
Spurs kicked off but Villa attacked first, after which Spurs made a break with Son getting all the way to the Villa box before he went down and needed treatment. Spurs won a throw only. Villa were awarded a free kick after a foul by Aurier, but El Ghazi hit the ball well over the target. The Villa fans were a good twelfth man and might have influenced referee Martin Atkinson in a couple of his early decisions. The home side went ahead in the ninth minute. El Ghazi crossed from the right and I thought Toby Alderweireld had failed to collect and clear and that the ball had gone in off Samatta's body, but in fact it was an Alderweireld own goal. Hugo might have been more positive here too. Villa seemed to be benefitting from the wind in this half.
Soon after the goal Jack Grealish curled a right footed shot wide of Lloris's left post, but he did win a corner because of a defender's touch. Grealish had another right foot shot go wide of the far post after 11 minutes. Spurs attacked after 14 minutes with Lucas Moura taking advantage of El Ghazi's error and getting all the way to the box. He couldn't get a shot in and Dele had a shot blocked too. After a good passing phase by Spurs Lucas had a shot go wide from 25 yards.
Grealish had a good run down the left side with Toby Alderweireld struggling to keep up with him. Grealish had time to pick his pass and the man he wanted to tee up. He chose Douglas Luiz and this was a shot where Ben Davies made an excellent and vital block. A corner was the result. Samatta had a shot blocked by Alderweireld who went down injured and had some treatment behind the goal while Spurs attacked. Son crossed from the right, but Dele managed to head wide when he might have least have hit the target. Son was unable to take advantage of a good long ball by Dier.
Grealish was in a dangerous position again on the left of the cross and Davies cleared this cross with conviction. Spurs won a corner following a move down the right by Aurier and Bergwijn. Son took the corner (and most others). It's been a big week for Toby Alderweireld whose wife gave birth for a second time this week. After his problems early in the game, Toby redeemed himself with one superb strike as the corner reached him towards the right of the area where he hit a right footed shot from an angle into the roof of the net in front of the stunned Holte End.
Villa came back at Spurs again and had three successive corners. Hugo was probably having trouble because of the force of the wind but he was not catching or clearing with conviction at these set pieces. Spurs made another break with Son and Lucas Moura getting to the opponents' box, but no meaningful shot arose as the defence blocked well. Spurs had a throw on the right hand side and Son found Dele with a good ball but Dele (not for the first time this season)0 seemed to be caught between a shot and a cross and ended up hitting the ball wide across the goalmouth. At the other end Hugo saved a shot by El Ghazi with his body.
Following a Spurs free kick on 41 minutes Davies got a forward and exchanged passes with Bergwijn. Dele had a shot blocked on the line. Bergwijn's follow-up was cleared by Targett. There was a VAR review over a possible handball in the area, but that was not granted. Spurs had a free kick and Bergwijn fed Harry Winks who curled over his right footed shot. It might have been Winks' ball that gave Bergwijn a run into the box where he went down under a challenge by Engels. Mr Atkinson wasn't interested, but he was advised to await a decision by VAR. This took a while, which again frustrated the fans. The referee moved closer and closer to the box and I suspected we might see a penalty which is what happened. Son's initial shot was too straight and was saved by Reina. Both Dele and Son followed-up and it was "Sonny" who managed to get the ball into the net. I can be seen in the top left of a picture posted on Twitter by The Spurs Web (standing with my hand to my eyes to the right of a steward) - see below.
Early in the second half Steven Bergwijn made a break with a great run. His speed (and plenty of skill) was a challenge for Villa. Jose had switched his front four now with Son up top and Lucas playing on the right flank. Dele was behind a front three. Dele sent Son away and he seemed to take too much time (not for the first time) allowing himself to be closed down with no shot resulting. Lloris made a clean save from El Ghazi's shot at the other end. Once again Villa put us under a little pressure and following a corner from the left Engels rose to head firmly home to the right of Lloris. It seemed to be anybody's game at this stage, although from here to the end of the game you'd have to say that Spurs attacked more and certainly should have scored more. The non-partisan TV viewers must have loved this game. I could see it going wrong for Spurs.
After a Spurs corner, Winks crossed the ball to the back post for Dele, who could have headed for goal, but chose to head across the area. This ball was cleared. Dele, Lucas and Son attacked in unison and after Dele's final pass Bergwijn had a shot held by Reina.
On the hour Dean Smith took off Drinkwater for Marvelous Nakamba (yes that's his name folks!), whilst Jose replaced Dier with Lo Celso. Lo Celso played a withdrawn role though beside Winks. Winks, Dele and Lucas were participants in a move which ended with a left foot shot by Son saved without difficulty by Reina. Son failed again to get a shot on goal after a Lucas Moura cross. Son is in the running for man of the match, but I marked him down for his profligacy.
El Ghazi was replaced by Trezeguet. Serge Aurier wasn't having too much success with his crosses, but one did test Reina who could only parry the ball after which Bergwijn's follow-up won a corner. Dele fielded a good long ball by Alderweireld, passing back to Son, but the shot was blocked again. A Grealish shot was blocked by Alderweireld and Spurs broke forward again Lucas Moura found Dele with a pass but Reina advanced bravely to smother Dele's effort.
After 75 minutes Villa had a free kick outside the right of our area, but Grealish's kick was blocked. More Villa pressure ended with Lloris rising to clear Targett's corner. Now Dele was replaced by Gedson whilst Baston took over from Samatta. After a corner by Lo Celso, Lucas Moura headed wide. Lo Celso fed the ball to Son, but Reina saved this shot at the expense of another corner, after which the keeper (on loan from AC Milan) saved again from Son. This time he did have to dive low to his left.
Villa took a couple of late bookings, both for fouls on Bergwijn, and as we entered the allocated four minutes of added time Reina saved again, this time from a Lo Celso shot. Just when it looked as if we would have to settle for an unsatisfactory share of the points, Son was racing away with the ball. Sanchez had hit the ball forward more in desperation than deliberation and Engels missed the ball allowing Son that run. Just when it counted the most, Son did manage to beat Reina with a delicately well placed shot inside the left post. All this happened in front of the Spurs fans who went wild, as did the players celebrating in front of them just as we did when Kane scored in the 90th minute in November 2014. Villa haven't beaten us at home since 2008.
Hopefully Chelsea will drop points at home to Manchester United tomorrow night, and if they do it will all be set up for a humdinger of a game next Saturday lunchtime when fourth place might be up for grabs! In the meantime there is the small matter of Leipzig to deal with on Wednesday night.
COME ON YOU SPURS!
· See the exclusive "Spursometer" and have your say regarding the performances of the team, individual players, manager and officials.
· Squad numbers,appearances,bookings & goalscorers
· Read the preview for this game.
· All the Spurs Stats you could hope for here! THFC6061 Sports Stats