Win over Wolves proves Spurs are a different beast under Mourinho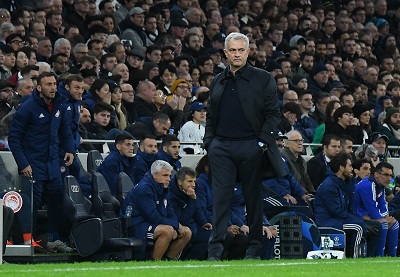 It would have been easy for Tottenham Hotspur to lose heart after Adama Traore's blistering strike equalised for Wolverhampton Wanderers when the two sides met recently. It was a stunning goal that Wolves deserved given their performance in the match, but Spurs were never going to be content to settle for a point. Under José Mourinho, this Tottenham team have found a new hunger, a restored self-belief that they are indeed one of the best sides in the country. Jan Vertonghen's late winner offered a microcosm of the overarching effect Mourinho has had on the team so far.
It was the kind of victory that you feel would never have happened in Mauricio Pochettino's latter weeks at Tottenham. The team had lost that inner drive and focus and were being bullied by sides that they themselves should have been bullying. Since Mourinho has taken charge, Spurs' Premier League performances have gone up a notch. The defeat at Old Trafford proved that it is still a work in progress, but overall Spurs are on the right path, with four wins from five in the league since the Portuguese took over. If you're betting on Premiership top-four contenders, then Spurs are looking like an interesting shout.
Stars shining
Mourinho has managed to get Tottenham's key players firing on all cylinders. After becoming a despondent figure under Pochettino, Dele Alli has been enjoying a new lease of life. The England international looks free of inhibitions, displaying once more the flair and exuberance that have defined his career thus far.
It seemed as though Alli had lost confidence and belief in his own abilities, but few players have enjoyed such rejuvenation under a new boss as Alli has under Mourinho. Against Wolves, he provided a delightful dinked through pass for Eric Dier, only for the midfielder's effort to hit the post. Those kinds of moments of magic are Alli's trademark, and he seems to be back to his very best.
The same can be said of Heung-Min Son, Lucas Moura and Harry Kane. Although none of these three were suffering under the same kind of malaise as Alli, they have all enjoyed an upturn in form since Mourinho's arrival. Moura proved this against Wolves with a stunning run and strike which set the tone for Tottenham's win. Son and Kane have been in fine fettle, with seven goals between them since Mourinho took the helm.
European prospects
Tottenham are back in contention for a place in the top four with their recent revival. Their collective performances had stagnated under Pochettino, but now they are playing with a newfound freedom. The battle for those European spots is extremely close, and with Chelsea slipping up recently with a home defeat to Bournemouth, the gap between Spurs and the Blues is just three points.
Wins like the one against Wolves are the kind that will have a huge bearing on how those top six places shape up. Nuno Espirito Santo's side are another seeking to break into that upper echelon in the Premier League, and Spurs' victory at Molineux was a major statement of intent. Mourinho is not a manager to shy away from a challenge, and the Portuguese's fighting qualities were evident in Spurs' display against Wolves. It's that kind of dogged mentality that could make all the difference when the end of the season rolls around.
Of course, Tottenham are still fighting in this season's Champions League, with the recent last-16 draw pitting them against German side Red Bull Leipzig. It's a deceptively challenging tie. Leipzig are a strong side and finished top of a competitive group. But this Spurs team have the experience of reaching the final last year to drive them on, and with the reinstalled hunger and belief under Mourinho, this could yet prove to be quite the season for the North London club.