UEFA CHAMPIONS LEAGUE GROUP B
MATCHDAY TWO
TUESDAY 1ST OCTOBER, 2019
(8pm)
TOTTENHAM HOTSPUR 2(1) BAYERN MUNICH 7(2)
Spurs scorers:-
Son, 12
Kane (pen), 61
Bayern scorers:-
Kimmich, 15
Lewandowski, 45, 87
Gnabry, 53, 55, 83, 88
Attendance:- 60,127
Referee:- Clément Turpin (FRA)
Assistants:- Nicolas Danos (FRA) & Cyril Gringore (FRA)
Fourth official:- Frank Schneider (FRA)
VAR:- François Letexier (FRA)
Assistant VAR:- Jérôme Brisard (FRA)
Teams:-
Spurs (4-3-1-2):- Lloris (Capt.); Aurier, Alderweireld, Vertonghen, Rose, Ndombele (sub Eriksen, 64), Winks (sub Lamela, 81), Sissoko; Dele (sub Lucas Moura, 71); Son, Kane
Subs not used:- Gazzaniga; Sanchez, Dier, Davies
Booked:- Ndombele (foul on Coutinho), Kane (foul on Tolisso)
Bayern Munich (4-2-3-1):- Neuer (Capt.); Pavard, Boateng (sub Martinez, 72), Sule, Alaba (sub Thiago Alcantara, 46); Kimmich, Tolisso; Gnabry, Coutinho, Coman (sub Perisic, 71); Lewandowski
Subs not used:- Ulreich; Davies, Cuisance; Muller
Booked:- Gnabry (foul on Winks)
Spurs slump to horrible defeat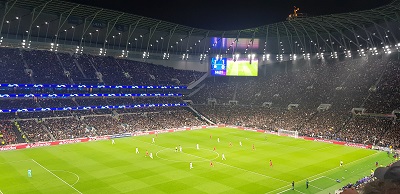 This was a defeat of disastrously epic proportions. Never before have Spurs conceded 7 goals in a home match. On an incredibly wet day and on a cold, wet October night, the Spurs defence crumpled like wet paper bags in the face of a second half deluge of goals by Bayern Munich. Four of those second half goals were scored by one Serge Gnabry, once of Arsenal, whose only previous game against Spurs was in an FA Cup game (won by Arsenal) in January 2014. Gnabry only ever had 10 league games for Arsenal, and an unsuccessful loan spell with Tony Pulis's West Brom, before returning to play in his country of birth – Germany. He won't forget this night. Neither will Spurs, for all the wrong reasons – seven of them. What this result does for the ongoing confidence of our side remains to be seen. What it does for our chances of qualifying from Group B has also yet to be determined.
Already, only 6 months from our inaugural first team game at The Tottenham Hotspur Stadium, we were playing our third Champions League game. The stadium looked marvellous under lights and was filled with over 60,000 eager spectators. The image in front of me truly resembled all the images we saw in the original plans several years ago. The goods delivered did not meet our hopes and dreams, but only our worst nightmares. Shell-shocked by the Germans was another potential headline.
The only change to the Spurs team that had started against Southampton was Dele Alli replacing Christian Eriksen. Dele played behind Son and Kane. Mysteriously, Ndombele and Sissoko's positions were switched either side of Winks. Spurs were turned around at the kick-off, playing towards the South Stand. Bayern kicked off. After only a minute Gnabry had a shot on target, held by Lloris, having received the ball from Kingsley Coman.
Spurs started well, and there was no hint of the horror to come. After 5 minutes, Sissoko passed across to Ndombele who sent the ball forward to Son, advancing into a goal scoring position on the left of the area. Unfortunately, Bayern goalkeeper and captain Manuel Neuer advanced to a goal-saving position as Son shuffled and showed hesitancy in his shooting. Son had a second chance from a similar position after Ndombele put him through after 9 minutes. He did score though in the 12th minute. This time he received Ndombele's pass on the right side of goal, and he beat Neuer's right hand with a low right footed shot.
Spurs had the lead, but not for long. Within three minutes, Bayern had equalised though Joshua Kimmich, who had advanced from the halfway line to pick up a poor clearance and beat Lloris with a powerful right footed shot inside the keeper's right post. Harry Kane received a long ball from Dele and got round Neuer on the left of goal, but his shot was cleared by Alaba, for a corner. Following a further corner Son hit a shot which was comfortably held by Neuer moving to his left. Lloris held a shot by Coutinho following a couple of Bayern corners. Neuer saved an Ndombele shot after Aurier's pass from the right after 25 minutes. This had been a good attack led by Jan Vertonghen, and followed by Kane's pass to Aurier.
After Kane was fouled 25 yards out, Harry took the kick himself, but hit it over the goal. After good work by Sissoko and Dele, Son had yet another chance, but pulled this one wide of the post. Coman hit a shot wide at the other end. Gnabry hit a cross/shot from the left which Lloris managed to push away after 40 minutes. A shot by Coutinho was blocked and Bayern had a free kick 25 yards out. It was taken by Lewandowski and deflected for a corner outside the right post. Lewandowski did get a goal just before half-time after a Bayern throw on the right and a following move. Lewandowski swivelled on the edge of the area and beat Lloris with a right foot shot in front of the delighted travelling fans.
Bayern coach Niko Kovac made a half-time substitution of Thiago Alcantara for Alaba. Kimmich moved to right back, although he played a little forward for much of the time. Thiago played in front of the defence, which resembled a back two at times. Dele had a shot saved from the right side of goal, after Alderweireld's long ball, before Spurs started to crumble. Gnabry got his first goal after attacking down the left, leaving Aurier on the ground and passing Alderweireld with ease before firing past Lloris. He did it again, this time with his left foot after Spurs failed to clear and Tolisso set him up. In two strokes, Spurs were 4-1 down.
They gave themselves a sniff of a chance though after Danny Rose was fouled in the box by Coman. The referee's decision to award a penalty was confirmed by VAR, and Kane hit a confident shot to the left of Neuer. Sissoko had a chance inside the area after 63 minutes, receiving Son's cross, but hitting his shot wide – inevitably. Ndombele was replaced by Eriksen, and won a corner with a shot that took a touch after Sissoko's pass. Eriksen had another shot go over the target, after Son's pass.
Now Spurs suffered three more Bayern goals in quick succession to complete their total destruction. Gnabry's hat-trick goal came after he ran onto a ball lifted over the Spurs defence, scoring with his right foot. Lewandowski made it 6-2, receiving from Coutinho after a break, and placing a right foot shot inside Lloris's right post. The Spurs crowd had started to leave already. Gnabry's fourth goal followed another Tolisso pass, and a simple shot fired between Rose and Vertonghen.
I had hoped for an "Oktoberfest for Tottenham" headline, but all the joy was on the other side.

         Champions League Group B

                   P  W  D  L  F-A  GD  Pts
1. Bayern Munich   2  2  0  0 10-2  +8   6
2. Crvena Zvezda   2  1  0  1  3-4  -1   3
3. Olympiacos      2  0  1  1  3-5  -2   1
4. Spurs           2  0  1  1  4-9  -5   1

· See the exclusive "Spursometer" and have your say regarding the performances of the team, individual players, manager and officials.
· Squad numbers,appearances,bookings & goalscorers
· Read the preview for this game.
· All the Spurs Stats you could hope for here! THFC6061 Sports Stats