UEFA CHAMPIONS LEAGUE
GROUP B Ė Matchday 6
WEDNESDAY 11TH DECEMBER, 2019
(9pm C.E.T)
BAYERN MUNICH 3(2) TOTTENHAM HOTSPUR 1(1)
Bayern scorers:-
Coman, 14
Muller, 45
Coutinho, 64
Spurs scorer:-
Sessegnon, 20
Attendance:- 70,000
Referee:- Gianluca Rocchi (ITA)
Assistants:- Filippo Meli (ITA) & Giorgio Peretti (ITA)
Fourth official:- Massimiliano Irrati (ITA)
VAR:- Paolo Valeri (ITA)
Assistant VAR:- Marco Di Bello (ITA)
Teams:-
Bayern (4-3-3):- Neuer (C); Pavard, Martinez (sub Goretzka, 87), Boateng, Davies; Thiago, Kimmich, Coutinho; Coman (sub Muller, 27), Gnabry, Perisic (sub Zirkzee, 86)
Subs not used:- Ulreich; Singh, Mai; Lewandowski
Booked:- Kimmich (Unsporting conduct)
Spurs (4-2-3-1):- Gazzaniga; Walker-Peters, Foyth, Alderweireld, Rose; Sissoko, Dier (Capt.) (sub Wanyama, 81); Lo Celso (sub Skipp, 65), Eriksen, Sessegnon; Lucas Moura (sub Son, 65)
(Armband to Alderweireld)
Subs not used:- Austin; Sanchez, Tanganga; Parrott
Booked:- Lo Celso (unsporting conduct)
Wonderful moment for Sessegnon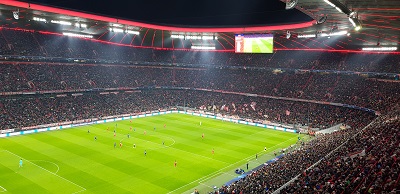 Ryan Sessegnon had a wonderful moment when he scored for Spurs to equalise Comanís 14th minute goal for Bayern, and at 19 years and 207 days became Spursí youngest ever Champions League scorer. It was Ryanís first start for Spurs and was an occasion he will never forget. For a brief while it looked as if Spurs might compete against a team which had been overwhelming them, but to be honest this was the only happy memory for me of this Spurs performance.
We knew before the game that Jose Mourinho had left 10 players at home. Six known injuries (Lloris, Vorm, Winks, Ndombele, Lamela and Davies) and four rested first team players (Aurier, Vertonghen, Dele and Kane). We knew this was a dead rubber game. Bayern, whilst guaranteed first place had a couple of potential records to equal. One was to become only the seventh team to win all 6 of their Champions League group games. The other was for ace goalscorer Robert Lewandowski to score in all six of those games. Lewandowski did not get off the bench and therefore did not get the chance to achieve that personal record. Bayern have their own mini domestic crisis to tackle, as they have lost three of their last five Bundesliga games, and lie seventh in their table. It seemed to me that they still fielded a strong side in this game with many of the players involved in the 7-2 thrashing at Tottenham starting this game.
The bottom line is that Spursí gash side failed to truly compete with a Bayern side that seemed to be able to stretch us and pass us at will. In the circumstances a 3-1 defeat in a game that had nothing but pride riding on it was not such a bad result. We only lost each half by one goal. There were many disappointments though. In particular Kyle Walker-Peters looked well out of his depth, much as he tried against the likes of Coman (who injured himself when falling only 25 minutes into the game). Danny Rose did not impress at left back, and Christian Eriksen looked as disinterested as ever for much of the game. Going forward Lo Celso and Sessegnon showed promise, but Lo Celso was not tracking back much, which did not help Walker-Petersí cause. Sissoko and Lucas Moura tried hard, but Spurs allowed too much space for a Bayern side that often seemed to have more men going forward.
My personal memories of my first trip to Munich will relate to the pre-Christmas hustle and bustle of Marienplatz and the City centre plus of cause the Bier houses such as Hofbrauhaus and Lowenbraukeller. The Allianz Stadium is a bit like a Tardis. It looks smaller from the outside than from within. Away fans are directed a long way around to a specified entrance and there was a delay to get through the security and then to climb the considerable steps to the away section. Much as the Bayern Stadium looks so impressive from above and the camera views given from within the stadium, I can confirm that the away section con course was as bad as many we have experienced on our travels with inadequate and below standard toilet facilities and refreshment outlets.
As a result of our access problems, I missed the first few minutes. I did have the rare blessing of sitting, yes sitting in my allocated seat, which was in the front row. I had to duck below the safety rail affixed to the wall to maintain my view, but I was comfortable. My seat was higher and further from the pitch than my seat at The Tottenham Hotspur Stadium, but in a not dissimilar location in the north-west of the stadium. Those of you watching on TV will have had a better view of proceedings with regard to identifying the Bayern players. For this reason I do not propose to give you anything like a blow by blow account of the game.
Gazzaniga had to make a double save from shots after 11 minutes by Pavardís volley and Thiagoís follow-up. It seemed at times as if Bayern had two men at the back with everybody else going forward. It was all too easy for the home side to take the lead in the 14th minute. Gnabry, the ex-Arsenal man who had scored 4 of Bayernís 7 at Tottenham hit a ball across goal which Coman converted with glee. Spurs did level up within 6 minutes though and it came following an intended pass by Lo Celso from a central position to Sessegnon on the left. The ball actually bounced off a defender and was well controlled by Sessegnon who rifled home a smashing goal.
That Coman injury came when he was trying to pass Walker-Peters (not for the first time) down the left flank, but he seemed to trip with no contact from our full back, falling on his face just outside the touchline. Coman had to be replaced, and it was veteran striker Muller, not Lewandowski, who came on. Spurs attacked through Lo Celso and Lucas Moura getting to the bye-line on the right before his ball to Sessegnon was cleared by Pavard. Lo Celso had a shot/cross go wide of goal. A Gnabry shot at the other end was deflected wide for a Bayern corner.
Sissoko got forward with Lucas Moura available in space, but Sissoko overhit his intended cross. There was spat between Kimmich and Lo Celso near the half-way line. Lo Celso had committed a foul but Kimmich over-reacted and both were shown yellow cards by referee Gianluca Rocchi. Lucas Moura made a good run forward and Spurs were holding their own and looking like going in level at half-time which would have been a result. Lo Celso was onto a Dier ball and he wanted a corner when he thought his shot was deflected but goal kick was the decision.
Muller ruined our hopes of being level when left back Davies hit the post and the long-time German International snapped up the rebound. Gazzaniga got a fingertip to a powerfully hit shot from outside the area by Coutinho. The ball hit the underside of the bar and bounced out from the goal-line and ended up being a corner. Technology must have confirmed the ball had not crossed the line.
Gazzaniga was busy again five minutes into the second half holding another Coutinho shot. After a foul by Foyth on Coutinho, the former Liverpool man (and Barcelona loanee) hit the free kick just over the bar. Gazzaniga held another Coutinho shot after Perisicís pass. Then the game was well and truly beyond Spurs in the 64th minute when Coutinho hit the net from the edge of the area.
Jose Mourinho took off Lo Celso for Oliver Skipp, and Lucas Moura was replaced by Son, who took over as the front runner. Mourinho was now playing a midfield three. Sessegnon and Eriksen attacked with a final pass to Son, who could not get a shot in, and in any case an offside flag was subsequently shown against Son when he first received the ball. Eriksen had a spasm of interest. He was fouled and too the free kick, which was saved by Neuer diving to the right of goal. Eric Dier was replaced by Victor Wanyama making his first Spurs appearance since September. Walker-Peters overhit a cross aimed to Son at the back post.
Skipp was doing a competent job in midfield with one good challenge on Gnabry. Gazzaniga saved a powerful shot by Coutinho and in added time Son had a chance and was one-on-one with Neuer with the goalkeeper who came out with the ball. By this time I admit I was on my way out of the stadium.
We now wait for Mondayís Round of 16 draw. Spursí possible opponents are PSG, Juventus, Barcelona, Leipzig or Valencia. Iíd rather play (and visit) one of the last two named teams at this stage. Spurs will be at home in February and away in March with the final dates to be fixed.

Champions League Group B

                   P  W  D  L  F-A  GD  Pts
1. Bayern Munich   6  6  0  0 24-5 +19  18
2. Spurs           6  3  1  2 18-14 +4  10 
3. Olympiacos      6  1  1  4  8-14 -6   4 
4. Crvena zvezda   6  1  0  5  3-20 -17  3
          

∑ See the exclusive "Spursometer" and have your say regarding the performances of the team, individual players, manager and officials.
∑ Squad numbers,appearances,bookings & goalscorers
∑ Read the preview for this game.
∑ All the Spurs Stats you could hope for here! THFC6061 Sports Stats