UEFA CHAMPIONS LEAGUE GROUP B
MATCHDAY THREE
TUESDAY OCTOBER, 22ND, 2019
(8pm)
TOTTENHAM HOTSPUR 5(3) CRVENA ZVEZDA 0(0)
Scorers:-
Kane, 9, 72
Son, 16, 44
Lamela, 57
Attendance:- 51,743
Referee:- Marco Guida (ITA)
Assistants:-Filippo Meli (ITA) Ciro Carbone (ITA)
Video Assistant Referee:- Gianluca Rocchi (ITA)
Assistant Video Assistant Referee:- Stefano Alassio (ITA)
Fourth official:- Maurizio Mariani (ITA)
Teams:-
Spurs (4-2-3-1):- Gazzaniga; Aurier, Sanchez, Vertonghen (sub Foyth, 73), Davies; Ndombele, Sissoko; Lamela, Dele (sub Lo Celso, 79), Son (sub Dier, 68); Kane (Capt.)
Subs not used:- Austin; Winks, Eriksen; Lucas Moura
No bookings
Crvena Zvezda (4-3-2-1):- Borjan; Gobeljic, Milunovic, Degenek, Rodic; Canas (sub Petrovic, 62), Vulic, Van La Parra (sub Vukanovic, 82); Garcia, Marin (Capt.); Tomane (sub Pavkov, 62)
Subs not used:- Popovic; Babic; Ivanic, Ribeiro Santana
Booked:- Milunovic (foul on Lo Celso)
Five Star Tottenham – Red Star 0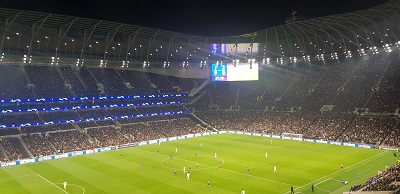 Spurs provided a welcome tonic for the 51,000 that did attend the Tottenham Hotspur Stadium last night with their best ever Champions League win, which wiped out the negative goal difference of their shocking defeat to Bayern Munich earlier this month. At a stroke (well five actually) Spurs climbed above their opponents into second place, and can realistically see the Round of 16 on the horizon. The performance last night has to be tempered by the openness of Red Star's football and a genuine lack of quality on their part. Things might be a different in front of their red blooded home fans in Belgrade in two weeks' time.
Speaking of fans, when the Champions League theme echoed around the stadium a pocket of away fans also sang in the top north-east corner. Red Star had been banned from selling tickets. I thought these (very) vocal fans were the approved "representatives" of the club, but it seems that around 200-250 away fans had got hold of Spurs tickets and found themselves a spot in the ground. Spurs are investigating how they got tickets. Those Spurs fans who chose not to fork out missed a good performance and a great night. Those Spurs fans in the stadium did give their team excellent vocal support from the start and were suitably entertained.
Once again Mauricio Pochettino rung the changes (4) to his line-up, reverting to a back four and a standard 4-2-3-1 formation. Most of the night Tanguy Ndombele played to the right of Sissoko, but between them they formed a powerhouse at the back of midfield. Dele started again, playing between the excellent Lamela and Son, and behind Harry Kane, who (like Son) scored two of the goals. Harry now has 173 club goals and is only one behind third placed Martin Chivers in the all-time list. "One of our own" now has 15 goals for club and country this season.
Within two minutes Spurs were on the advance. Dele passed back to Son, who sent Kane away with a quick forward pass. Harry got into the box and round one defender, but then slipped just as he might have taken a shot. Lamela got to the bye line at the b ack of the area, but the goalkeeper held his cross. After a nice exchange of passes between Kane and Son, "Sonny" hit a weakish shot straight at Borjan in the red Star goal. Spurs had a corner after 8 minutes (in front of the North Stand) and the home support really sang out loud as Lamela hit the corner and Harry Kane rose to meet the ball, heading it across Borjan's goal.
Spurs won the ball through Lamela as Red Star failed to clear their lines on their left. The ball came inside to Kane who was into the box but fired straight at the keeper. Marko Marin found Gobeljic with a long ball to the right of the Spurs area but the Red Star right back hit his shot/cross into no-man's land. Spurs went two up through Son after 16 minutes. Lamela crossed from the right and Son collected beyond the back post scoring with first time left foot shot into the roof of the net across the keeper.
Spurs made a good break out defence following a Red Star free kick. Lamela led the break, followed by Ndombele who sent a diagonal ball to Son. Son was trying to find Aurier, but hit the ball nearer the corner flag, and a goal kick was the result. Spurs did win a corner following a driven shot by Ndombele which was saved well by Borjan. After a return cross by Aurier the ball was headed out for a corner. Lamela won another corner with a save after Davies' cross from the left.
Red Star started to gain a bit m more possession with their moves mainly orchestrated by Marin, once on Chelsea's books, but first encountered by Spurs in their first Champions League group game 9 years ago against Werder Bremen. Gobeljic crossed and Van la Parra headed down but Gazzaniga saved and Sanchez cleared. Gobeljic had one shot blocked and then passed inside for Marin, whose instinctive shot was wide.
Spurs went three up before the break when Ndombele intercepted in midfield and raced forward passing to Son who was towards the left of the area. Son had time to pick his spot and score his fifteenth Champions League goal.
At half-time there was a find tribute to Goran Bunjevcevic who very tragically died aged just 45 last year. Goran's widow and daughter were present and Darren Anderton led the club tribute. Goran was held in great affection by his former club Red Star, and of course by his former Spurs colleagues.
Spurs kicked off the second half playing towards the "White Wall" and within five minutes Harry Kane advanced down the left flank sending in a sharp ball which Lamela met, but fired over the bar. Spurs are at their best when they charge forward at speed (isn't any side?), and there was a great move after 54 minutes when Harry Kane met a long kick by Gazzaniga heading down to Son who ran forward feeding Lamela on his right. Lamela had to hit it with his right foot, and he hit the ball wide across Borjan's right post.
Red Star had a chance after 55 minutes when Van La Parra crossed and Gobeljic's shot was held by Gazzaniga. Within two minutes it was 4-0. Aurier had space on the right and his cross (fed by Kane) was met by Lamela with his right foot before Erik turned and rifled the ball into the roof of the net with his left. This was Erik's 200th club appearance, and the goal was a great way to celebrate! Red Star were weak in midfield and Dele Alli was allowed to snatch the ball around the halfway line. Dele ran forward and passed to Lamela who had another excellent chance, but the goalkeeper managed to save and his defence cleared the running ball.
Red Star coach Vladan Milojevic made a double substitution, but Spurs won the ball of their opponents again. This time Son started the move when he got a foot in, exchanging with Lamela before running forward and hitting a low shot that was only just outside the post. Davies got forward and passed to Son on the left but "Sonny"'s return pass failed. Gazzaniga held a shot by Garcia, before Son unleashed a left footed shot from the edge of the area which passed wide. "Sonny" was replaced by Eric Dier and in accordance with the rules went off at the nearest point, meaning he was cheered endlessly as he made his way round in front of the South Stand, greeting front row fans as he made his way.
Marin had a couple of efforts on the Spurs goal, with one shot going wide and the other comfortably held by Gazzaniga. Harry Kane scored his second goal at the end of another good move. Dier passed forward to Ndombele who quickly hit a diagonal pass forward to Harry who was towards the left of the box. Harry had time to turn and literally pass the ball across goal into the net on the far side.
Jan Vertonghen was replaced by Juan Foyth, who played to the right of Sanchez, and Giovani Lo Celso got ten minutes when he replaced Dele. Milunovic got the one booking of the night when he fouled Lo Celso. This had not been a difficult game for the referee but Signor Guida had a very competent game.
Spurs had two more chances of note. The first fell to Dier who had started the move. Aurier passed forward to Kane on the right, who quickly turned the ball in. It was met by Dier, but pushed wide of the post. The other fell to Kane who ran into the area from the left hitting a shot which the goalkeeper just touched. The ball hit the side netting and Spurs had a corner.
Spurs then have gone one better than Liverpool did last year against the same team at the same stage. Beware though! Liverpool lost 2-0 in Belgrade. Liverpool are of course Spurs' next opponents on Sunday, and whilst this result is a fantastic morale booster, a much tougher task awaits at Anfield.

Champions League Group B

                   P  W  D  L  F-A  GD  Pts
1. Bayern Munich   3  3  0  0 13-4  +9   9
2. Spurs           3  1  1  1  9-9   0   4 
3. Crvena zvezda   3  1  0  2  3-9  -6   3
4. Olympiacos      3  0  1  2  5-8  -3   1
        

· See the exclusive "Spursometer" and have your say regarding the performances of the team, individual players, manager and officials.
· Squad numbers,appearances,bookings & goalscorers
· Read the preview for this game.
· All the Spurs Stats you could hope for here! THFC6061 Sports Stats