PREMIER LEAGUE
MONDAY 6TH JULY, 2020
(8pm)
TOTTENHAM HOTSPUR 1(1) EVERTON 0(0)
Scorer:-
Keane (o.g.), 24
Attendance:- 0
Referee:- Graham Scott
Assistants:- Mark Scholes, Derek Eaton
Fourth official:- Tim Robinson
Replacement official:- Robert Hyde
VAR:- Kevin Friend
Assistant VAR:- Andy Garratt.
Teams:-
Spurs (4-2-3-1):- Lloris (Capt.); Aurier, Alderweireld, Dier, Davies; Sissoko, Winks; Lucas Moura (sub Lamela, 82), Lo Celso (sub Vertonghen, 90+2), Son (sub Bergwijn, 78); Kane
Subs not used:- Gazzaniga; Sanchez, Cirkin; Ndombele, Skipp, Gedson
Booked:- Sissoko (foul on Richarlison), Davies (foul on Richarlison), Alderweireld (Dissent)
Everton (4-4-2):- Pickford; Coleman (Capt.) (sub Sidibe, 77), Keane, Holgate (sub Mina, 36), Digne; Davies (sub Kean, 77), Gomes, Sigurdsson (sub Bernard, 67), Iwobi (sub Gordon, 46); Richarlison, Calvert-Lewin
(Armband to Digne)
Subs not used:- Stekelenburg; Baines, Branthwaite; Baningime
Booked:- Holgate (foul on Lo Celso), Gomes (foul on Lamela)
Crucial win and a century of points for Spurs against Everton.
I'll be honest. If I was not a Spurs fan, desperately keen to see my team win and put themselves back in contention for at least a place in the Europa League, I would have given up watching this poor excuse for entertainment a long time before the end. The game was decided by Michael Keane's 24th minute own goal as he diverted Giovani Lo Celso's off target shot past Jordan Pickford. Spurs have now gained over 100 Premier League points (102 to be precise) against an Everton side that have now been unable to beat us in fifteen attempts since December 2012. This was our 27th win against "the Toffees" in 56 games, easily our best record against any other Premier League side.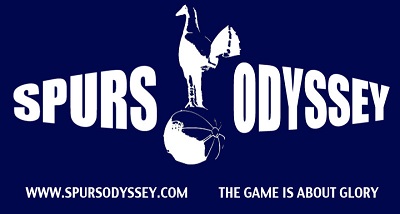 THFC would not allow me the fly the Spurs Odyssey flag in the stadium for these behind closed doors games but it will feature in my match report!
Jose Mourinho made two changes to the side that started at Bramall Lane. Toby Alderweireld made his first appearance (and a start) since the lockdown, replacing Sanchez. Steven Bergwijn reverted to the bench and Harry Winks returned, allowing Lo Celso to play further forward. Everton played a 4-4-2 with Gylfi Sigurdsson an ineffective central midfielder and Calvert-Lewin with Richarlison up front. Everton didn't get forward much in the early stages, seemingly content to get behind the ball, but whenever they did stray into Spurs territory Richarlison seemed to be very clearly targeted by any Spurs player.
As in each of this round of games tribute was paid to the NHS before kick-off, and players and officials continue to "take the knee" before kick-off. Everton started the game, playing towards the South Stand. Spurs had two early free kicks the second of which was taken from the left by Lo Celso. Dier headed across goal and the ball was going wide, but the uncertain Pickford pushed the ball out for a corner anyway. The football was all very tentative with Spurs trying long balls from both Alderweireld and Dier from deep inside their half.
Spurs made a decent move forward after 18 minutes, following a successful Davies challenge. Lo Celso continued the move with a ball forward to Kane who fed it to Son on hiss right. Son got into the box, but stumbled. Davies provided another pass from left of centre to Lucas Moura who tried a shot from 25 yards which passed wide of the goal.
Lloris had to race out of his area to head the ball away from Iwobi who was advancing towards a long ball by Andre Gomes. Spurs took the lead through a goal that was initially celebrated by and credited to Lo Celso. The ball had been moved smartly across the Everton are from left to right via Son and Kane before Lo Celso's left foot shot was diverted past the wrong-footed Pickford into the net. The shot was clearly off target, and it was clearly an own goal. I remember a game in January 2003 when a Spurs player by the name of Keane (Robbie of course) scored a hat-trick. That was a far more entertaining affair!
Three minutes after taking the lead, Spurs made a good break with Kane passing forward to Son, who in turn sent Lo Celso on towards the Everton area. Lo Celso was brought down by Holgate who got a booking and probably injured himself in the process. The free kick was taken by Dier and landed on the roof of the net. There was a foul by Gomes on Son which made you hark back to that fateful day in November at Goodison Park when Gomes was injured. This foul was nothing like that incident. A later free kick was taken by Harry Kane but deflected off the wall for a corner. Son took the corner which was headed ass far as Davies who took another shot which was deflected out of play.
Kane gave Lucas Moura a useful chance but that was half blocked by the defence. Pickford failed to hold Lo Celso's corner and let the ball slip through his hands for another corner. There were 4 minutes of added time at the end of which Richarlison hit a low shot just wide of Lloris's right post. After the referee blew for half-time Lloris raced towards Son and Lo Celso had to separate the two players. I think Lloris was upset that Son had not put enough effort in on two occasions near the half-way line to prevent the attack from which Richarlison nearly scored. The two protagonists were all smiles at the end of the game though.
Carlo Ancelotti introduced 19-year-old Anthony Gordon for Iwobi at half-time and Gordon had a very good game. Spurs were somewhat lack-lustre making poor use of an attacking free kick and there was also an error by Aurier who carried the ball out of play down the touchline. Generally Spurs lacked ambition in this half, and too often played the ball backwards, once even from an attacking throw by the corner flag!
Gordon hit a 25 yard shot into Lloris's hands and Spurs nearly let in Calvert-Lewin in a needless piece of backward play. Son had a chance after 53 minutes when Mina failed to intercept Alderweireld's long ball. Sonny's shot was saved. Lucas Moura fed the ball from the centre to Son on the left. Son took no shot but passed back to Winks who fired wide. Another chance for Son came from a nice touch by Kane and a pass by Lo Celso. Son hit a right footed shot wide and after another Kane pass he had a left-footed shot saved by Pickford.
Bernard replaced Sigurdsson before the drinks break and the later stages of the game became more and more nervous to watch for Spurs fans as we were on the back foot more and more. It's not that Everton managed much on target. Maybe Jose was confident that his men would keep a clean sheet. Lucas Moura committed a needless foul just outside the box. Eventually Bernard hit a low free kick which the wall cleared. Tom Davies had a shot deflected wide.
With ten minutes remaining Gordon hit a free kick from the left and Calvert-Lewin's back-heeled shot from the edge of the area was held by Lloris. There did seem to be a degree of needle between some of the players during the game. Towards the end it was most evident between Lo Celso and Digne. Gordon hit a shot over after a corner on 88 minutes. Lloris held a right footed shot by Moise Kean. We were scheduled to have four minutes of added time, but in the fifth such minute Sidibe hit a shot just wide of the target.
The whistle was finally blown and Spurs players and fans alike could breathe a sigh of relief in the knowledge that a win is a win and we are back in eighth place with lowly Bournemouth to play on Thursday night before Arsenal travel along the Seven Sisters Road on Sunday. Hopefully we will see some excitement then and the right result!
· See the exclusive "Spursometer" and have your say regarding the performances of the team, individual players, manager and officials.
· Squad numbers,appearances,bookings & goalscorers
· Read the preview for this game.
· All the Spurs Stats you could hope for here! THFC6061 Sports Stats