UEFA CHAMPIONS LEAGUE
ROUND OF 16 (2nd leg)
TUESDAY 10TH MARCH, 2020
(9pm C.E.T)
RB LEIPZIG 3(2) TOTTENHAM HOTSPUR 0(0)
(aggregate score 4-0)
Scorers:-
Sabitzer, 10, 21
Forsberg, 87
Attendance:- 42,146
Referee:- Carlos del Cerro Grande
Assistants:- Juan Carlos Yuste, Roberto Alonso
Fourth official:- Guillermo Cuadra Fernandez
VAR:- Juan Martínez Munuera
Assistant VAR:- Ricardo de Burgos
All officials from Spain.
Teams:-
Leipzig (3-4-3):- Gulacsi; Klostermann, Upamecano, Halstenberg; Mukiele (sub Adams, 56), Laimer, Sabitzer (Capt.) (sub Forsberg, 87), Angelino; Nkunku (sub Haidara, 59), Schick, Werner (Armband to Forsberg)
Subs not used:- Mvogo; Poulsen, Lookman, Olmo
Booked:- Laimer (foul on Lamela), Sabitzer (foul on Dele)
Spurs (3-4-3):- Lloris (Capt.); Tanganga, Dier, Alderweireld; Aurier (sub Fagan-Walcott, 90+1), Lo Celso (sub Gedson, 80), Winks, Sessegnon; Lamela, Dele, Lucas Moura
Subs not used:- Gazzaniga; Vertonghen; Ndombele, Skipp; Parrott
Booked:- Sessegnon (foul on Mukiele), Winks (foul on Laimer), Tanganga (foul on Werner), Dele (foul on Angelino)
Spurs are eviscerated – on and off the pitch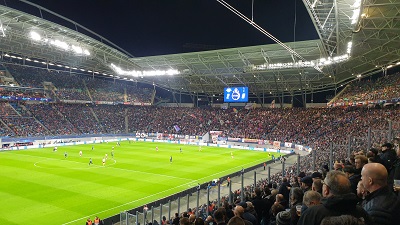 There is a lot of angst in "Spurs world" not just after last night's emphatic Champions League defeat, but directed at the players, head coach and chairman regarding the current plight of our club; the performances of some players, and the failure by the executive to spend more money and to secure sufficient cover for our decimated squad. Mourinho surely picked his best available team last night, with so many key players missing. I am not sure why Davinson Sanchez was absent, but he'd played every minute of our preceding six games, including 120 minutes against Norwich and perhaps he just needed a rest in preparation for Sunday's game against Manchester United.
Jan Vertonghen was an unused substitute. One of the biggest problems about our squad at the moment is that our record signing Tanguy Ndombele has failed to make his mark with Tottenham. That's not Mourinho's fault, although he can be criticised about the way he has called out the player in public. The fact that Ndombele was unable to start or even come on as a sub in a game where we so desperately needed a tackler in front of the defence says so much about our team at the moment. Mind you, in truth Ndombele is not a tackler. He's a player seen at his best going forward in support of the attack.
Those key men missing, all of whom would surely have been selected for this game if fit are Kane, Son, Bergwijn, Sissoko, and Davies. No team with so many key men, and of course their top two scorers, would offer a real contest to this RB Leipzig side. The German side is one of genuine quality. They have pace and skill of immense proportion in attack and defence. They have 18 fit players! Their three substitutes are all players of quality. They are men who have played a full part in Leipzig's success this season in the Bundesliga and of course this Champions League, in which they have now reached the quarter-final for the first time. Leipzig will offer any team remaining in the Champions League a good contest.
The RB stadium is built inside the bounds of an older stadium. As usual away fans had plenty of walking to do to even reach their entrance, but an arduous 168 steps to negotiate before finding their viewing position. I won't say seats, because nobody sits down these days at any away game ( it gives my knees gyp, I tell you!), but our viewing position was one of the best I have experienced at an away European venue. The down sides included having beer thrown down at you from home fans located above us, and having to negotiate the steps up the stand and then back up the steps to the top of the perimeter to use Portaloo cabin facilities. It seems Germans don't need the basics inside the stadium!
Both sides played 3-4-3. The Spurs defence was unable to cope with the pace and guile of Schick and Werner, whilst any time Spurs got forward (and that wasn't too often), Leipzig men got back in force to squash most of Spurs ideas. They had ace centre back Dayot Upamecano for this game. He had been suspended for our home leg. Upamecano is big, fast, powerful and skilful. He's only 21 and will be a big star. Any self-respecting football fan can be complimentary about so many in this team. Once we had got past the point of no return for Spurs, I quite frankly found myself admiring the opposition. There was to be no "Ajax" moment for Spurs here. Even though we had the same deficit at half time in the away game at Amsterdam last May, we all knew there was no way back for this Spurs side.
Spurs kicked off, but Dier (sporting a very, very short hair-style) conceded an unnecessary corner early on. We managed to clear that danger, but all the defence were struggling against different players at different times. I thought Ryan Sessegnon had the potential to be a Bergwijn replacement on the left wing, but I am afraid he is not defender, either as a full back or wing-back. Spurs did have an attack after 5 minutes when Aurier crossed and dele tried to tee up Lamela, but that Leipzig defence cleared. Leipzig attacked with pace and a cross by former Manchester City man Angelino was crossed. Spurs were under pressure and succumbed inside 10 minutes. Sabitzer sent Laimer away down the right wing with a sharp and accurate pass from his half. Laimer passed inside to ace striker Werner, whose shot was blocked. Werner then passed to Sabitzer, who by now had advanced to the edge of the area, and he beat Lloris's right hand with a low shot inside the post.
This is obviously a German thing, but like Bayern, when they announce the home team's goals they seem to encourage derision of their opponents.
Mukiele hit the side netting with a shot two minutes later, but he was offside anyway. Spurs' attackers did work hard, but with little success. Referee Carlos del Cerro Grande was probably too generous with players sandwiched or barged with little punishment and certainly no cards (for Leipzig) till the second half. Lo Celso, as has often been the case in recent games, was our shining light and after one bright piece of midfield play and a ball to Aurier, a cross intended for Lucas was cleared by that man Upamecano. A minute later Leipzig had the ball in the net when Angelino cross for Werner to convert at close range but the flag was raised after the referee's prompting.
It wasn't long though before Leipzig were out of sight. Laimer hit a long crossfield ball for Angelino which Aurier simply helped on its way. Angelino crossed and Sabitzer headed in from in front of the near post, with Lloris's touch on the ball clearly behind the line in the first place. Dele Alli was fouled in the Leipzig half, but after the free kick Sessegnon's attempted attack was broke down and Schick and Werner were racing towards goal. Lloris parried Werner's shot. Angelino received another long crossfield ball. He passed inside and Laimer crossed for Mukiele to head towards goal, but Lloris parried clear. Lo Celso had a well-placed shot parried by Gulacsi at the other end. Schick had a shot from close range just before the break after the ball had rebound ed to his feet off a Spurs defender, but Lloris saved.
There was urgent and lengthy treatment needed for Mukiele who suffered a facial injury and trauma after the ball had flown up into his face from close range after Ryan Sessegnon had been challenging for the ball. The likes of Sessegnon and Winks had been getting forward more in the early phases of the half. Spurs fans started chanting defiantly in support of their team and Leipzig fans seemed to take umbrage that were not almost mourning for their player. It was during this spell when Beer (I hope it was beer!) was thrown from above. Mukiele was replaced by Adams, who has missed some recent games himself. Adams is a USA International midfielder.
Spurs had tried to make some form of statement early in the half and failed. There would be no three goal second half miracle here. Werner had a couple of shots for Leipzig. One was way too high. The other passed wide. Spurs fans enjoyed their sing-song. "Mine eyes have seen the glory" and all that. It's a long time since though.
Dele and Lucas Moura combined after 73 minutes with Lucas cutting back for Dele who had a shot held. Lo Celso was replaced by Gedson 10 minutes from the end of the game. Lloris advanced well to the feet of centre-back Upamecano who was in front of our keeper in his area. Upamecano went down. Leipzig fans howled for a penalty, but got nothing. Leipzig captain and two-goal man of the match hero was replaced by Forsberg, who took the armband and then scored with his first touch. Angelino had crossed, and despite touches by Dier and Sessegnon in the area, Schick touched the ball to Forsberg who directed a shot beyond Lloris inside his left post.
I confess dear reader to seeing no more of the game, gaining a little advantage over the home fans who stayed to cheer their heroes. 18-year-old Malachi Fagan-Walcott did make his Spurs debut at the start of seven minutes of added time. I understand that Malachi celebrated his birthday today – the day after the game. He is a highly rated centre-back. Let's hope he becomes one of our bright stars of the future.
Spurs have 9 more Premier League games to try and claim one of next season's Champions League spots. That is highly unlikely, let's be honest. We might even struggle to participate in next year's Europa League. The "You play Thursday" chant is one that will be off our agenda for a while.
· See the exclusive "Spursometer" and have your say regarding the performances of the team, individual players, manager and officials.
· Squad numbers,appearances,bookings & goalscorers
· Read the preview for this game.
· All the Spurs Stats you could hope for here! THFC6061 Sports Stats