PREMIER LEAGUE
SATURDAY 17TH AUGUST, 2019
5.30PM
MANCHESTER CITY 2(2) TOTTENHAM HOTSPUR 2(1)
City scorers:-
Sterling, 20
Aguero, 35
Spurs scorers:-
Lamela, 23
Lucas Moura, 56
Attendance:- 54,503
Referee:- Michael Oliver
Assistants:- Stuart Burt, Simon Bennett
Fourth official:- Paul Tierney
VAR:- Graham Scott
Assistant VAR:- Andy Halliday
Teams:-
Man City (4-2-3-1):- Ederson; Walker, Otamendi, Laporte, Zinchenko; Rodri (sub David Silva, 78), Gundogan; Bernardo Silva (sub Mahrez, 80), De Bruyne (Capt.), Sterling; Aguero (sub Gabriel Jesus, 65)
Subs not used:- Bravo; Cancelo; Fernandinho, Foden
Booked:- Sterling (foul on Winks)
Spurs (4-4-1-1):- Lloris (Capt.); Walker-Peters, Alderweireld, Sanchez, Rose; Sissoko, Winks (sub Lucas Moura, 56), Ndombele, Eriksen (sub Skipp, 90); Lamela (sub Lo Celso, 85); Kane
Subs not used:- Gazzaniga; Vertonghen, Dier, Davies
No bookings
Oh Lord, VAR – again!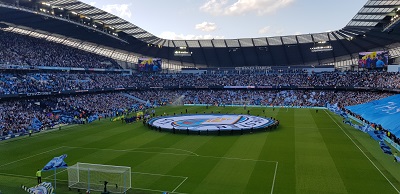 "VAR My Lord, VAR. VAR My Lord VAR…." sang the Spurs fans as déjà vu struck at The Etihad in added time to deny substitute Gabriel Jesus a winner apparently due to a handball by Laporte as the ball (from a corner) was on its way to Gabriel. Just as in April's dramatic Champions League quarter-final, City had celebrated their "winner" wildly, and just as before a VAR "NO GOAL" message flashed upon the screens, meaning it was Spurs' fans turn to enjoy what is a fantastic result. VAR – I love it!
Mauricio Pochettino made one change to his team – replacing Lucas Moura with Eriksen. Once again Jan Vertonghen did not make the team, but he was on the bench. I thought we might have fielded a back three today, but it seems that is no longer de rigueur in Pochettino's armoury. Instead, Eriksen played initially on the left of a bank of four in the midfield in front of the back four. Realistically, Lamela was also part of a proposed defensive screen to try and prevent the City machine from trampling upon us. Guardiola tinkered with his team to allow Otamendi, Gundogan, Bernardo Silva and Aguero to make starts. Not bad options for him, were they?
Over the course of the game City had 30 shots on the Spurs goal. Spurs had three. From two of these we scored. The other might well have been a speculative long shot by Harry Kane to try and beat Ederson, who was often to be found in front of his goal area as part of City' outfield team. He was usually in the right positions when necessary though!
Overall, despite conceding two goals, Spurs held remarkably firm, sometimes thanks to very good goalkeeping by our captain, and at other times thanks to inaccurate attempts by the home side. Whilst any team is always going to have to defend strongly against City, I felt we lacked aggressive intent with Kane getting next to little support in his lone role up front. We also put ourselves under undue pressure too often with the insistence to try and play out from the back. Mind you, with Kane on his own, long kicks didn't stand much chance anyway! City of course pressured our defence accordingly, but we did not make errors thankfully.
City's first chance of note came after 6 minutes when our former right back Kyle Walker darted forward and got past Sanchez in the box before crossing to Raheem Sterling, whose shot was deflected by our current right back Kyle Walker-Peters. Our Kyle is acquitting himself well in the role, and clearly has the trust and confidence of the manager at this time.
The City left back Zinchenko was getting into very advanced positions, and after a pass to Sterling the England forward struck a shot which I believe was blocked by Aguero. It was all one way traffic but Toby Alderweireld tried to lift a ball to Kane to relieve the pressure but it was just too far ahead of Harry and too close to the advanced keeper Ederson!
Harry Winks came out of a tough midfield challenge with the ball after 16 minutes and Sissoko was away down the right. He crossed and Lamela tried a header, but that was cleared. City took the lead after 20 minutes when the immaculate de Bruyne crossed and Sterling headed home from the back post. Spurs gave a surprising but very pleasing response within three minutes when Lamela received a ball from Ndombele and literally stroked and curled a shot inside Ederson's right post. It was a lovely moment for the travelling fans.
Sterling got the only yellow card of the game for his foul upon Winks. City took the lead thanks again to a perfect swinging cross by De Bruyne from the right, met by Aguero, who fired home. My perception had been that de Bruyne might have been offside, but the goal stood following the standard VAR review. De Bruyne had the better of Sanchez and hit a right foot shot wide. I couldn't help thinking that de Bruyne's International team-mate Jan Vertonghen might have been able to control the City playmaker better. Another De Bruyne pass gave Gundogan a chance, but he fired wide too. Sterling and Zinchenko combined on the City left but Lloris was equal to the shot on goal.
The pattern continued in the second half with virtually all the action in the Spurs half. De Bruyne had a shot deflected over for a corner, following which Zinchenko had a shot on goal, which Lloris saved. Aguero teed up De Bruyne but he hit his shot wide. Harry Winks lost out in a midfield battle with his opposite number – Gundogan. Zinchenko fed Aguero who fired over. Lloris saved a Bernardo Silva effort.
Then came a moment of wonderful drama for Spurs. Spurs had won a corner – I believe following a move by Lamela – and Lucas Moura replaced Harry Winks. Lamela took the corner and Lucas rose to meet the ball and head it over Ederson for his first touch within 19 seconds of coming on. 2-2!
Lloris was soon called into action again, tipping over a Rodri shot before getting down to save from close range following the corner, from Aguero's effort. Aguero was replaced by Gabriel Jesus and according to newspaper reports he had a touchline spat with his manager, but they were very happy when celebrating the added time goal that was not a goal!
Spurs' defence was strong against both de Bruyne and Gabriel and this became the pattern for much of the remainder of the game. Spurs also managed to get forward more through Lucas Moura and Kane without creating a definite chance. Giovani Lo Celso replaced Lamela for a late debut appearance and Oliver Skipp replaced Eriksen just before the added time drama for Jesus scoring with a shot back across the goalmouth following a corner from the right and the marvellous intervention of VAR. Many City fans had already left before the drama.
"That's why we're champions!" crowed the home fans. I pointed to the "Thank you to Sheikh Mansour for the last 10 years" banner and replied "That's why you're champions!"
This time, I did not leave my seat! I even shook hands with a City fan across the segregating barrier, although I could not pick up what he was saying. I understand there were some unpleasant scenes outside the ground after the game, but this seasoned away traveller knows when to keep his head down, smirk inwardly and head home pronto!
This was a fantastic result for us, and surely the best we could have hoped for. With Son available next week, ailing Newcastle could be in for a beating!
· See the exclusive "Spursometer" and have your say regarding the performances of the team, individual players, manager and officials.
· Squad numbers,appearances,bookings & goalscorers
· Read the preview for this game.
· All the Spurs Stats you could hope for here! THFC6061 Sports Stats