THE EMIRATES FA CUP THIRD ROUND
SUNDAY 5TH JANUARY, 2020
(2.01pm)
MIDDLESBROUGH 1(0) TOTTENHAM HOTSPUR 1(0)
Middlesbrough scorer:-
Fletcher, 50
Spurs scorer:-
Lucas Moura, 61
Attendance:- 26,693
Referee:- Stuart Attwell
Assistants:- Richard West & Adrian Holmes
Fourth Official:- Darren Bond
(VAR was not in operation)
Teams:-
Middlesbrough (3-4-2-1):- Mejias; Howson (Capt.), McNair, Fry; Spence, Clayton, Saville, Coulson (sub Johnson, 67); Roberts (sub Gestede, 69), Tavernier; Fletcher (sub Nmecha, 76)
Subs not used:- Brynn; Wood; Wing, Liddle
Booked:- Saville (foul on Lo Celso)
Spurs (3-3-2-2):- Gazzaniga; Dier, Alderweireld, Vertonghen (Capt.); Aurier, Winks (sub Lamela, 56), Sessegnon (sub Lo Celso, 56); Eriksen, Dele; Lucas Moura, Son
Subs not used:- Vorm; Sanchez, Tanganga; Skipp; Parrott
Booked:- Dele (simulation); Lamela (Dissent?)
Moura goal means more o' FA Cup football for Spurs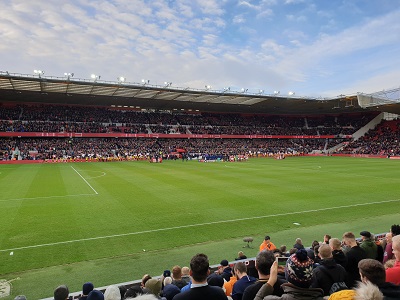 Jose Mourinho fielded just about the strongest team he could muster against a Middlesbrough side that had won their preceding four games. However, it was only when Lo Celso and Lamela were inserted after 56 minutes that Spurs began to match the energy of Jonathan Woodgate's Championship side, and showed the creative spark which enabled Lucas Moura's equalising goal, and which looked the more likely winner as the game moved towards its climax. Non-partisan fans watching on TV probably viewed this as an exciting cup tie. Middlesbrough fans would have been pleased with their lead, and their team's overall performance. This Spurs fan was worried we would see an exit from the one competition we have a chance of winning (and on this form that must be a very slim chance), and particularly concerned at the prospect of losing to a Championship side.
The match (as has been the case for all third round ties) was preceded by regard for the "Heads Up" campaign in which we are urged to consider our mental health.
Because the venue is not a top flight ground. There was no VAR in operation. This may have costs us the Middlesbrough goal, which I thought was offside, but which I understand was a marginal situation.
Bearing in mind our injuries, perhaps Moussa Sissoko was the only first team player completely rested for this game. Davinson Sanchez remained unused on the bench. Spurs lined up with three at the back, and my perception was that Aurier, Winks and Sessegnon were in front of them, with Eriksen and Dele playing behind Lucas Moura and Son. With no-one to properly lead the line, and a lack of defensive midfield, the side looked imbalanced. As far as Premier League football with Tottenham is concerned, Ryan Sessegnon is a work in progress. He is not a defensive left back, and I can't say I saw hm go round anybody when attacking. That was sorely disappointing. Dele was not at his best today, and he was frustrated by what I thought was a very poor piece of refereeing when he was booked for alleged simulation. Son, despite his enforced three-match rest did not look at his sharpest.
Part of the reason for Spurs not playing well should of course be credited to this in-form "Boro" team, coached by the last person to score a winning goal for Spurs in a Cup Final – Jonathan Woodgate. When defending Middlesbrough played five at the back, but Coulson and Spence were their wing-backs. In midfield Saville and Clayton showed tenacity, plus speed of thought and action. Those words could be applied to the whole of the home team, but not to Spurs.
Middlesbrough must have turned us round for kick-off, as Spurs played towards the away section, where I understand some 5,000 Spurs fans were gathered. However, Middlesbrough soon had a corner on the right, after which Coulson hit a shot into Row Z. Inside four minutes, "Boro" had second and third corners. The third was only half-cleared and 22 year old Patrick Roberts (signed on loan from Manchester City this week) tried a chip shot from the right which was always going over Gazzaniga's bar.
Spurs attacked down the left side with Son an d Sessegnon exchanging passes before Son fed the ball inside to Eriksen, whose shot was saved by goalkeeper Mejias. Lucas Moura was fouled as he advanced into the "Boro" area and after the free kick the ball was floated into the area for Son, but the goalkeeper reached the ball first. Jan Vertonghen hit a long cross-field pass and Aurier's cross was deflected for a Spurs corner. Few of these were successful. A cross by Eriksen after 19 minutes nearly led to an own goal by McNair, but only a corner resulted. Eriksen took a subsequent corner which Lucas Moura blatantly handled, without punishment from referee Stuart Attwell, other than "words".
After a foul by Winks upon Saville and the Middlesbrough free kick, Paulo Gazzaniga made a double save at close quarters from Fry's header and Tavernier's follow-up, before toby Alderweireld made a final clearance in front of his line. From my position, I thought that Gazzaniga had made a triple save! An Eriksen corner did not get over the first man, but came out to Sessegnon who fired over. Sessegnon and Lucas Moura combined down the left side. Lucas passed inside to Son, whose short pass went to Eriksen, whose shot was blocked. An Aurier cross to the back post gave Sessegnon a great opportunity, but he seemed to be undecided about whether to shoot or have a header. Sessegnon's indecision led to his chance being blocked.
Dele Alli then got booked for simulation as he advanced down the left wing being sandwiched by two players. Mr Attwell labelled Dele a cheat. I say he was fouled and suffered an injustice. (and who gets booked for simulation miles from goal anyway?)
Within five minutes of the restart, Middlesbrough had the lead. Ashley Fletcher raced away and onto Saville's long ball, which no doubt did catch out the Spurs defence, but it looked offside to me, and my view was across the pitch. The assistant raised no flag and Fletcher was allowed to proceed, before hitting shot to which Gazzaniga did get a touch to no avail.
Jose Mourinho did not take long to respond taking off Sessegnon and Winks for Lo Celso and Lamela. The subs played towards the right and left wings respectively with Eriksen and dele nominally our defensive midfielders. Not that we were now seeking to defend much, taking the game to the "Boro" half with Lo Celso in particular adding some creative sparkle and energy. Spurs' equaliser soon followed and it was down a sharp ball by Lo Celso out to Aurier, who crossed deep for Lucas Moura to head emphatically past the keeper into the net.
Coulson needed lengthy treatment. It must have been a head injury as he did not have to go off, but it wasn't long before he was replaced by Marvin Johnson. Another good Spurs move came and it began with Dele on the left, feeding the ball to Aurier via Lo Celso. Aurier passed inside but Lo Celso's shot was blocked.
The Spurs defence was nearly caught out by a swift 2Boro" move, but Gazzaniga managed to clear. From the ensuring attack Erik Lamela hit a powerful shot across the goalmouth which Mejias touched around his post for a corner. Lamela sent Lucas Moura away down the left flank, but Lucas lost his footing, although Spurs did win a corner. Lucas Moura had another opportunity after the ball was passed through Eriksen and Dele. This was another powerful shot, but again the Middlesbrough keeper was able to push the ball away for a corner. Lo Celso was given a chance by Eriksen, but the goalkeeper was quicker to the ball.
Lo Celso had been fouled quite a way from goal and Eriksen hit a free kick that did not have much power, but somehow was allowed to pass the defence and the goal. Spurs' final chance of note fell to Aurier at an angle on the right after Lamela's pass. Aurier skied his shot badly over the goalkeeper's left corner frame.
The replay is a game that neither side really want, but we are in Monday's fourth round draw. Liverpool beat a full strength Everton side with a team packed with youngsters, meaning that their first team will be fresh as daisies for our clash next Saturday evening.
· See the exclusive "Spursometer" and have your say regarding the performances of the team, individual players, manager and officials.
· Squad numbers,appearances,bookings & goalscorers
· Read the preview for this game.
· All the Spurs Stats you could hope for here! THFC6061 Sports Stats