THE EMIRATES FA CUP
THIRD ROUND REPLAY
TUESDAY 14TH JANUARY, 2020
(8.05pm)
TOTTENHAM HOTSPUR 2(2) MIDDLESBROUGH 1(0)
Spurs scorers:-
Lo Celso, 2
Lamela, 15
Middlesbrough scorer:-
Saville, 83
Attendance:- 49,202
Referee:- Craig Pawson
Assistants:- Nick Hopton & Adam Nunn
Fourth official:- Gavin Ward
VAR:- David Coote
Additional VAR:- Constantine Hatzidakis
Teams:-
Spurs (4-2-3-1):- Gazzaniga; Tanganga, Sanchez, Vertonghen (Capt.), Sessegnon; Winks, Dier (sub Dele, 85); Lo Celso, Eriksen, Lamela; Lucas Moura (sub Son, 61)
Subs not used:- Vorm; Foyth, Cirkin (no. 77); Aurier, Skipp
No Bookings
Middlesbrough:- Mejias; Spence (sub Tavernier, 74), Howson (Capt.), McNair, Fry; Johnson, Clayton, Liddle (sub Saville, 57), Wing; Nmecha (sub Gestede, 78), Fletcher
Subs not used:- Brynn; Wood; Malley, Roberts
No Bookings
Lively lads win it for Spurs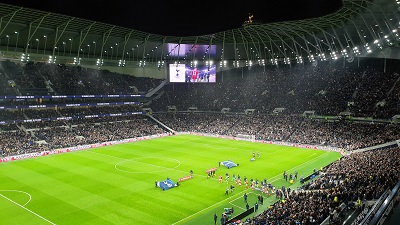 Giovani Lo Celso and Erik Lamela, who have been Jose Mourinho's twin-pronged substitutes in our last three games, started this FA Cup replay and won the game with goals in the second and fifteenth minute respectively. The first goal was gifted, but well accepted. The second involved some slick individual skill by Lamela. Both Argentineans looked lively and featured heavily in this morning's press reports with references being made to Ardiles and Villa in 1981. Jonathan Woodgate's Middlesbrough didn't let Spurs get away though, and it wouldn't be Spurs if they didn't make us feel twitchy towards the end with "Boro"'s substitute George Saville scoring a late goal to worry us. All was well though and Spurs will travel to Southampton for the Fourth Round in 10 days' time.
Storm "Brendan" has been leaving its mark upon the UK and the replay at Tranmere was a victim of the constant rain. It was wet and windy in Tottenham, but our state of the art stadium coped well with the conditions, as you'd expect. The gate was less than 50,000, but it did not look like 10,000+ gaps to me. The north-east upper tier was empty, but the lower tier was packed with 3,700 Middlesbrough fans, many of whom travelled on the same LNER trains as me.
Toby Alderweireld was rested and Jan Vertonghen returned, also taking the captain's armband. 17 year old left back Dennis Cirkin was on the bench. Japhet Tanganga got the nod again and played well at right back, particularly going forward where he created one or two good opportunities, one of which was for left back Ryan Sessegnon, who some how missed at the back post in the same fashion as he had at the Riverside 10 days previously. Spurs did look slick in the opening stages, and had other chances, but they seemed to settle for a two-goal lead and played within themselves a lot of the time.
Spurs kicked off, playing towards the South Stand, and had the lead inside two minutes. Goalkeeper Mejias (whose only other game this season had been the first meeting of these two clubs) presented the ball to Lo Celso who was just outside the area, right of centre. Lo Celso moved to his left and scored with his left foot. It was his first home goal, but it is a pity he had not scored that glaring chance at home to Liverpool on Saturday.
Davinson Sanchez looked a little insecure at times, and can be held culpable for Middlesbrough's goal. After 9 minutes he headed a little powerfully back to Gazzaniga, who was very close to him towards the edge of his area. Jan Vertonghen made an error on the left and Nmecha had a shot at goal, drawing a save from Gazzaniga, who parried with his defence clearing the ball. Spurs went two up bang on fifteen minutes when Lamela stole the ball off Howson and raced forward past two more Middlesbrough defenders before nicely placing his shot inside Mejias's right post. It looked as if it might be an easy night for Spurs.
Eriksen was starting another game, and has not yet said farewell, although a move to Inter does seem to be very close.
Lamela had a shot five minutes after his goal following passes by Dier and Winks in the middle. The shot passed over the target. Dier had a shot himself from 22 yards, but that also passed well over the target. After 25 minutes Sessegnon exchanged passes with Lamela before racing forward hitting a shot just wide of the goalkeeper's left post. Lo Celso fed the ball to Tanganga to his right and Tanganga hit a right foot shot wide of the far post. Tanganga returned the compliment passing inside to Lo Celso who went down in the area but got no penalty, with VAR backing up referee Craig Pawson. Spurs had a free kick after 32 minutes about 22 yards out. It was taken by Eriksen and hit low, but the keeper saved to his right.
Lucas Moura got away down the right touchline after 34 minutes and crossed to Lamela on the far side of the area. Lamela passed inside for Eriksen, but the ball was cleared. Both Lamela and Lucas Moura broke out of their half five minutes before the break with Lucas having the shot on goal which was just wide.
Middlesbrough's Johnson and Wing had switched flanks during the half and Johnson took a free kick from the left side which was headed wide by Fletcher.
Middlesbrough kicked off the second half. Spurs lots of possession after five minutes with Tanganga sending the ball to Sessegnon at the back post. Sessegnon ended up in the goal, but the ball didn't! I understand that Ryan might have been offside anyway. Middlesbrough had a free kick just outside the area after 54 minutes, taken by Wing, but Gazzaniga saved his right foot shot at his left post, conceding a corner. Lucas Mura skied an attempt on goal after Sessegnon passed to him across the edge of the area.
Middlesbrough's goalscorer Saville (who had created his side's goal up at The Riverside) replaced Liddle and Lucas Moura was replaced by Son. Another Middlesbrough substitute – Tavernier – teed up Saville for a shot after 76 minutes, which landed on the roof of Gazzaniga's net. Spurs broke forward after a subsequent Middlesbrough corner with Son having a shot deflected wide for a Spurs corner. Following the corner and a ball returned by Son, Eriksen hit a low ball into the centre of goal which had both Sanchez and Lo Celso challenging, but "Boro" managed to clear.
Sanchez was at fault at the other end with an unconvincing attempt to clear a long ball which reached Saville who scored with a well placed shot from 20 yards inside Gazzaniga's right post. Twitchy time had arrived for Spurs and Howson had a shot half-blocked leading to a corner on the left. Nothing came of that, before Jose took off Eric Dier for Dele Alli. Our new head coach has a habit of only using two substitutes recently!
Son had a good run forward before he was fouled by Howson. Eriksen took the free kick but it was skied. Son pushed a ball out to Lo Celso whose cross from the right was cleared. We had three minutes of added time. Tanganga made a powerful and penetrating run down the right hand side, crossing into the danger zone, where Son just failed to get a decent touch on the ball. The last throw of the dice was by Spurs after Lo Celso then Son sent dele away on a run. Dele got deep into the area and hit a cross, which just evaded Lamela.
It is refreshing to report no bookings in the game, which is quite a rarity these days. It is also refreshing to report that Japhet Tanganga again leads the Spurs Odyssey poll, and that he was also chosen by the BBC as man of the match.
Next up for Spurs is a short trip to Watford on Saturday lunchtime. We will need to be at our best!
· See the exclusive "Spursometer" and have your say regarding the performances of the team, individual players, manager and officials.
· Squad numbers,appearances,bookings & goalscorers
· Read the preview for this game.
· All the Spurs Stats you could hope for here! THFC6061 Sports Stats