PREMIER LEAGUE
SUNDAY 25TH AUGUST, 2019
(4.30pm)
TOTTENHAM HOTSPUR 0(0) NEWCASTLE UNITED 1(1)
Scorer:-
Joelinton, 27
Attendance:- 59,245
Referee:- Mike Dean
Assistants:- Dan Robathan; Mark Scholes
Fourth official:- Graham Scott
VAR:- Anthony Taylor
Assistant VAR:- Gary Beswick
Teams:-
Spurs (4-2-3-1):- Lloris (Capt.); Walker-Peters (sub Eriksen, 62), Alderweireld, Sanchez, Rose (sub Davies, 88); Sissoko, Winks; Lucas Moura, Lamela (sub Lo Celso, 62), Son; Kane
Subs not used:- Gazzaniga; Vertonghen, Dier; Skipp
Booked:- Winks (foul on Almiron), Rose (foul on Schar)
Newcastle (5-4-1):- Dubravka; Krafth, Schar, Lascelles (Capt.) (sub Fernandez, 82), Dummett, Ritchie; Almiron, Hayden, Longstaff, Saint-Maximin (sub Atsu, 17); Joelinton (sub Muto, 88)
(armband to Dummett)
Subs not used:- Darlow; Willems, Manquillo; Shelvey
Booked:- Ritchie (foul on Walker-Peters), Joelinton (time)
Something is seriously wrong in the state of Tottenham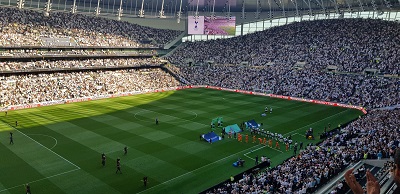 England's north-east had a great day. Newcastle got an unexpected win at the Tottenham Hotspur Stadium, and Durham's Ben Stokes was the superhuman cricketing hero for England at Headingley. The cheers as he scored his winning runs could be heard on the approach to the stadium down the High Road, and finally inside the stadium. That served to accentuate the mood of optimism in Spurs fans who were anticipating a big win over Steve Bruce's Newcastle. The last time I remember England cricketing heroism being a apart of a Spurs footballing day was in 1966 when John Snow and Ken Higgs scored a record last wicket partnership of 128 against the West Indies. That was in 1966, and might even have been on the day Dave Mackay held Billy Bremner by the throat. Oh for a Spurs leader and hero of that ilk.
We all know that something is seriously wrong in the state of our beloved Tottenham Hotspur Football Club. Manager Mauricio Pochettino has been prickly with the press since the pre-season, claiming he should revert to the title of coach because he has nothing to do with the management of the club. Two of our best players, Jan Vertonghen (Spurs Odyssey's player of the season for the last two years) and Christian Eriksen can't get into the side. We are led to believe that Eriksen's mind isn't right because he wanted to try something different, but perhaps because none of the big teams that might interest him don't seem to be coming after him.
We don't know what is happening, but what I do know is that Newcastle were always going to play a 5-4-1 and Spurs would need a playmaker to break their defensive bubble. We didn't have one. Over the course of the game we had virtually 80% possession, but Dubravka was hardly bothered. Lloris did concede a goal, and also had to make a great save from Sean Longstaff. All the possession in the world is useless if you cannot create chances. Spurs had more shots than Newcastle, but Newcastle hit the target more than we did. Too much of our possession was demonstrated in sideways or backward passes. Instead of taking responsibility to DO SOMETHING, Spurs players were too often only too willing to give it to someone else and let them take responsibility. Harry Winks (bless him, and I have been a great defender) is most guilty of this trait.
Pochettino's evident unhappiness must be rubbing off onto the team, and cannot be good for the immediate future. After three games Liverpool and Man City head the table, and we are already five points behind the leaders. See a pattern here? Already, I feel strongly that we are going to win nothing again this season. One more thing. That 62,000 seat stadium of ours is not quite getting filled up. Too many unsold Premium seats perhaps. If the football and results don't improve, the regulars will start floating away. Get it together Spurs!
The game was played in hot sunshine and there were drinks breaks in both halves. It has apparently been the hottest August bank holiday weather on record. Newcastle must have won the toss because they turned us round so we played towards the "White Wall", which was mostly silent during the game. Playing towards their own fans worked a treat for The "Magpies", not that they got into the Spurs half too often. Lloris could have stood on the halfway line a lot of the time. That 5-4-1 became a 3-5-2 anytime Newcastle (in an orange strip) broke forward.
Spurs kicked off but as much as they huffed and puffed in and around the Newcastle area, nothing of note occurred. Winks took an early booking for halting Almiron's attempt to break away from his own half. We did not seem to be getting much change out of referee Mike Dean, who would deny us a clear penalty late in the game. He would also be mysteriously supported by VAR Anthony Taylor. Summer signing Allan Saint-Maximin had to go off after only 16 minutes and was replaced by the energetic Atsu. Spurs had a free kick after 20 minutes with Lucas Moura passing to Son who went down in the box, but got no foul. Two minutes later Lloris had to make a great save tipping over the shot by Sean Longstaff who had got forward to receive Joelinton's pass.
Nothing came of that Newcastle corner, but they did take the lead in the 27th minute when Atsu had space on the left, and also found Joelinton in space towards the back of the Spurs area. The Brazilian striker, another summer signing, had no trouble sweeping the ball past Lloris. Newcastle had found space and precision where Spurs could find none. Steve Bruce's game plan would ultimately work a treat, and in fairness Newcastle have been used to playing this way under Rafa Benitez's leadership.
Another Spurs move ended with Danny Rose down in the box with nothing given, and whilst we were not being told so, one has to assume that VAR was constantly reviewing and supporting Mr Dean's decisions. Dubravka was forced into making a great save from Son, who fired low from the back of the area after a cross by Kyle Walker-Peters. "Sonny" fired low towards Dubravka's right post. Son and Lamela combined on the left side, but Kane couldn't reach the Lamela cross. Son had another effort but failed, hitting his shot outside the post. In added time Lucas Moura received from Kane but also fired wide.
Within two minutes of the restart Lucas Moura put Kane through, but Lucas had committed a foul in the process. Son had a shot blocked following a Lamela pass. Lucas headed over after a Danny Rose cross. Lo Celso and Eriksen could be seen getting ready. Playmakers! Kyle Walker-Peters allowed Joelinton too much space and a corner resulted from this attack. Kyle might have suffered an injury at this point because he was replaced by Eriksen, with Lo Celso taking over from Lamela. Sissoko moved to right back, and of course was booed every time he got forward by the travelling fans.
Lucas Moura failed badly with a right footed shot. Lo Celso tried a cross from the right, but Lucas couldn't reach this. Lo Celso had a pop himself after drinks had been taken (sounds like cricket, doesn't it?) but this was wide from some 25 yards. The most controversial failed penalty appeal came when Kane was felled by Lascelles, but there was no reward. This time the big screens did show that VAR was operating. Lucas Moura was off target again after 80 minutes. Eriksen pushed the ball out to Sissoko who crossed low but Lucas fired this one over the target. Another Eriksen-Sissoko combination resulted in a cross which was cleared as far as Rose on the other side, who won a corner.
Joelinton had been wasting time a couple of times during play and finally got booked when he was slow going off when replaced by Muto. There were 6 minutes of added time, but Spurs didn't look like scoring in 6 weeks of added time. An Eriksen shot took a touch and won a corner. Harry Kane missed the target with a rare opportunity after another Sissoko cross, and Lucas Moura had possibly his best chance of the game blocked.
Next week we will probably beat Arsenal away and all will be well in the state of Tottenham. I can dream, can't I?
· See the exclusive "Spursometer" and have your say regarding the performances of the team, individual players, manager and officials.
· Squad numbers,appearances,bookings & goalscorers
· Read the preview for this game.
· All the Spurs Stats you could hope for here! THFC6061 Sports Stats