PREMIER LEAGUE
SATURDAY 28TH DECEMBER, 2019
(5.30pm)
NORWICH CITY 2(1) TOTTENHAM HOTSPUR 2(0)
Norwich scorers:-
Vrancic, 18
Aurier (o.g.), 61
Spurs scorers:-
Eriksen, 55
Kane (pen), 83
Attendance:- 27,072
Referee:- Kevin Friend
Assistants:- Eddie Smart, Adrian Holmes
Fourth official:- Dean Whitestone
VAR:- Chris Kavanagh
Assistant VAR:- Andy Halliday.
Teams:-
Norwich:- (4-2-3-1):- Krul; Aarons, Zimmerman, Hanley (Capt.), Lewis; Tettey (sub Cantwell, 86), Vrancic (sub Trybull, 75); Buendia, Stiepermann (sub McLean, 70), Hernandez; Pukki
Subs not used:- McGovern; Byram; Amadou; Srbeny
Booked:- Vrancic (foul on Ndombele), Lewis (handball), Krul (unsporting conduct)
Spurs (4-2-3-1):- Gazzaniga; Aurier, Foyth (sub Sanchez, 46), Alderweireld, Vertonghen (sub Lucas Moura, 46); Ndombele, Eriksen; Lo Celso (sub Lamela, 74), Dele, Sessegnon; Kane (Capt.)
Subs not used:- Vorm; Tanganga; Dier, Skipp
Booked:- Lucas Moura (foul on Aarons), Alderweireld (foul on Cantwell), Eriksen (foul on McLean)
Should have been better. Could have been worse.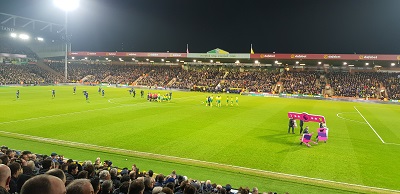 Non-partisans watching the TV coverage of this game probably viewed it as exciting fare with bottom club Norwich battling for much-needed points and Spurs – missing their three suspended players – having to field a team that did not look comfortable with themselves let alone against the opposition. Norwich took the game to Spurs with great effort and desire, playing at a fast pace. Home connections (especially their fans) bemoan the chalking off of a goal for offside by Pukki, but we've all been victims of VAR now, just as we've all been beneficiaries at times. It's just like the old days with ordinary referees, isn't it?
The draw does not satisfy either team with the "Canaries" still bottom and six points adrift of the fourth bottom side. Spurs had hoped to go into fourth place at least overnight with a win, but in truth they deserved no more than a draw, and gifted Norwich their goals with very poor errors.
I have seen reports that we lined up in a 3-5-2 formation, but I didn't see it that way. Aurier always plays in an advanced position at right back, and Vertonghen does not venture forward so much. Eriksen started a Premier League game for the first time since early November at Goodison Park and played beside Ndombele, who grew into the game and often carried the ball forward with good runs and decent delivery. Lo Celso and Sessegnon were either side of Dele with Harry Kane up front – although he's not found in the line-leading position as much as we'd like.
Norwich also made some changes it seems, and the short break between matches dictates that need. Most noticeably Norwich's influential midfielder Todd Cantwell was left on the bench and did not appear until late in the game. The game was preceded by a good one-minute's applause for Martin Peters who was as popular for the "Canaries" back in the day as he had been at Tottenham and West Ham before that. Peters had made over 200 appearances for Norwich and scored 50 goals in their colours. He scored more goals for Spurs in less appearances.
Spurs kicked off and I think they had been turned round, playing towards The Barclay Stand (supported by Woodfordes) which was the closest goal to the away fans. It wasn't long before Vrancic (making only his second Premier League start of the season) pushed a ball for Pukki to run onto. Gazzaniga was there first and held onto the ball just inside his area. Jamal Lewis had a shot after 7 minutes receiving the ball from the right, but he hit his shot wide of Gazzaniga's left post. Stiepermann got the better of both Eriksen and Ndombele and hit a shot which the Spurs keeper had to push over for a corner. Spurs had made no headway as yet.
Spurs made a break out from defence after an Ndombele interception. Kane and Dele were on the advance. Kane had a defender on him and felt that dele to his right had the better chance, so passed to him, but Dele hit his right foot shot over the target. Spurs should have done better with this chance. Norwich had a free kick from the left side after a foul by Foyth, and Spurs were put under a kittle pressure with two consecutive corners. After 15 minutes, Toby Alderweireld hit a long ball and Kane was onto it, hitting a right foot shot which Krul saved. Kane fed a ball to Eriksen who passed to Sessegnon on his left. Ryan's shot was blocked by right back Aarons with whom Spurs have been linked.
Having had those chances, Spurs (or at least Juan Foyth) committed football hari-kari). The Argentine International defender who is still to find his feet at Spurs lost the ball foolishly in a dangerous area to Buendia, who fed the ball to Vrancic who scored his first premier League goal with a shot that beat Gazzaniga through its placement rather than with power. Soon after his goal Vrancic was booked for a foul on Ndombele, trying to break out of the Spurs half. Hernandez had a shot go wide and Stiepermann won a corner before meeting it with a header which went over the target.
Another moment of madness, this time by Aurier near the half-way line led to a "goal" by Pukki which VAR eventually over-ruled for a marginal offside. Apparently Pukki's upper body had been the wrong side of that VAR line that TV viewers see, but of course all those in the stadium get is a long wait before an on-screen message if you are in a stadium that has a big enough screen. (Old Trafford and Anfield do not have such screens). Vrancic had been Pukki's provider, after Aurier's mistake. Norwich fans derided VAR. On this occasion Spurs fans cheered and breathed a sigh of relief.
Ryan Sessegnon won a corner on the left for Spurs after 35 minutes. This might have been our first corner of the game. It was taken and wasted by Eriksen. One sad trait of Spurs' play was their persistence with playing backwards from attacking positions. I say it time and time again, but we can have a throw three quarters of the way towards the opponents' goal and non-one goes down the line to even try and take advantage of the no offside law. Too often such positions (a throw or a free kick) were worked back to the keeper. I think it illustrates a lack of confidence as much as anything.
Jose Mourinho changed things at half-time with Lucas Moura on for Vertonghen and Sanchez taking Foyth's place. Within a minute Eriksen found dele with a ball and Dele's right foot shot was blocked with a corner being the result. There were delays for treatment to both Zimmerman and Vrancic in separate incidents. Spurs had a free kick just outside the area when Lewis deliberately handled a ball aimed at Kane. Spurs wanted more but they did get the free kick and Lewis was booked. Eriksen scored with a terrific right footed kick well to the right of Krul. It was his first Premier League goal since September against Arsenal away. Having been so vehemently criticised by fans at home and at games, the "He's our number 23 " chant rang out.
Dele "scored" following Lo Celso's lofted ball over the defence, but he had been flagged offside. There was no yellow card for Tettey after he cynically brought down Lucas Moura. Spurs took a quick free kick, but Harry Kane was offside this time. Norwich had not been seen much in our half, but now they were gifted a second goal. A through ball was intended for Pukki, but he couldn't make contact. I am sure Aurier was trying to clear for a corner, but all he could do was beat Gazzaniga with his low diversion into the net. Pukki might have been offside for another through ball which had Davinson Sanchez flailing a little, but the ball rebounded off the back of the Finnish striker's legs and Spurs cleared.
Lo Celso hit a left foot shot on target at the other end, but Krul was equal to the effort. Lucas Moura was booked as he took out Aarons when he tried to fly down the line in the Norwich half. The ball might even have been running to a Spurs player. An Eriksen shot from 25 yards was held by Krul. Spurs' final change was Lamela for Lo Celso. It was Lamela's first appearance for over two months. Eriksen fed the ball to Harry Kane who hit a powerful cross intended for Dele, but the Spurs man could not make contact. Harry was then taken out inside the penalty area by Zimmerman after Dele's diagonal pass. VAR confirmed the spot kick and Krul tried his usual psyching out techniques. Harry's focus was supreme and he pounded the net with his shot to the left of the keeper who had committed himself to the right.
The most likely winner was now looking like being Spurs and we had seven minutes of added time thanks to those early injuries to Norwich players. Before added time a Lamela shot had been pushed over by Krul for a corner. Alderweireld and Eriksen did take late bookings as Norwich tried for their part to snatch all three points. Spurs' last throw of the dice was an Eriksen corner, but he didn't beat the first man.
Spurs have once again lost ground in their quest for the top four and now they must lick their wounds for another tricky game on New Year's Day at Southampton.
· See the exclusive "Spursometer" and have your say regarding the performances of the team, individual players, manager and officials.
· Squad numbers,appearances,bookings & goalscorers
· Read the preview for this game.
· All the Spurs Stats you could hope for here! THFC6061 Sports Stats