· Southampton 1 Spurs 1 - 25.01.20
· Preview of first match
· See the current injury list for all Premier League Teams
· All the Spurs Stats you could hope for here! THFC6061 Sports Stats


Full Cup Record against Southampton

FA CUP

SEASON   RD   H/A  RES    SCORERS
1901-02  1     H   1-1    Copeland
1901-02  1r    A   2-2    Hughes (2)
1901-02  1r2   N   1-2    Kirwan
1947-48  6     A   1-0    Bennett   
1982-83  3     H   1-0    Hazard   
1989-90  3     H   1-3    Howells
1994-95  5     H   1-1    Klinsmann
1994-95  5r    A   6-2 (a.e.t)
                          Rosenthal (3)
                          Sheringham, Barmby,
                          Anderton  
2002-03  3     A   0-4    -
2019-20  4     A   1-1    Son


LEAGUE CUP

1968-69  5     H   1-0     Collins
1988-89  4     A   1-2     Osman (o.g.)

Tough battle for the last fifth round place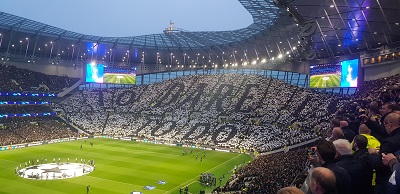 Just because Southampton lost 4-0 at Anfield on Saturday it does not mean that Spurs will not have a tough battle to secure the last available place in the fifth round where a home tie against Norwich awaits the victor.
The score was 0-0 at half-time on Saturday and the game might have turned on the denial of a penalty for Danny Ings before Liverpool broke out of defence and took the lead through Oxlade-Chamberlain. Once the "Saints" went two down, perhaps they started focussing on this game.
Right back Cedric Soares has gone on loan to Arsenal and I assume the terms of Kyle Walker-Peters' loan move prevent him playing against us tomorrow night, so dead ball expert James Ward-Prowse might cover at right back as he did at Anfield. There probably will not be as many changes to the Southampton line-up as Spurs will need to make. Debut goal-scoring hero Steven Bergwijn was not registered before the first match, so he is not eligible. Dele, who took a knock and went off twenty minutes before the end of Sunday's game is "being assessed" regarding his fitness to play tomorrow.
Ben Davies is back in full training, but does that mean he gets a game tomorrow? Tanganga's youth and form might be enough to keep his place in the starting line-up. I would expect Jan Vertonghen to come in and freshen up a Spurs defence that was kept busy on Sunday against Manchester City. Gedson Fernandes also did not get off the bench and could start. Jose won't want to change things too much I suspect, but I do hope to see Ndombele start this one.
The high morale in the Spurs camp after Sunday's big match win, coupled with a few changes to freshen the side up, as opposed to relatively low morale in the "Saints" camp might just be enough to swing things our way. Sunday's win might have helped to sell a few more tickets in the home section. Southampton will bring a good following, and have the benefit of an extra allocation, of course.
I think this will be a close game, which could go either way, but I hope for a Spurs win without the need for extra-time and the dreaded penalty shoot-out. For one thing, I shall have a train home to catch! Don't forget, this is a 7.45pm kick-off, but the game is live on BT SPORT. I'll say 2-1 to Spurs. Whatever happens, both teams have suffered a shortening of their scheduled winter break, but they do have 10 or 11 days off after this game.
---
You might remember that in my preview of the away match in this tie I wrote the following:- "When these two teams met in the FA cup in 1948 Alf Ramsey and Ted Bates played in Southampton team, whilst the Spurs team included Bill Nicholson and Vic Buckingham. All were future managers, of course, following different paths through history. Spurs went on to the 1948 semi-final when they were beaten by 3-1 Blackpool. That Blackpool side featured Stanley Matthews and Stan Mortensen. Mortensen scored all three Blackpool goals, as he would in the famous 1953 "Matthews Final".
My good friend Declan Mulcahy sent me the following further details regarding the Spurs - Blackpool semi-final in 1948 and beyond:-
After 64 minutes Duquemin gave Spurs the lead and with four minutes remaining Spurs were close to progressing to Wembley. The two Blackpool Stan's struck. Matthews set up Mortensen who beat Spurs goalkeeper Ditchburn from a very narrow angle. Mortensen scored twice more in extra time to take Blackpool to Wembley where they lost the FA Cup Final against Manchester United.
Five years later in 1953 Spurs and Blackpool once again enjoyed good runs in the FA Cup. They were drawn against each other at the semi-final stage again at Villa Park. Bill Perry gave Blackpool an early lead, but the Channel Islander Len Duquemin again scored for Spurs early in the second half.
The scores were level with a minute to go. Blackpool were attacking but the ever-reliable full back Alf Ramsey dispossessed Perry. He could have cleared the ball into touch but decided to pass the ball back to goalkeeper Ted Ditchburn. As he shaped to pass, he slipped, and the ball rolled away from him. In stepped Blackpool forward Jackie Mudie to score the winning goal. It was a most uncharacteristic error for Ramsey. The late match Blackpool hoodoo had struck twice at Villa Park in five years.
Blackpool's final that year against Bolton Wanderers was the stuff of legends. At one point Blackpool were 3-1 down but came back to win 4-3 the only time they have won the FA Cup. Again, it was down to the two Stan's. Stan Mortensen scored a rare FA Cup final hat-trick and you might think would have captured the headlines. In fact, the plaudits went to Stanley Matthews 'The Wizard of the Dribble' whose mazy runs down the wing demoralised Bolton and set up most of the goals.
There is a connection between the legendary Matthews and White Hart Lane. In December 1937 England played Czechoslovakia in an international match at White Hart Lane. England won 5-4 in what was certainly an exciting match. Matthews scored what was for him a very rare hat-trick.
---
Match referee David Coote is seeing Premier League action these days but has yet to take charge of a Spurs game at that level. We have seen him before though. Firstly, for a 5-1 League Cup win over Gillingham in September, 2016 and secondly for a Third Round FA Cup 3-0 win over Wimbledon in January 2018. That last game was at Wembley of course, where we hope to go later this season!
· "Ten Years After" - Spurs Odyssey reviews the season in which we first qualified for the Champions League. Spurs beat Leeds 3-1 away in an FA Cup Fourth Round replay on 3rd February, 2010.