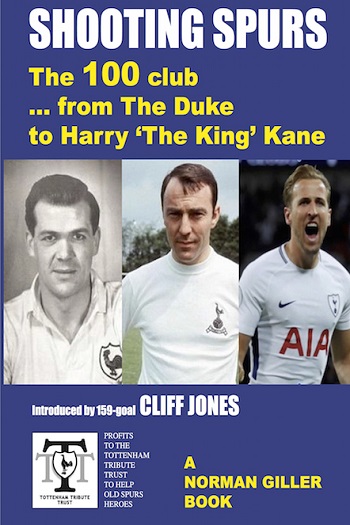 You will be pleased/depressed/excited/apathetic to know that my Spurs Odyssey Quiz League challenge returns on Monday August 5. I look forward to causing you a season of aggravation (and, hopefully, entertainment and enlightenment).
Meantime, I am seeking your support for my latest Tottenham-themed book, with profits as always going to the Tottenham Tribute Trust, to help our old heroes who missed the gravy train enjoyed by today's hugely rewarded players.
The book is called SHOOTING SPURS. There are features on every player who has scored 50 or more goals for Tottenham since the club was founded in 1882 .... plus every player who has scored 20 or more is listed. There is special focus on all members of the 100 club (all 17 of them), led of course by Jimmy Greaves, with Harry Kane now gathering goals galore.
Cliff '159 goals' Jones provides the introduction, and there are special features on all the players who have passed the half-century mark. Blowing my own trumpet (Louis Armstrong style), I have thoroughly researched this project and there are dozens of facts I'm sure have never been published before. For instance, who was the first overseas-born player to be capped while playing for Tottenham?
The price for this 'goalden' bit of Spurs history is £9.99 plus PP. There is also an electronic version for just £4.99. Please, please order the book now at www.normangillerbooks.com
I will personally respond to everybody who buys the book, and will sign the printed version.
As Cliff Jones says: "This book makes fascinating reading and reminds me of goals I'd forgotten, particularly magical ones by Greavsie and Gilly. Profits are going to a great cause to help many of my old mates who have medical and care bills to pay."
Thank you. I look forward to hearing from you :-)
Uncle Norman