PREMIER LEAGUE
SATURDAY 28TH SEPTEMBER, 2019
(3pm)
TOTTENHAM HOTSPUR 2(2) SOUTHAMPTON 1(1)
Spurs scorers:-
Ndombele, 24
Kane, 43
Southampton:-
Ings, 39
Attendance:- 59,645
Referee:- Graham Scott
Assistants:- Neil Davies, Derek Eaton
Fourth official:- Darren Bond
VAR:- Darren England
Assistant VAR:- Ian Hussin.
Teams:-
Spurs (4-3-3):- Lloris (Capt.); Aurier, Alderweireld, Vertonghen, Rose; Sissoko, Winks (sub Wanyama, 90+3), Ndombele (sub Dier, 78); Eriksen, Kane, Son (sub Lamela, 64)
Subs not used:- Gazzaniga; Davies; Dele, Lucas Moura
Booked:- Aurier (foul on Boufal)
Sent off:- Aurier (31 – foul on Bertrand)
Southampton (3-4-2-1):- Gunn; Bednarek, Yoshida, Vestergaard (sub Armstrong, 79); Ward-Prowse, Romeu, Hojbjerg (Capt.), Bertrand; Redmond, Boufal (sub Long, 88); Ings (sub Obafemi, 83)
Subs not used:- Lewis; Danso; Valery (Only 6 subs named)
Booked:- Yoshida (foul on Ndombele), Bednarek (foul on Kane)
10-man Spurs win, despite Lloris gaffe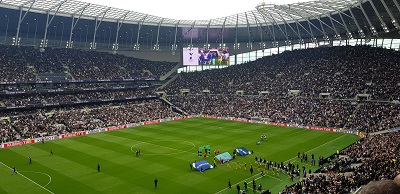 It was a game that Spurs had to win, after a horrible week in which they were beaten at Leicester and ejected from the Carabao Cup by fourth tier Colchester. Their Premier League start had been moderate, to say the least. Despite taking the lead, Spurs' task was made so much more difficult by the sending off of right back Serge Aurier (the fourth of his career), and an equaliser gifted to Danny Ings by the horrible mistake made by goalkeeper and Captain Hugo Lloris. "Don't blame Hugo, blame me. I demand him to play in this way," said Pochettino after the game. I couldn't agree more as Spurs' insistence on predictable short passes in and around the area after goal kicks finally came home to roost. Harry Kane was the scorer of what was an excellent team goal before the break and the 10 men valiantly held onto their lead in a second half which demanded two excellent saves by Lloris, who thus partly redeemed his previous error.
None of the players who started at Colchester started this game and the Spurs team resembled that which started at Leicester last Saturday with the exceptions of Lloris back in goal, and Eriksen starting instead of Lamela. Southampton's manager Ralf Hasenhuttl was forced to make a late change to his line-up die to Cedric's injury before the warm-up, and the "Saints" played a back three, and could only name 6 subs. They did not come to the Tottenham Hotspur Stadium to form a defensive dome, but had every intention of attacking Spurs with Bertrand getting forward down the left with Redmond and Boufal also supporting the advanced Danny Ings.
Spurs kicked off and played towards the North Stand. An early Southampton free kick was headed over Lloris's goal by Yoshida. Danny Rose was under pressure from Redmond, who was the faster of the two players. Southampton attacked again after a Spurs attack broke down through Son over-running the ball. Redmond advanced down the right channel and passed to his left where Southampton skipper Hojbjerg hit a shot which Hugo saved well diving to his right at the expense of a corner. The "Saints" fans were crowing and apart from their traditional song (occasionally borrowed by Spurs, of course) the away fans often shouted "Bale", even 6 years since he left Spurs for Real Madrid.
Spurs started making advances, with Sissoko sending Son away down the left flank. "Sonny"'s cross intended for Kane, reached goalkeeper Angus Gunn first. Boufal had another shot on the Spurs goal but this one was held by Lloris. Referee Graham Scott was not a home crowd favourite and only had "words" with James Ward-Prowse over a cynical foul on Eriksen as he threatened to advance. Eriksen's free kick was cleared. Ndombele showed trickery with a clever flick to Son to his left before receiving the ball back from Son. This shot by the Spurs midfielder went over the bar, but had taken a deflection. Son met Eriksen's corner at the near post with a glanced header which was cleared.
Spurs did take the lead through Ndombele in the 24th minute. Harry Kane tried to reach an Eriksen cross but the ball passed over his head to Son on the left of goal. "Sonny" cut the ball back to Ndombele who hit his left foot shot into the net. It was Ndombele's second goal of the season already.
Redmond was onto a poor Son pass, but the Spurs defence managed to prevent his shot at goal. Aurier got his first booking for a heavy challenge on Boufal, who needed treatment. Spurs had a move down the left flank with Eriksen receiving from Rose, passing inside to Ndombele, whose driven ball was headed wide by Kane. Then we had to suffer because of Aurier's second yellow within minutes of the first. This one was for holding back the advance of Bertrand. This was Aurier's second red card with Spurs, both of which have been for second yellows. This was also the first red card shown in the new stadium. That's not apiece of history we want to remember.
Pochettino's adjustment was to put Sissoko at right back, and form another bank of four behind Kane. That formation, coupled with the effort of the players was to prove effective. Southampton's free kick, was punched out by Lloris and the follow-up shot by Hojbjerg was over the target.
Ndombele sent a good ball to Kane, but his shot went over the target too. Spurs seemed to be getting nothing out of Mr Scott, but Southampton got something out of Spurs! Redmond had hit a shot wide across the goal, and following Lloris's typical short goal kick, the ball was passed back to him by Alderweireld. Lloris had Vertonghen available to his left, but chose to try an extravagant turn, failing in front of Ings' challenge. Ings was able to prod the ball into the net underneath Hugo's despairing attempt to reach back for the ball. It was a truly shocking moment.
Spurs bounced back before the break though with an excellent team goal. Kane's header had enabled Son's diagonal advancing run to the right of the retreating defence. As he advanced, Son exchanged passes with Eriksen who passed quickly to Harry Kane. Harry was towards the left of the Southampton area, and from a side-on position moved to his left and beat the defence and goalkeeper Gunn with a well-placed right foot shot. It was Kane's fifth Premier League goal of the season; sixth club goal, and his tenth of the season already, including his four for England. The man is in form! For the record, Harry now has 130 Premier League goals, and 169 club goals to his name. With 6 more goals he will become the club's third highest ever goalscorer, as Martin Chivers is his next target.
Another great Spurs hero, the one and only Steve Perryman, was interviewed at half-time to celebrate the fiftieth anniversary of his debut as a 17 year old on 27th September, 1969. I was at that game, and was proud to stand and applaud the "Skipper" today.
Spurs had half a chance of increasing their lead early in the second half after a good interception down the left channel by Ndombele, and a forward ball to Kane who advanced into the area but somehow hesitated and failed to get a shot in this time. Such moments would be a rarity in a half dominated by the pattern of Southampton on the attack and Spurs' resilient defence. "Sonny" gave away a free kick in a dangerous position some 28 yards out. Dead ball expert James Ward-Prowse stepped up and it demanded a flying save to his left and an upstretched arm by Hugo to prevent a goal. It was an excellent save. Five minutes later, after the second of two corners, taken again by Ward-Prowse, Hugo saved a header by Yoshida in the middle of his goal.
Sissoko tried to play us out of defence with a ball to Ndombele who did make a mistake here, allowing Redmond a shot, but this was off target. Son was replaced by Lamela, who played on the left side of midfield. I thought Lamela had an excellent half hour, making several good tackles and interceptions and getting forward with Kane. Good play by Ndombele led to a Spurs attack when Rose crossed and Kane had an effort which looked as if it might have taken a touch, but a goal kick was the decision.
Lloris held a cross by Boufal, before Yoshida was shown a first yellow card for the visitors when halting Ndombele's advance. Danny Ings somehow failed to make contact with a Boufal cross with the Spurs defence beaten. After one of those Lamela/Kane advances and a Spurs corner, Lamela and Eriksen contrived to waste a short corner. Ndombele, who might have suffered a knock in that Yoshida challenge, was replaced by Dier, who assumed a midfield position. By the end of the game, Southampton had added three attacking players to the mix, determined to get something from the game.
Harry Kane hit a shot from the left wide across the goalmouth, and Eric Dier hit a header to the goalkeeper after a Spurs free kick. Lloris held a right foot shot by Armstrong and Spurs saw out the four minutes of added time in relative comfort. Harry Winks, who has not had a previous mention in this report, was replaced in added time by Wanyama, and got a rousing standing applause from the crowd. Winks' determination in the middle of that defensive midfield was excellent and he won so many balls.
The much needed win put Spurs back into the top four but we are likely to be overtaken by Leicester and (dare I suggest it) Arsenal by the end of the weekend. Pochettino will be seeking maximum points at Brighton next week, but first up is Tuesday night's Champions League clash under lights against Bayern Munich.
· See the exclusive "Spursometer" and have your say regarding the performances of the team, individual players, manager and officials.
· Squad numbers,appearances,bookings & goalscorers
· Read the preview for this game.
· All the Spurs Stats you could hope for here! THFC6061 Sports Stats