PREMIER LEAGUE
SUNDAY 1ST MARCH, 2020
(2pm)
TOTTENHAM HOTSPUR 2(2) WOLVERHAMPTON WANDERERS 3(1)
Spurs scorers:-
Bergwijn, 13
Aurier, 45
Wolves scorers:-
Doherty, 27
Jota, 57
Jimenez, 73
Attendance:- 58,064
Referee:- Stuart Attwell
Assistants:- Marc Perry, Simon Long
Fourth official:- Kevin Friend
VAR:- Simon Hooper
Assistant VAR:- Mark Scholes.
Teams:-
Spurs (3-4-3):- Gazzaniga; Sanchez, Dier, Tanganga (sub Ndombele, 76); Aurier (sub Gedson, 82), Lo Celso, Winks (Capt.), Davies (sub Parrott, 90+1); Lucas Moura, Bergwijn, Dele
Subs not used:- Vorm; Alderweireld, Vertonghen; Skipp
Booked:- Lo Celso (foul on Traore), Winks (Dissent), Davies (foul on Doherty)
Wolves (3-4-3):- Rui Patricio; Boly, Coady (Capt.), Saiss; Doherty, Neves, Moutinho, Vinagre; Traore (sub Neto, 74), Jimenez (sub Podence, 90+2), Jota (sub Dendoncker, 79)
Subs not used:- Ruddy; Kilman, Buur; Gibbs-White
Booked:- Boly (foul on Dele), Dendoncker (foul on Lo Celso)
Another former protégé out-masters Mourinho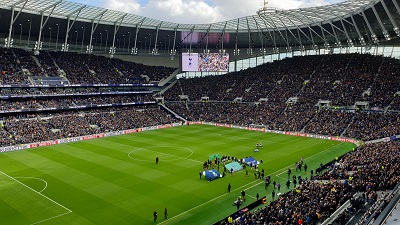 Last week it was Frank Lampard. This week another former protégé of Jose Mourinho – one-time Porto goalkeeper Nuno Espirito Santo – out-mastered Jose Mourinho with a win that took Wolves above Spurs and closer to the Champions League places.
The team news and selection mystified us before the game. As is often the case with Spurs, there was no hint in the official team news issued by the club on Friday that there were any issues with club captain Hugo Lloris. However, after the team was announced the club also advised that Hugo had a slight groin strain, so Paulo Gazzaniga was selected. It wasn't clear what our formation was going to be, but once they lined up we matched the standard Wolves 3-4-3 with the strange selection of Sanchez, Dier and Tanganga across the back. Toby Alderweireld and Jan Vertonghen were on the bench and the immediate thought was that Mourinho was concentrating on the FA Cup keeping Alderweireld back at least for Wednesday's game.
Then there was the question of captaincy. Eric Dier has captained his club and country before. Both Ben Davies and Dele have captained Spurs before. Harry Winks got the gig today. This was obviously a great honour for him, as proud a Spurs player and fan that he is. Harry was the subject of a lot of pre-match publicity this week in which he said he understood why players like him are under-appreciated. I am not Winks' greatest critic by any means, but in him I could see part of Spurs' problem in this match, and let's face it a trend in our playing style. We are slow and predictable all too often in the build-up. I swear to you that 9 times out of 10 when Winks had the ball in the fulcrum midfield position he played a wholly predictable pass to the right wing. He wasn't the only player, but all too often he and others spurned opportunities to shoot rather than take yet another pass.
Wolves on the other hand are well drilled in their use of 3-4-3. Yes, they get men behind the ball in their own half and must be given credit for so often blocking and frustrating Spurs' attacks, but they counter with speed, skill and penetration. Their winning goal, scored by leading scorer Raul Jimenez was a typical Wolves goal, seen so often this season and last. This was Wolves' 46th game of their campaign. It was Spurs' 40th. There was no doubting who looked the freshest of the teams.
It does have to be recorded that as well as Lloris, Spurs were missing three injured key players, as well as the key defender (Alderweireld) that Jose chose not to play. We had a first half lead. We should have held it. Troy Parrott was introduced all too late for a second Premier League appearance. There are those who claim he should be given more chance by Mourinho. I would say he is only 18. He is not Rooney, and he is not yet a line-leader. Put him on when we are two or three goals to the good and ease him in, but not in a high-pressure scenario. That's my view. Others on social media who haven't even seen Kion Etete (another 18-year-old, actually three months older than Parrott) clamour for him to be given a chance. I have seen him and my view is he is not the answer. Maybe one day, but not yet.
The game was played in dry, bright and quite windy conditions. Both teams huddled before kick-off. Referee Stuart Attwell was in charge of this and the two previous meetings with Wolves. Not one meeting since September 2010 has ended in a home win. That trend would continue.
Wolves kicked off and played towards the South Stand. An early Spurs corner was defended. There was allegedly no foul by Traore on Davies, but dele was penalised for an infringement against the Wolves wide man. Lucas Moura made a good run through the middle and was fouled by Neves, but the referee had "words". Seemingly it was too early for stronger punishment on what was a cynical foul.
Traore was the first to worry either goalkeeper with a shot from outside the area, but it was always passing Gazzaniga's right post. Both Jimenez and Jota had shots blocked in the middle of the Spurs area and Spurs managed to clear and counter with two attacking moves. From the second of these Aurier crossed and Dele's shot was saved by Rui Patricio but Steven Bergwijn followed up to score from close range. Bergwijn is the first Spurs players to score in his first two home games since another famous Dutchman – Rafa van der Vaart.
Having weathered the early threat by Wolves, Spurs looked quite decent in these early passages of the game. Sanchez was up for a corner after 19 minutes and actually tried a cheeky right-foot shot which passed just over the bar. Worryingly, Wolves always seemed to be able to find space on the attack, whereas Spurs were usually stymied. Traore crossed from thee right and Jot fired over. It did not come s a surprise when Wolves equalised in the 27th minute. I think it was Aurier who failed to defend effectively against left-wing back Vinagre who crossed hard and low for the other wing-back Doherty to score from 6 yards out. It was Doherty's seventh goal for his club in all competitions this season, and his second in two games.
Spurs responded with an attacking move that had included a clever flick by Dele Alli followed by play from Bergwijn and Lucas Moura. Lucas was generally being seen towards the right and had a good first quarter of the game. Wolves however had now settled into their rhythm and were getting good possession.
Spurs had chances a minute before the break with a Davies effort blocked; Lo Celso closed down, but Dele tried an overhead kick which was saved by Rui Patricio. Spurs did take the lead with what Ii called a random goal. It followed a move featuring Davies, Bergwijn and fin ally Dele who pushed the ball out to the edge of the area on the right where Serge Aurier scored with a low left-foot shot. No-one saw that coming, least of all Wolves!
Martin Chivers was interviewed at half-time, no doubt reminiscing about 1972 but I was on the concourse and could not hear. Reminiscences are what Spurs fans live on these days.
Spurs kicked off and played towards the South Stand, which could be heard at times urging their team on. However, it wasn't long before were on the back foot with Eric Dier losing a race with Traore who passed to the in-form Jota, but Spurs managed to defend this threat. Wolves had a throw and a free kick which all ended in a header by Jota going over. Spurs attacked through Lo Celso (who did offer some creative spark again), Bergwijn and Davies, whose cross reached Lo Celso again, but Wolves cleared the shot. Dele had a good opportunity from another Davies cross, but headed wide across the goalmouth.
Wolves equalised in the 57th minute and celebrated wildly in front of their exuberant fans. Traore had broken forward and Jimenez continued the move with a ball to Doherty whose low cross was turned in by Jota at close range for his sixth goal in three games. There was no visual indication that VAR was even reviewing the goal, and I thought there may have been an offside, but clearly not and the game re-started with little pause in proceedings. I don't recall seeing any evidence of VAR in operation at any stage of the game.
Traore took a pass from Neves and advanced down the middle before hitting his shot wide. Wolves took the lead in the 73rd minute with a classic move. It was a quick counter-attack with players finding space and advancing at speed. Jota made the break and passed inside to Jimenez, who did not fail to convert, making space for himself to score with his left foot. It was the Mexican striker's 13th Premier League goal and 23rd goal in all competitions this season for his club.
Tanganga was replaced by Ndombele (who made little impact), and at this stage Mourinho was trying four at the back. Aurier was subsequently replaced by Gedson who played in his right back position and did try to get forward. Wolves managed the end of the game very well, and there was one stage where I found myself applauding their play with some skilful close control and passing. This might have been when sub Neto played well on the right and teed up Jimenez for another shot which went wide. Spurs players too often seemed to over-run the ball. Harry Winks got booked in his frustration at the referee's decision to penalise Ben Davies for a foul. Mr. Attwell booked Winks before Davies.
We had four minutes of added time and the biggest shout was an appeal for handball when Lucas Moura's shot was charged down after Gedson's cross. Lo Celso fed the ball to Winks who did finally have a pop at goal, but this was blocked.
It turned out that Wolves' 3-4-3 was better than ours. Let there be no doubt the better team won this game. Spurs don't look like a team that a) is capable of qualifying for the Champions League and b) don't deserve to be playing at the level. Needless to say I don't fancy our chances in Germany next week against Leipzig. Up for the cup on Wednesday? Let's hope so.
· See the exclusive "Spursometer" and have your say regarding the performances of the team, individual players, manager and officials.
· Squad numbers,appearances,bookings & goalscorers
· Read the preview for this game.
· All the Spurs Stats you could hope for here! THFC6061 Sports Stats