EUROPA LEAGUE
GROUP J – MATCHDAY ONE
THURSDAY 22ND OCTOBER, 2020
(8pm)
TOTTENHAM HOTSPUR 3(2) LASK 0(0)
Scorers:-
Lucas Moura, 18
Andrade (own goal), 27
Son, 84
Attendance:- 0
Referee:- Mohammed Al-Hakim
Assistants:- Fredrik Klyver & Mikael Hallin
Fourth official:- Glenn Nyberg
All officials are from Sweden
Teams:-
Spurs (4-2-3-1):- Hart; Doherty, Sanchez, Davies (Capt.), Reguilon; Hojbjerg (sub Sissoko, 62), Winks; Lucas Moura (sub Lo Celso, 78), Bale (sub Son, 62), Lamela (sub Dele, 62); Vinicius (sub Clarke, 86)
Subs not used:- Lloris, Austin; Aurier, Alderweireld; Bergwijn, Ndombele; Kane
No bookings
LASK (3-4-3):- Schlager; Wiesinger, Trauner (Capt.), Andrade (sub Potzmann, 46); Ranftl, Holland (sub Grgic, 5), Michorl, Renner (sub Filipovic, 39); Gruber (sub Eggestein, 46), Raguz, Balic (sub Goiginger, 78)
Subs not used- Gebauer, Lawal (GKs); Ramsebner, Cheberko; Madsen
Booked:- Michorl (foul on Vinicius)
Plus points include a comfortable win and a clean sheet!
Jose Mourinho was able to make no less than 8 changes to his starting line-up for this first Europa league group J game, which included a second debut start for Gareth Bale and an impressive debut for Carlos Vinicius who ably led the line and by the end of the game was able to claim two assists. I wouldn't exactly say that Spurs coasted to this win, but they were rarely threatened. The Europa League rules allow for the use of 5 substitutes and up to 12 players in total on the bench. Spurs used all their places and Jack Clarke made his first senior appearance for the closing minutes. Harry Kane was unused on the bench, whilst our last signing Joe Rodon was not involved at all. Rodon's compatriot Ben Davies was our left-side centre-back and captain on the night.
Among the plus points on the night were the comfortable win, a clean sheet and no bookings or injuries. Spurs even have a long weekend to prepare for the next game at Burnley before a short trip to Antwerp for next Thursday Europa League Matchday two game.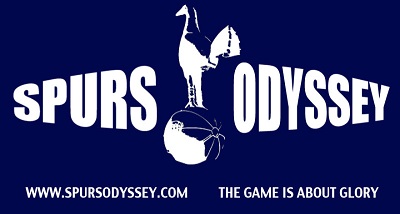 THFC would not allow me the fly the Spurs Odyssey flag in the stadium for these behind closed doors games but it will feature in my match report!
LASK kicked off and played towards the South Stand. They had a free kick inside a minute, which was the first of several needlessly conceded by Harry Winks. The free kick when taken was no convincingly defended by Spurs, but Joe Hart was able pick the ball up outside his right post. Hart had a comfortable and competent, confident game, making one particularly good save from Gruber (LASK'S top scorer in all games so far) just before the break.
On the attack, Winks sent a good ball to Doherty who passed inside to Reguilon, whose shot was deflected over for Spurs' first corner. That was taken by Lucas Moura, but Spurs soon worked the ball backwards. Doherty soon built a good relationship with Bale on the right-hand side after Bale moved outside Lamela, who had started on that flank. Sergio Reguilon impressed yet again and was often to be found in forward positions to the left and centre of the LASK half. Real Madrid do have a buy back clause (for £35 million) which can be instigated at the end of this season, or the one after, and on this form, we'd better enjoy him while we can, because he'll be back in Madrid I'm sure.
Bale won a corner on the right, inside the area near the bye-line. This was taken by Lamela but headed over and across the goalmouth by Davies. After 8 minutes Doherty raced ahead of Bale, who threaded a ball forward. Doherty lifted a cross and Vinicius should have had a debut goal, but mis-placed his header wide of the far post. Lucas Moura collected and took down a long Joe Hart clearance, before he was cruelly fouled. The Swedish referee Mohammed Al-Hakim was of a lenient nature and only booked one player all night. Winks was a beneficiary of the referee's nature later in this half.
Balic got away from Sanchez down the inside left channel, but his shot was easy for Hart to pick up. Bale nutmegged Andrade outside the LASK area on the right and when the defender blocked his path no foul was given. Spurs took the lead in the 18th minute following a good ball from his own half by Ben Davies. Vinicius collected and controlled this ball towards the left of the area, and Lucas Moura read the action well, running into space inside the area and to the right of Vinicius, whose low pass was perfect for Lucas to fire home inside Schlager's right-hand post.
Pierre-Emile Hojbjerg spent a little time off the pitch, having to have his head bandaged following a clash of heads with Renner, who had to be replaced before the half was out. Hojbjerg impressed yet again, showing strength throughout, defensively and going forward. Lamela was fouled out on the right and Bale floated in a free kick which both Sanchez and Davies tried to reach, without success.
There was more sweet play on the right from Bale and Doherty, who would advance inside and outside the Welsh wizard. This time Doherty's cross needed better delivery and was cleared. Spurs got a second goal in the 27th minute. Reguilon had made another great run, reaching the edge of the area before he passed to Lamela to his right. Lamela fed the ball further to the right for Bale, who got his first assist of the new era with a cross which Andrade out into his own net under pressure from Vinicius. Within a minute of the kick-off Spurs were on the attack again. Vinicius teed up Lamela's whose shot squeezed through and had the sting taken off its power. The goalkeeper was able to rescue the ball from just in front of his left post.
Winks was lucky not to get a card for a late challenge but the Spurs defence was always pressurised by Michorl's kicks. That Joe Hart save from Gruber's left foot shot required a dive to his right and an outstretched hand to concede a corner. Michorl got the one card of the game for a foul on Vinicius.
Spurs kicked off the second half and had an early cross/shot by Lamela go wide across goal. That Bale-Doherty combination won another corner, taken by Lamela but headed over by Sanchez. LASK had a corner after a free kick by Michorl, and after a bit of Spurs blocking at the back post a shot by Grgic was picked up by Hart, having lost its power.
Lamela and Bale made a break out on the right-hand side but and Lamela tried to reach Bale. However, Schlager had raced a fair way outside his area to clear. Jose Mourinho made a triple change after an hour, which included Son for Bale, and Dele for Lamela. Both played well, and Son would cap his performance with his ninth goal of the season.
Filipovic headed wide across the goalmouth from a corner taken on the right. Spurs responded with an attack down the right where Sissoko sent Lucas Moura away. His cross was intended for Son, but the ball was just deflected away from his waiting feet. Doherty headed over after the corner. Doherty led another attack, passing to Lucas who came inside but by the time he passed, both Son and Vinicius were offside. A Harry Winks pass for Son was slightly overhit and collected by the goalkeeper. Lucas and Sissoko advanced again down the right and this time it was Sissoko's pass which took a touch by Vinicius, a pass by Dele and finally a shot by Son, which Schlager tipped over for a corner. Son took the corner, and Lucas met this at the near post but headed over.
Vinicius sent Dele forward and his shot also had the sting taken out of it by Schlager who recovered the ball near his goal-line. Giovani Lo Celso replaced Lucas and had several nice touches in the remaining minutes. There was good interplay between Gio and Dele with Dele's cross pushed out by the keeper, but unfortunately not to the feet of Son.
Ben Davies nearly lost the ball in his own half, but managed to recover the situation before moving forward then passing to Doherty on the right. Doherty cross. Vinicius cushioned a nice header into the path of Son, who crashed home his left foot shot. It would have been nice if that third goal could have come earlier, but it did give Jose the opportunity to give Jack Clarke his senior Spurs debut. Clarke had a decent right-footed shot in added time too, after Doherty's cross, but he pushed the shot wide. Added time had been preceded by a Raguz header which Joe Hart held on his goal-line.
Antwerp won their game against Ludogorets in Bulgaria, so it will be the early group leaders who meet next Thursday. That game kicks off at 5.55pm UK time.
   
       Europa League Group J

               P  W  D  L   F-A   GD   Pts

 1. Spurs      1  1  0  0   3-0    3    3
 2. Antwerp    1  1  0  0   2-1    1    3 
 3. Ludogorets 1  0  0  1   1-2   -1    0 
 4. LASK       1  0  0  1   0-3   -3    0  

· See the exclusive "Spursometer" and have your say regarding the performances of the team, individual players, manager and officials.
· Squad numbers,appearances,bookings & goalscorers
· Read the preview for this game.
· All the Spurs Stats you could hope for here! THFC6061 Sports Stats