EUROPA LEAGUE
GROUP J
MATCHDAY FOUR
THURSDAY 26TH NOVEMBER, 2020
(8pm)
TOTTENHAM HOTSPUR 4(2) LUDOGORETS 0(0)
Scorers:-
Vinicius, 16, 34
Winks, 63
Lucas Moura, 73
Attendance:- 0
Referee:- Giorgi Kruashvili
Assistants:- Levan Varamishvili, Zaza Pipia
Fourth official:- Georgi Vadachkoria
(All officials from Georgia)
Teams:-
Spurs (4-2-1-3):- Hart (sub Whiteman, 82); Doherty, Sanchez, Tanganga, Davies (Capt.); Ndombele (sub Hojbjerg, 61), Winks; Dele (sub White, 82); Bale (sub Clarke, 68), Vinicius, Lucas Moura (sub Scarlett, 82)
Subs not used:- Austin; Reguilon, Aurier, Dier; Sissoko; Son, Kane
Booked:- Ndombele (foul on Nedyalkov), Hojbjerg (foul on Yordanov)
Ludogorets (4-5-1):- Iliev; Nedyalkov, Moti (Capt.), Grigore, Anicet Abel (sub Cauly Souza, 68); Yankov (sub Mitkov, 90), Badji (sub Yordanov, 90), Keseru (sub Tchibota, 68), Verdon, Ikoko; Despodov (sub Tekpetey, 64)
Subs not used:- Stoyanov, Danyanov (GKs); Terziev, Josue Sa; Manu
Booked:- Keseru (Handball), Despodov (foul on Davies)
Cosy win for Spurs
It was a nice comfortable win for Spurs tonight against a Ludogorets side that has had Covid issues this week. Only Tanguy Ndombele started against City, and yet this was a team playing to a good standard we were used to several years ago. That says a lot about the real strength in this squad. Carlos Vinicius scored his first and second goals for the club. Harry Winks scored a wonder goal, but admitted after the game it had been intended as a pass for Gareth Bale. Jose Mourinho had the luxury of giving three young players debuts towards the end of the game, and has preserved most of last Saturday's starting team for Sunday's clash at Chelsea.
We knew about the absences of Toby Alderweireld and Erik Lamela, but there was also no sign of Giovani Lo Celso or Steven Bergwijn. Hopefully both will be available on Sunday. Hugo Lloris had a night off too. The legendary Diego Maradona, whose death was announced yesterday, was remembered before the game, as he has been around Europe and indeed the world, since the news broke.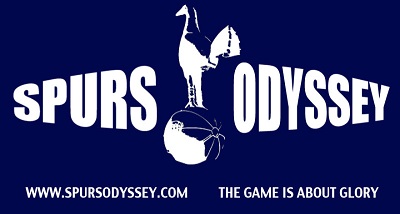 THFC would not allow me the fly the Spurs Odyssey flag in the stadium for these behind closed doors games but it will feature in my match report!
Spurs kicked off playing towards the North Stand and Ludogorets were hardly seen in our half. Joe Hart might have waited 20 minutes for his first touch. Spurs had a free kick after 5 minutes and Gareth Bale tried a long 35 yards shot. This was blocked and adjudged a deliberate handball by the Georgian referee who made several perverse decisions, at times harsh, at others lenient. Keseru, who scored Ludogoretsí goal against us three weeks ago was booked for the perceived infringement. Bale tried again, this time from 28 yards, but hit the ball over the target.
Harry Winks was more or less camped in the Ludogorets half, such was our dominance. He sent a longish ball to Doherty on the right whose cross was met by Vinicius but headed wide across the goalmouth. After a foul on Ndombele, who did play beside Winks and behind Dele, Bale took another free kick which took a deflection and landed on the roof of the net.
Lucas Moura was playing on the left of the front three, and he passed to Vinicius who was towards the left of the area. Carlos turned and hit his left foot shot just wide. Winks hit a short pass to Dele Alli, whose shot from 22 yards was just over. Dele deserves to be happy with his nightís work and was fully immersed in the game, getting one assist for his trouble.
Spurs were well worth their lead taken in the 16th minute. Ndombele had started this move with typical ball holding and running skills just inside the opposition half, passing forward to Dele, also in a central position. Dele continued the move with a pass which was deflected to the feet of Vinicius, who beat Iliev with a low left foot shot.
Both Dele and Vinicius had been involved in a move soon after the goal, which ended with another Bale shot from the edge of the box hitting the roof of the Ludogorets net. Winks hit a shot just wide after receiving from Dele. Ben Davies (Captain again) was another player spending most of his time in the opposition and after he had been fouled (ironically seeking to turn and pass back), Spurs had a free kick following which Dele passed to Davies as he entered the left side of the box. Ben hit a shot which rattled the woodwork and frame behind Ilievís goal.
Vinicius had waited until this, his fifth appearance for Spurs to score his first goal, and now he had another. It followed more skill by Ndombele, whose run carried him to the edge of the area from where he hit a shot that was parried by Iliev. Dele collected the ball, and might have scored himself, but unselfishly passed inside to tee up Vinicius for an easy finish and a second goal.
Not for the first time, Ludogorets gave the ball away in no time after the re-start and Lucas Moura hit a right foot shot wide. Lucas had another chance after a long ball carried to him, but he put that over too.
Within a minute of the re-start Lucas crossed from the left and Bale headed the ball back across the goal. The effort was not on target and it passed too far in front of Vinicius. Anicet Abel did well to clear a Doherty cross which was heading for the feet of Lucas Moura. Bale had made the pass to Doherty.
Ludogorets finally gained more possession and Spurs took their foot off the pedal for a while. Ndombele was book and Despodovís free kick passed the right side of Hartís goal harmlessly. Winks floated a ball to Doherty who headed across the area where Bale challenged but Iliev prevented a goal at the expense of a corner.
Ndombele was replaced by Hojbjerg, perhaps partly because of his booking, but also because Mourinho sought more on-field leadership. In no time Spurs had a third goal. It followed a throw-in, needlessly conceded by the visitors and taken by Ben Davies. Initially Harry Winksí long-range right foot effort was described as a wonder goal but when interviewed after the game a smiling Winks admitted he had seen Gareth Bale in space and had tried to pass to him. Instead, his ball caught Iliev off his line and hit the net off the underside of the bar. The ball had been hit from at least 40 yards out, but was actually measured at over 50 yards! The last Spurs goal I recall from this position was by Christian Ziege at Sunderland in September 2001.
Dele received a ball from Ben Davies a minute after the goal, but put his shot just wide of the keeperís left post. Gareth Bale was replaced by Jack Clarke who played in Baleís position on the right.
Goal number four came in the 73rd minute and followed pressure outside the area by Hojbjerg, a pass by Dele and final touch from Vinicius before Lucas Moura scored with his right foot. Clarke got into the box on the right and passed back to Winks who this time could not score from 20 yards, hitting the ball just over the target.
With less than 10 minutes to go, Jose was able to give competitive debuts to Alfie Whiteman, Harvey White and Dane Scarlett aged 16 years and 247 days. Scarlett thus became our youngest ever player for the first team. Dane had scored four goals last Saturday for the Under-18s. Whiteman soon had a corner to deal with, which he held, and that was more than Joe Hart had had to do in his 81 minutes on the pitch. Scarlett had a couple of chances. One came after a Winks pass, but the ball was cleared from his feet. The other came in added time when Vinicius had put him through to the left of goal, but Daneís effort passed wide in front of and across the goal. Harvey White also had a shot go wide from the edge of the area. Of course, the debut of these three lads would have been so much greater in front of a crowd, but weíll be missing big crowds for a while yet.
Antwerp beat LASK away tonight 2-0. Because at this moment they have the better of Spurs on a head-to-head basis, they are shown as leaders of the group although we also have 9 points and better goal difference. A draw next week in Austria for Spurs will be enough to ensure our qualification, but I am sure that Jose will covet the leaderís spot to enhance our situation in the Round of 32.

Europa League Group J

               P  W  D  L   F-A   GD   Pts

 1. Antwerp    4  3  0  1   5-2    3    9
 2. Spurs      4  3  0  1  10-2    8    9  
 3. LASK       4  2  0  2   5-8   -3    6 
 4. Ludogorets 4  0  0  4   5-13  -8    0  

∑ See the exclusive "Spursometer" and have your say regarding the performances of the team, individual players, manager and officials.
∑ Squad numbers,appearances,bookings & goalscorers
∑ Read the preview for this game.
∑ All the Spurs Stats you could hope for here! THFC6061 Sports Stats