· Last season's game - Spurs 3 Aston Villa 1 - 10.08.19
(First game of the season. Ndombele's debut goal. Harry Kane's first goals in the new stadium. 60,407 in pre-covid times.)
· This season's away game - Aston Villa 0 Spurs 2 - 21.03.21
· Premier League Matchday 37 - last year
· See the current injury list for all Premier League Teams
· All the Spurs Stats you could hope for here! THFC6061 Sports Stats

Full Record of Spurs -v- Aston Villa

 
Prem          Pl  W  D  L   For-Ag  Pts
Home          25 13  7  5   41 -25  46
Away          26  9  8  9   32 -29  35
======================================
Total(Prem)   51 22 15 14   73 -54  81  1.59 Pts per game
======================================
Football Lge
Home (Div 1)  47 25  6 16   99 -77  62
Away (Div 1)  47 17 11 19   72 -75  48
======================================
Total(Div 1)  94 42 17 35  171 -152 110 
=======================================
Football Lge
Home (Div 2)   2  1  1  0    4 - 3   3
Away (Div 2)   2  0  1  1    1 - 3   1
======================================
Total(Div 2)   4  1  2  1    5 - 6   4
======================================
Total(Prem)   51 22 15 14   73 -54  81
Total(Div 1)  94 42 17 35  171-152 110
Total(Div 2)   4  1  2  1    5 - 6   4
======================================
Grand Total  149 65 34 50  249-212 195
======================================

Last Six Premier League results:-

Spurs      -    LDWWLW
           
Spurs      1-3    Man Utd
Everton    2-2    Spurs
Spurs      2-1    S'hampton
Spurs      4-0    Sheff Utd
Leeds      3-1    Spurs
Spurs      2-0    Wolves

A. Villa   -    LDWLDL

A. Villa   1-2    Man City
A. Villa   2-2    West Brom
Everton    1-2    A. Villa
A. Villa   1-3    Man Utd
A. Villa   0-0    Everton
C. Palace  3-2    A. Villa

Pos            P  W  D  L   F-A   GD  Pts
 6. Spurs     36 17  8 11  63-41  22   59
11. A. Villa  36 14  7 15  51-44   7   49

I'm going to be there today. Will it be special?
I am going to be at White Hart Lane today for the first time since Wednesday March 4th, 2020. That's an absence of a full fourteen and a half months. The question is, "Will being there be special?"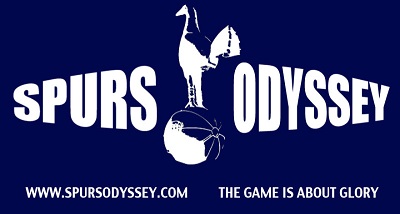 THFC would not allow me the fly the Spurs Odyssey flag in the stadium for these behind closed doors games but it will feature in my match report!
Of course, we understand the restrictions that have been placed upon us because of Covid. I had my second jab just over two weeks ago, and whilst I do not feel immune, I do feel more confident about taking on the trip to London. I'll wear my Spurs flavoured mask whenever necessary. Before Covid, Spurs made a visit to the Lane onerous. "Don't bring a bag". "Don't do this". "Don't do that". You have to jump through so many hoops to even get into the stadium these days, especially now. Spurs told me to observe the entry time on my ticket. Is there an entry time on my ticket? No there isn't.
New White Hart Lane is a wonderful stadium but watching Tottenham Hotspur play football within it has rarely been a pleasurable experience. That last visit for example was an embarrassing FA Cup defeat to relegated Norwich. My last visit to any stadium was to Leipzig a week later where we were booted out of the Champions League. Since sacking "The Special One", Spurs apparently coveted the Leipzig manager, but he is going to Bayern (a trophy-winning football club) so that plan has gone down the swannee. Who we will employ remains a mystery.
Our guests for a 6pm kick-off tonight are Aston Villa. When we last played them at home on the opening day of last season (so long ago) Harry Kane scored his first goals in our new "Tottenham Hotspur Stadium" (ENIC still hasn't been able to sell naming rights for this prestigious venue). Currently Kane is dominating the headlines because the media is saying he is on his way. A friend of mine says that a reliable source of his is convinced that Kane will stay. I don't know what to think. After all, we've seen it all before in ENIC'S 20-year reign, and even before when we couldn't keep Jurgen Klinsmann for more than one season in 94-95. Berbatov, Modric, Bale and now Kane. We've seen it before, and we'll see it again.
ENIC has given us this marvellous stadium, and let's be honest when they took over, we were pretty awful, but we have developed as a football club, consistently in Europe, and recently in the Champions League for four successive seasons. That does not compare to other clubs though, particularly the one down the road which has for example won the FA Cup 9 times since we last won the trophy we used to "own" and have only ever won 8 times. Now Leicester have won a second trophy in five years, more than we've won in thirteen and as many as we've won in the thirty years since the wonderful Gary Mabbutt lifted the FA Cup in front of Princess Diana.
The frustration and the need for many Spurs fans to vent against ENIC is understandable, but I disassociate myself from one particular vile chant which I understand was aired against Daniel Levy in the Tottenham High Road last Saturday. I hope we don't hear those tonight. I am sure we will hear chants pleading Harry Kane to stay, but that's been tried before, and we know what happened.
One of the rumours being promoted is that Kane will go to Pep Guardiola's "Harlem Globetrotters" of football. I know City have suffered a couple of reverses recently (including a 3-2 defeat at The Amex last night), but they've secured the Premier League and are now focussed upon beating Chelsea in the Champions League. For good measure, of course they beat us in the League Cup Final. I call City the death of football. What really is the point of me travelling up and down the country (and across Europe when permitted) any more to follow a team which gives me such little hope. Yes, we have had our high points, such as Amsterdam two years ago, that away win at Stamford Bridge (because it has only been one) and indeed a rare trophy win. City fans are having such moments week in, week out, and it hurts.
This will be our 150th league meeting with Villa, who were one of the 12 founding members of the Football League in 1888. Like Spurs, they have a proud history. Like Spurs they have won a league and cup double. Like Spurs that was a long time ago. Theirs was in the 19th century. Ours was 60 years ago when our team on the field of play was famously led by former "Villan" Danny Blanchflower. Unlike Spurs, Villa have won the league title since then in 1981, and more famously they did subsequently win the European Cup. Like Spurs, Villa were founder members of the Premier League. Unlike Spurs, they've suffered a Premier League relegation.
Last season, on their return to the top flight, Villa faced a season-long battle against relegation. This season they've surprised a few people – beating Liverpool 7-2 in October comes to mind – and early in the season they were fancied to challenge for Europe. Their progress stalled a bit at the turn of the year around which time they were struck by the virus. Recently, they've missed the injured talisman Jack Grealish, who without doubt is a quality player, and having come off the bench in the last two games, might start tonight. Villa have several players who could cause us problems apart from Grealish, such as McGinn, Bertrand Traore, El Ghazi and Watkins, and with nothing to lose (or to play for but pride) they will offer us a challenge tonight. Let's face it, most teams do that.
Serge Aurier might be fit to return, but apparently there is some doubt about the fitness of Gareth Bale. Ben Davies won't be seen playing for Spurs again this season, I suspect. Will we see Harry Kane's last goals in the Spurs stadium tonight? Perhaps we already did see his last such goal on Sunday. He's still after the Golden Boot. We are still after a place in Europe. My foolhardy prediction for tonight is a 3-1 home win. Kane to score, naturally. I will be able to offer you an eye-witness report, but that won't be posted until tomorrow morning. I hope we can enjoy the game, in the stadium or at home.
Referee Craig Pawson is in charge of Spurs for the fourth time this season and for the 24th time in all. We haven't won a game with Mr. Pawson in the middle this season. The last game was the 2-2 draw at Newcastle when Harry Kane scored both our goals. Time for a change.